Welcome to PPC Geeks. We are thrilled to have you on board!
Onboarding at PPC Geeks is an in-depth process that helps us and our clients to learn more about each other. As the process moves forward, we:
Delve deeper into your PPC account
Discover the hidden treasures of your business
Gain deeper knowledge of your industry
Apply our highly proficient technical skills
Promote your Unique Selling Points
Launch your new PPC campaigns
Measure, analyse and optimise results
At PPC Geeks, we pride ourselves on our technical expertise and data-driven approach to PPC. We collect data sets, analyse results and apply the best of manual and machine learning tools to optimise your PPC ad spend for the highest possible return. You will not find guesswork here. We work towards PPC goals and targets with a proven analytical approach.
We have created this quick guide as an introduction to what you can expect in the coming weeks and months as we work together to pursue your PPC goals.
The 8 Stages of Onboarding
PPC Geeks onboarding is a 2 week commitment that lays a solid foundation for best in class PPC campaign management and optimisation.
The purpose of the onboarding process is to create specific PPC strategies and campaign objectives that overlay your business goals with our technical expertise.
There are 8 stages: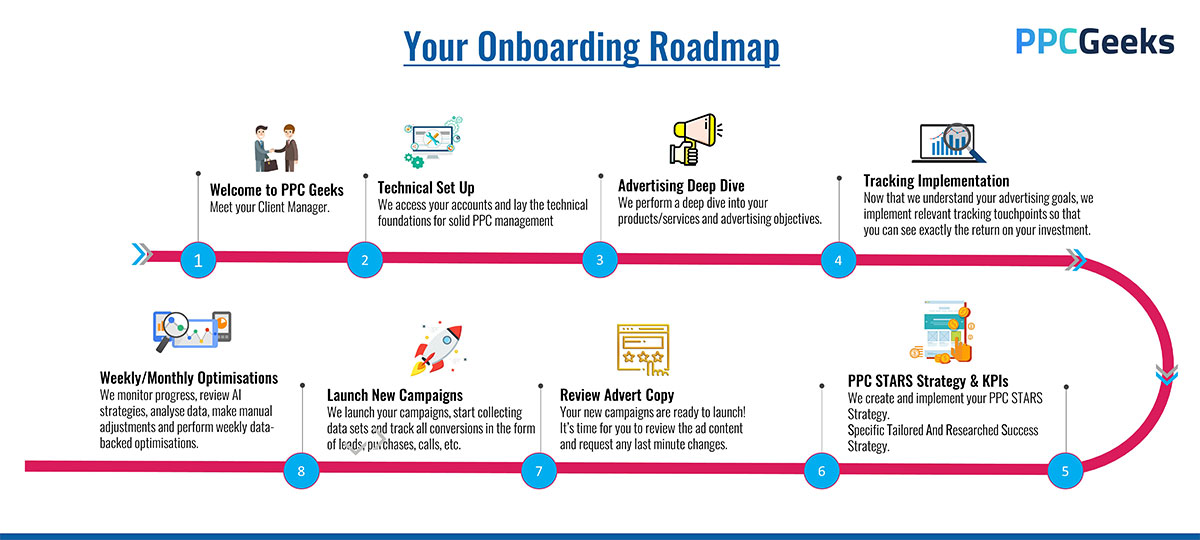 1. Meet Your Client Manager
Your PPC Geeks Client Manager is your day-to-day contact and will be responsible for your overall satisfaction, not only with the technical aspects of your PPC campaigns but also the customer experience. We value our client relationships and we are as much geared towards quality of service as we are to technical results.
Your Client Manager will drive the set-up, strategy and execution of campaigns. Working alongside your Client Manager will be your PPC Strategy Team, including tracking experts, Google certified PPC account managers and account administrators.
You will also be assigned a Senior Client Manager who will oversee all aspects of your account and will be available to you should you need to escalate any issues. In reality, we rarely have a client who feels the need to escalate but the process is there should you need it.
The sooner we gain access to your core Google accounts such as Google Ads, Google Analytics, Google Tag Manager and Google Merchant Center, the sooner we can start our deep dive into the technical setup and configuration.
A useful analogy is to think of a house building process that starts from a solid foundation. If the foundation is rickety, the house will always crack, no matter how much plaster is applied!
Using the same analogy, our team of technical experts sweep in to your accounts, clear the ground, assess the optimal conditions, set the framework and build a solid structural foundation ready for the creation of your campaigns, ad groups, tracking metrics and promotional goals.
Your assigned Client Manager will contact you with instructions on how to grant the required access permissions.
3. Advertising Objectives: Deep Dive
Now we know that the technical foundations are solid, we really make an impact by understanding the unique selling points of your business, products/services and the nuances of your target market.
Your Client Manager will contact you to schedule an in-depth discussion regarding your business objectives and industry-specific observations. We will also determine what success looks like for you. For example, does success mean increased leads, purchase volume, revenue, brand visibility, etc. We determine exactly what a successful PPC campaign means for your business. This enables us to build campaigns that are tailored to your specific business objectives, appeal to your target market, promote your USPs and most importantly, measure results in terms that are meaningful to you.
The advertising deep dive will be focused specifically on your business goals and other areas that will help us meet your PPC advertising needs. From here, your Client Manager and your account strategy team will work together to strategise and create your new campaigns ready for launch. This will be called your PPC STARS Strategy (Specific, Tailored And Researched Success Strategy).
4. Tracking Implementation
Now that we have identified the key metrics to measure, we need to create accurate tracking. Our tracking experts review your website and implement linked tracking that measures user activity on your contact forms, live chat, checkout pages, phone calls, subscription pages, etc. If you currently use call tracking, CRM and UTMs, our team will implement integrated solutions. If you are new to tracking, we will do all the set up for you.
Using a firm foundation of tracking, we can effectively measure success and allow you to understand exactly how your ad spend is working for you. We record each lead, purchase, phone call, live chat and contact form submission so that you know exactly how much each customer conversion is costing you, the percentage of leads that convert to sales/action, and the exact return that you receive from every £1 invested in PPC.
Your STARS Strategy is where the fun really begins! This is where the whole team gets together to strategise and coordinate efforts towards your Specific Tailored and Researched Success Strategy. We look at your existing PPC campaign data, align our technical expertise with your advertising objectives, co-ordinate your key USPs and build your business messaging into campaigns. We identify bid strategies that best suit your needs, establish quality keywords and appropriate demographics and apply those strategies to campaign creation and management.
We also identify realistic Key Performance Indicators. It may be that a desired outcome will not be possible in a short time frame due to the technicalities of Google Policies, algorithms and ad restrictions. We may need to create a staged approach to effectively reach the goals within your PPC STARS strategy.
What you can be sure of is that we implement results-focused campaign management. Your PPC STARS strategy will be continually evolving based on data-backed decisions. We will be constantly measuring, analysing and optimising your PPC campaigns to reach their goals. At no point will we sit back and take our foot off the pedal!
All the boxes are ticked, the technical set-up is complete, the tracking is implemented and your PPC STARS strategy is ready to go. There is only one step left before we go live and that is for you to review the ad copy and request any final changes.
We create ad copy based on Google's Best Practices for higher ranking adverts, higher quality scores and message match that links keywords > ad copy > website landing page. This is where highly technical message matching meets creative application. An effective combination of both can really help to push your adverts to the top of the search results. We make data-backed decisions regarding ad copy that will gain higher rankings and thus potentially lead to a lower cost per click.
If you are happy with the ad copy, we are ready to launch!
The campaigns go live!
But this does not mean our work is done. We jump in immediately with data collection, set up regular tracking reports, schedule weekly reporting and progress calls and constantly tweak all necessary aspects of campaign management over the coming weeks. New campaigns and changes to existing campaigns often take a period of time to gain traction and the first month will involve a careful introduction of your new campaigns.
We edge-in methodically to allow the Google algorithms to establish trust and relevance. As with any new campaign, it takes time to gather various data sets and to enable the metrics to settle into a consistent pattern. During the first weeks, you may see variations in the weekly report metrics. This is to be expected and will level out as the campaigns progress.
During the first month of your PPC launch, your Client Manager will schedule weekly reports and progress calls to keep you updated. This will give you the opportunity to see first-hand the progress of your campaigns and give you the opportunity to ask any questions or provide additional feedback. Your Client Manager will of course also be available as usual for any unscheduled calls / emails as and when required.
Client communications are a priority of our business and we aim to keep you firmly in the loop regarding updates, suggestions, progress reports and recommendations.
We also encourage you to communicate relevant changes that you see within your business. We request that you inform us of any seasonal fluctuations, product/service/stock changes and any other related feedback. We are more than happy to align your campaigns with your promotional schedules and marketing calendars.
Your new campaigns will begin to stabilise and we will have gathered enough data to begin optimising them with more accuracy. As your campaigns mature, we feed the data back into your PPC STARS Strategy and make informed decisions moving forward. It is at this stage that your PPC STARS Strategy team may make recommendations to implement more in-depth and technical changes. Your Client Manager will continue to keep you informed, monitoring progress and involving you at a level that suits your schedule. You will be invited to have as much or as little input into this process as you want.
As the campaigns begin to stabilise, our clients shift from weekly calls to a single, in-depth monthly call. You will still receive our fantastic weekly & monthly reports and your Client Manager will be happy to organise updates according to a schedule that is best suited to your needs.
In the third month we will perform a QBR (Quarterly Business Review) with you and assess the previous 3 months of account performance and strategy. We will use the data gathered in our strategy planning for the next 3 months, updating your PPC STARS Strategy, adjusting objectives and KPIs as required. This also allows additional planning if your business is looking to launch new products/services, changes to business goals, seasonality, account expansion etc.