Free eCommerce Shopping Feed Audit, Get Yours Now
Learn why you should get your Free eCommerce Shopping Product Feed Audit to find out how your companys shopping feed stacks up against some of the best in the business.
✔️ Increase Sales
✔️ Reduce Costs
✔️ 100% Free Advice
Simply follow the instructions below and get your full report straight to you today! Your full product feed will be reviewed, it COSTS YOU NOTHING and you are under no obligation to use our Google shopping agency to fix any issues we find. What have you got to lose?
Get Your 100% Free Shopping Product Feed Audit:
We work with a very large range of eCommerce businesses in many sectors from including B2B and B2C. We understand that as a busy professional you need to cut through all the usual technical language and obscure acronyms.
We are offering you our 100% free product feed audit; these are specifically designed to do just that. Rest assured that getting your free product feed audit which details every single area that you need to improve in your Google Shopping Feed is probably the best thing you can do for your eCom company this year.
Our highly detailed audits are fully produced by our PPC Agency. These show in-depth analysis of your product feed and give you actionable areas to work on and improve your e-Commerce sales outcomes.
Your free shopping feed audit (which is unique to your Shopping Feed) lifts the lid on areas that need improvement. It will be in an easy to understand format. The audit will show you what is and isn't working. What could be improved, and where you are wasting money.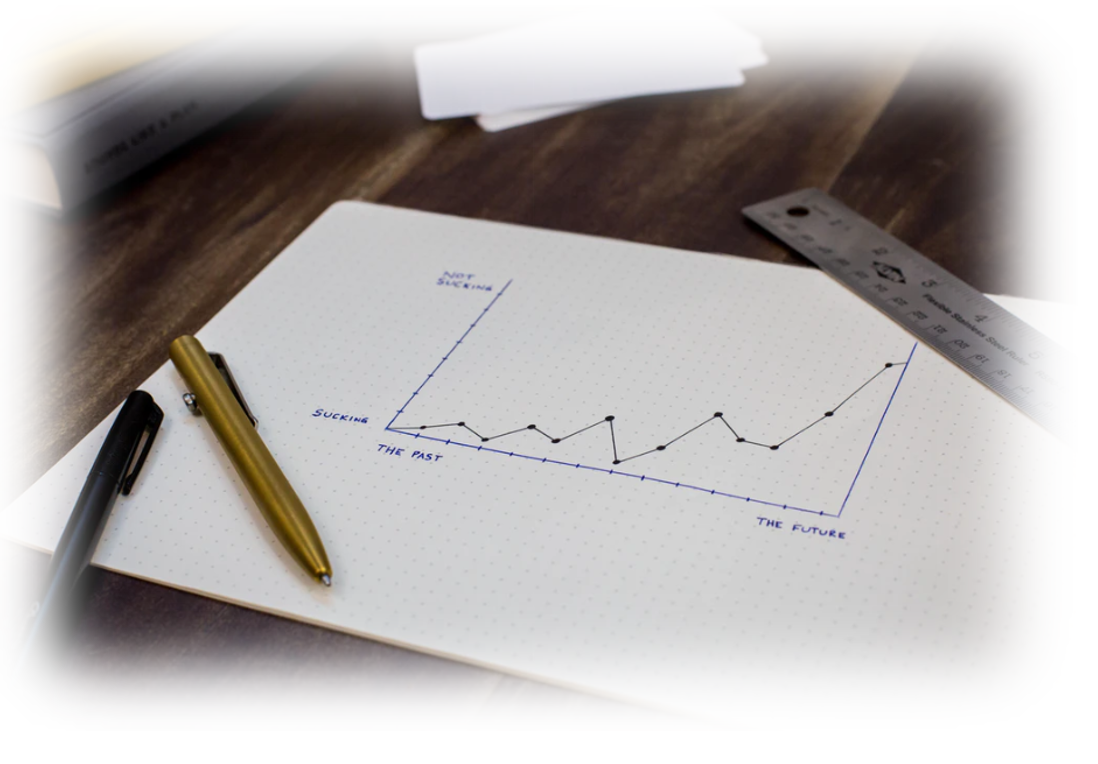 Shopping Ads
Shopping Ads is a very specialist field of Pay Per Click digital marketing. Costs, along with wasted spend, can and will go unmissed. Unless there is lots of detailed planning and regular optimisation. To maximise your ROAS you need to know what you are doing. And constantly adapt your approach and translate the data into meaningful actions.
We recommend that you should look to partner with a dedicated specialist Shopping e-Commerce PPC (Pay Per Click) partner. One that has a full back catalogue of proven tactics. And results of overachieving on KPIs for their customers.
See just some our glowing Pay Per Click e-Commerce Case Studies here.
You can leverage the huge amount of insider PPC knowledge the PPC Geeks team brings with them to give your company the competitive edge against all of your competitors online today.
Free Product Feed Audit Process
As your product feed audit is FREE it really couldn't be easier to get your 100% free product feed audit. Simply start the process of getting your shopping feed audit now by pressing the big green button below (yes, it is this easy):
Areas the PPC Experts will look at on your feed:
Do titles follow best practice for the industry
Are GTIN or MPN added correctly
Are you using the most appropriate 'Product Category'
Are images of high enough quality
Are all relevant attributes i.e. colour, size etc being used
Look at % of disapproved items in GMC and the reasons
Look at product descriptions that include 'keyword(s)'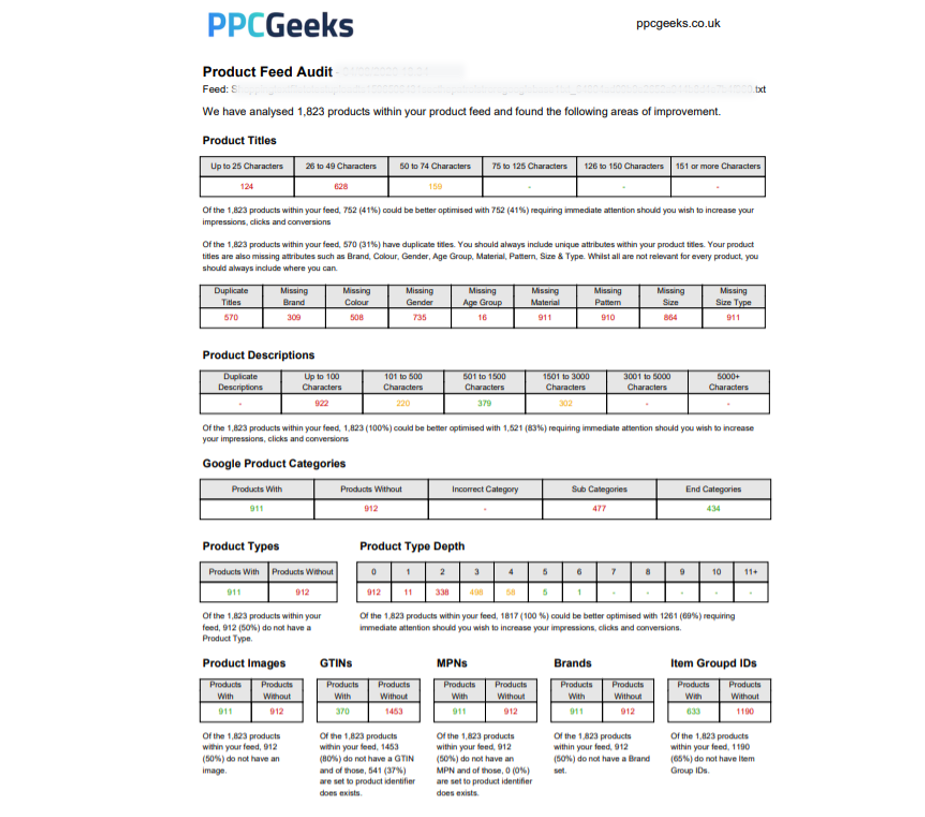 Why Would You Choose The PPC Geeks To Work With You to Boost Your e-Commerce Store Sales?
PPC Geeks specialise in all aspects of PPC (Pay Per Click) including Shopping, TikTok, Facebook Ads, Google Ads, Bing Ads, Amazon Ads, and more.
But, the greatest value we offer is our ability to craft accounts to match the specific needs of our partners' businesses and prospects' touchpoints. We do this through many years of digital marketing experience. Backed up with careful and detailed discussions with our partners to align bespoke campaigns to the companies specific KPIs (key Performance Indicators).
Our experienced PPC Geeks take the time to get to know all our clients (just like you). Our Geeks get to know our client's businesses wants, needs, plans, and vision. Our Geeks are able to plan all this information out against all the millions of touchpoints in a Shopping Ads account, to make sure there are actionable and accountable KPIs set in place in their BSSS (business specific success strategy). This helps set out the framework of how we will get your account from where it is now, to where it needs to be.
Some of the key benefits of working with the PPC Geeks
Our PPC Geeks have well over 15 years' experience in Pay Per Click Ads and digital marketing.
You get access straight away to our full UK based team of experts (PPC, CRO, UX & more).
You get your own account manager so you have one point of contact but full access to the full team.
One team, all bases covered. Our team of PPC experts can promote Your Brand across all of the major PPC Platforms, including but not limited to all of these. Simply pick your free audit and we will do the rest. You will soon be getting better results from PPC :
No complicated and surprising pricing models, just a simple pricing structure that has your ROI at heart.
All of this actually costs less than for you to do it in-house!
You will also get better results using our PPC Geeks than using an in-house solution!
You will get all of the new technology at no extra cost (keeping you ahead of your competitors).
With a proven track record, our Geeks make their clients £Millions in ROI.
Improved bottom-line results for your business by cutting the wasted budget, adding more budget to what is working, and working with you to better market your business to its core demographics.
All of the PPC Geeks are fully accredited PPC Partners.
Not sure? See for yourself what our clients say about working with us:
Learn how you can get ahead with your own BSSS (Business Specific Success Strategy).
You get a full team of experts making smart KPI focused optimisations in your account (all for the same price).
You don't need to worry about vacations/holidays/absences or sickness cover ever again.
Oh yeah, did we say, our Product Feed Audit is 100% free, with no obligation, so let's get the wheels moving on this free Shopping Product Feed Audit .
Will the Free Google Shopping Product Feed Audit find improvements in your feed? Find out now ?
Every feed audit is different but they all follow some of the same principles and best practices. So, don't delay and get your 100% free Shopping Product Feed Audit here today.
YOUR FIRST STEP TO PRODUCT FEED EXCELLENCE
Get started with the PPC Geeks
We'll show you what difference we can make. Let us in for a free, no obligation audit of your feed.
Step One
Give the Geeks secure access to your Product Feed (it's easy, we'll show you how)
Step Two
The Geeks will review your feed, finding where it can be improved to maximise your return on investment
Step Three
We'll take you through our findings and present a plan to improve your Google Ads Shopping performance