Learn everything you ever wanted to know on YouTube Ads and more with our unmissable introduction into YouTube Advertising.
If you want to know if your business is a good fit for YouTube Ads or if your setup is working as hard as it could be, simply book in for your 100% Free Account Audit.
YouTube Ads The All You Need to Know Guide!
Reach potential new customers through the power of video. YouTube's in-stream ads can help broaden your brand awareness by capturing your audiences' eye and driving sales. A great option for any business of any scale, YouTube ads have the ability to not only transform how you look online, but also generate leads in the process. Speak to a Google Ads Specialist today!
Are You Running YouTube Ads?
Get Better Results With Your Free YouTube Ads Audit
Your Free Account Audit is typically 20+ Pages and will give you actionable insight on how to get better results from your YouTube spend! Just some of the areas we will report on are:
Account Structure & Settings
Conversion Tracking
Target Audiences
Deep Dives into The Highest Spending Areas
Main KPIs Overview
And Much More!
Get yours today and soon you should be getting better results from your budget!
If You Are Not Running YouTube Ads, Read On To Find Out All You Ever Wanted To Know!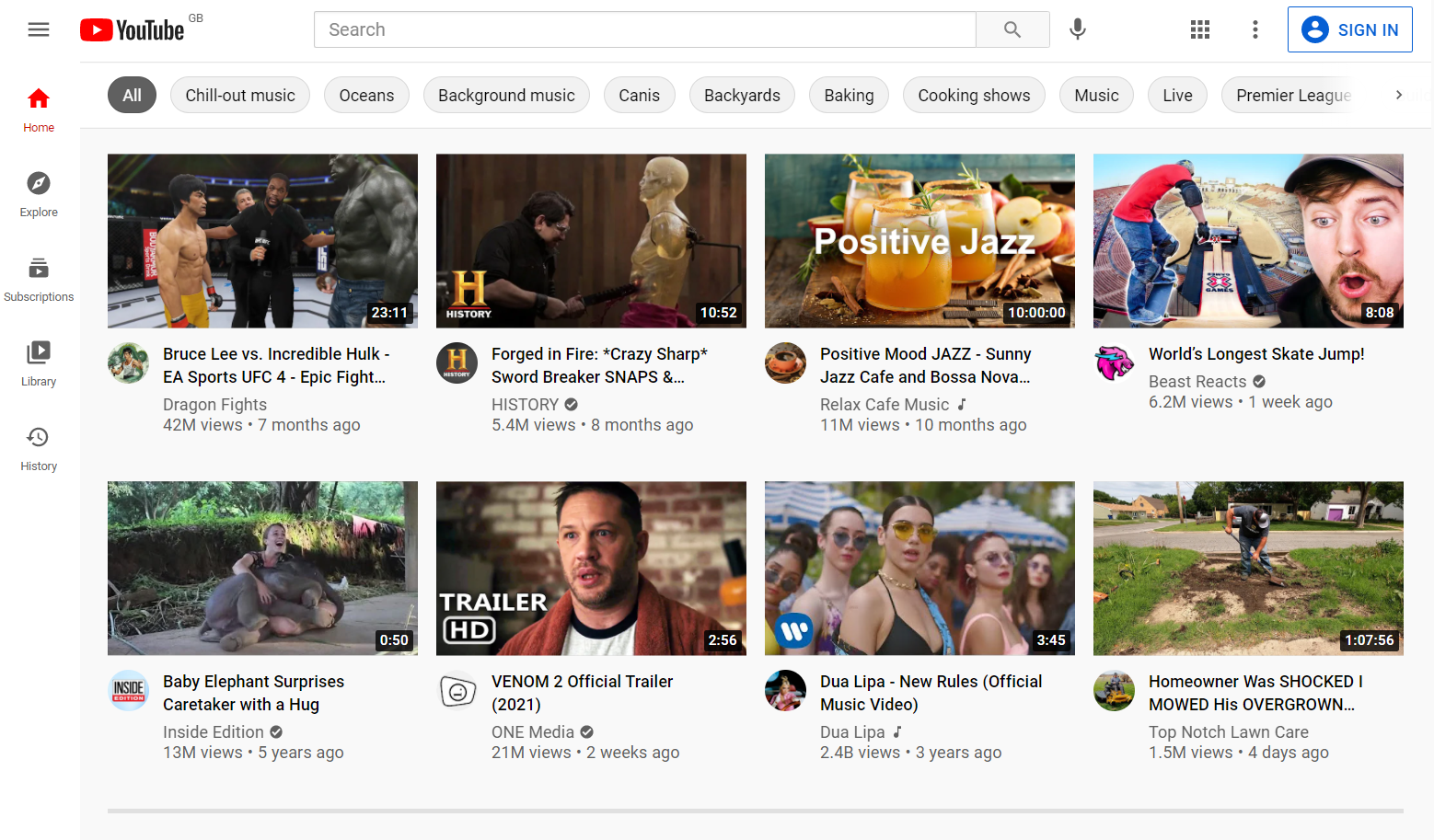 YouTube ads provide a way in which to advertise your content by using video on YouTube or in search results so to maximise your reach. Be it a video that plays before a user views a video of their choosing, or a video that appears in YouTubes' search results for people to click on, rich media such as YouTube Video ads are an ideal way to get noticed by a wider audience.
Video - or rich media - has seen a sharp rise in popularity in marketing circles, generating a much higher conversion rate than any other type of content. What's more, 90% of customers say video has helped them make their mind up in terms of making a purchase.
From auditable metrics to a proven track record of influencing and impacting purchasing decisions, it's clear for everyone to see that, if done right, YouTube's in-stream ads are certainly worth exploring be it to boost brand awareness or generate a higher ROI.
When did YouTube Ads Start?
Two years after its launch in 2005, and one year after its £1.18 billion acquisition by Google in 2006, YouTube expanded its advertising output, introducing its InVideo ads model.
In the two years that succeeded YouTubes meteoric rise, the platform launched ads that played before some content, while they also announced the formation of 'promoted videos.' A year later they started allowing ads in a number of unique formats.
To date, the number of marketeers and businesses using display advertisements on YouTube continues to increase tenfold year on year.
How Are Your YouTube Ads Doing?
Get your 100% Free Account Audit here and find out How To Get Better Results Fast!
YouTube Ads Statistics You MUST Know About
And in terms of marketing and advertising, the statistics continue to amaze:
What's more, the stats behind YouTube Ads are just as incredible:
There's no denying how incredible some of these stats are. There's also no doubt that YouTube ads are a potent tool in a marketer's armour. However, are there any reasons why you shouldn't use YouTube ads?
Why Shouldn't You Use YouTube Ads?
Let's be honest, everyone loves YouTube. Be it simply for entertainment purposes or a way of generating an income, the platform is one of the best in the business. But, that doesn't mean that YouTube - and video ads in particular - don't have their drawbacks:
1. Content Creation Takes More Work and More Money
Creating enriching and striking video content is not easy, and not cheap.
Unlike writing engaging copy or designing eye-catching visuals which takes less money and more talent, shooting video takes a lot more time and money, whilst you also need both equipment and the same amount of talent required of a graphic designer or copywriter.
2. Ad Income Can be Underwhelming
Depending on what industry you are in, some products or services are more monetizable than others - even more so in terms of video ads.
So, unless you already have millions and millions of YouTube views, the income generated from ads can seem underwhelming. Indeed, unlike Google ads, YouTube ads are less of an overnight success.
3. Choosing The Right Ad Format Can Be Tricky
As with every facet of advertising be it on social media, in print or on TV, choosing the right platform for your business can be the make or break between whether you make a ROI or not.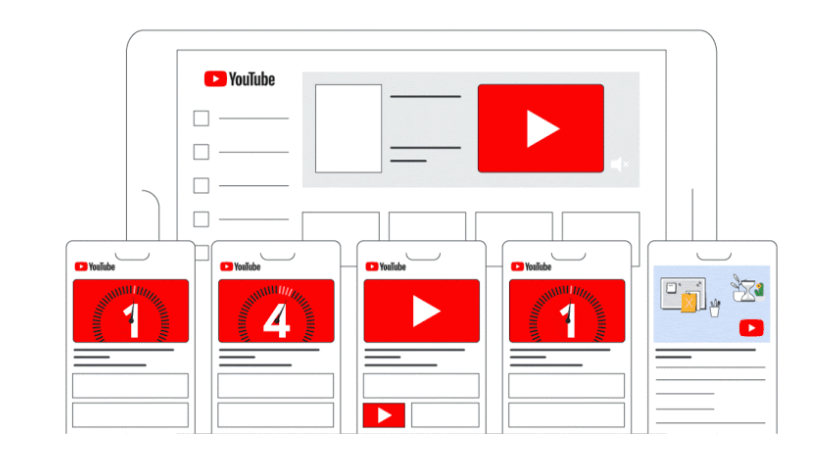 So, finding the best fit for your business can be extremely tricky, and even if you choose the right one, there's no instant guarantee of success, as shown above.
Before aligning yourself with and investing in YouTube ads, it's important to do your research because, although YouTube has massive marketing gains to be had, it does, indeed, have its complexities and drawbacks.
With YouTube, you and your business can reach your target audience with ease, using a variety of options. Here are 5 targeting options you absolutely need to consider:
Search-based Targeting - Search-based targeting lets you place your ads based on things like search and viewing history. Most useful if you work within a unique industry or your product is somewhat of a niche, search-based targeting lets you pinpoint your intended audience.
Competitor Channels - This targeting option is seriously impressive. Competitor Channel targeting enables your ads to appear on your competitors' videos, giving you the chance to close a sale before their video even plays.
Company Match - A huge part of advertising is the relevance of your message and the time you display it. With Company Match, YouTube - powered by Google ads - lets you promote your ads to users with the most value, as and when they appear to be more susceptible to purchasing online.
Demographics - Demographic targeting is quite simple really, creating targets based on location, age, gender, income, status etc.
Interests - As YouTube is mainly for entertainment purposes, you can define and target your audience by their interests, delving deeper into your market's psyche. These categories include values, lifestyle, personal interests and hobbies.
How you target your ads on YouTube is one of the most important decisions to make if you want to make a significant impact and generate a ROI. So, whatever you choose, make sure you do your research, take it slow and, when you get it right, enjoy watching the leads flood in.
Get 5-Star YouTube Ads Results With Our Free Audit
Learn How To Get Better Results On Your Ad Spend
Your Free Ads Account Audit is typically 20+ Pages and will give you actionable insight on how to get better results from your YouTube spend! Just some of the areas we will report on are:
Account Structure & Settings
Conversion Tracking
Target Audiences
Deep Dives into The Highest Spending Areas
Main KPIs Overview
And Much More!
Get yours today and soon you should be getting better results from your YouTube Ads budget!
Types of Adverts on YouTube
There are a number of ways you can display your video ads on YouTube. From how they play to how they look, here are just some of the layout options available to you:
1. Non-skippable Video Ads
Appearing before, during or after the main video, non-skippable ads are just that: unskippable. Though advertisers have to pay every time someone watches their ad, if your landing page is set up and optimised and your videos are engaging, leads are almost guaranteed.
If you have a medium-large budget, non-skippable video ads could be the layout for you.
2. TrueView Skippable Video Ads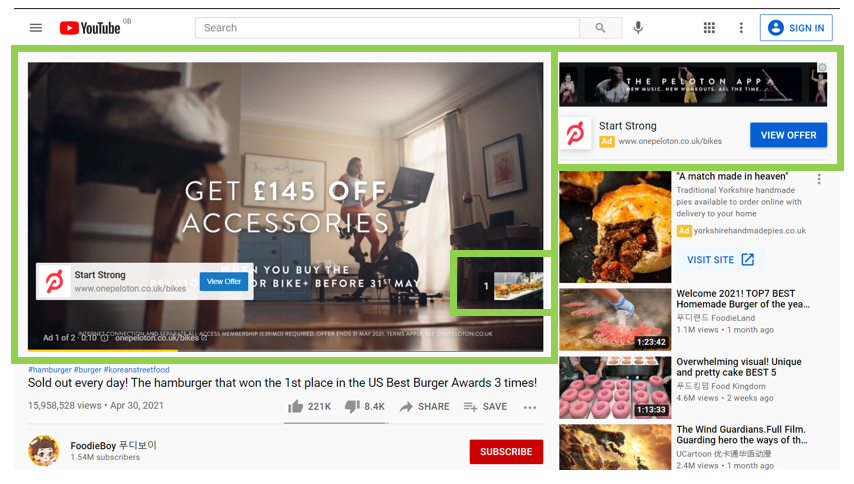 Unlike Non-skippable Ads, with TrueView Skippable Ads you can skip the ad after 5 seconds. Although this may seem less impactful, one of the plus points is that, if the viewer doesn't watch 30+ seconds of your video, you're not charged.
Display Ads appear to the right of the screen in the form of a suggested list. These ads can be visible across the whole of YouTube, except on the homepage. In essence, if a viewer is interested in your product and they notice your Display Ad, you should more than likely generate a click to your landing page.
Overlay Ads appear overlaid when users initiate video play and are predominantly static images that take up 20% of a video's screen without blocking or obstructing the user's view.
This banner-like ad is one of YouTube's most used options.
Any of these 4 display options - depending on your short- and long-term objectives - have their own pros and cons. That said, they are all indebted to generating either a high ROI or boosting your brand's notoriety.
Best Practices for YouTube Video Ads
YouTube is a hugely important tool in terms of advertising. That said, if you can't seem to crack it just yet, here are some best practices that may help in your quest for video marketing success.
Always remember that, at its core, YouTube is an entertainment platform. The majority of people go to YouTube to watch specific content, not to simply browse. In order to capture your audience, ads should therefore be between 15-60 seconds long.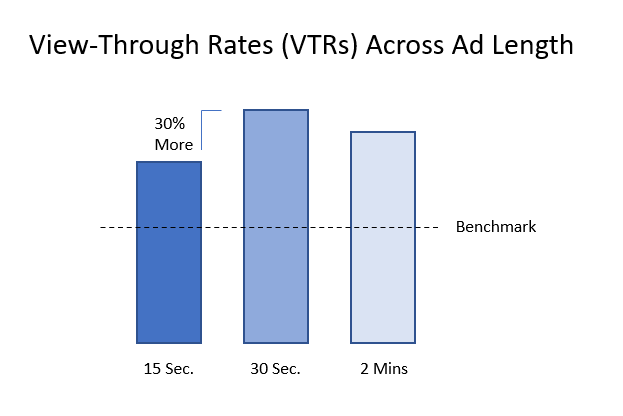 Although an ads' success mostly depends on how good the ad is in terms of messaging and aesthetic, there's no harm in giving your content the best chance possible; and that means making your videos short and snappy.
Get More From Your YouTube Ads
Book your 100% Free Account Audit here and find out How To Get Better Results Fast!
Show Your Product in Action
It goes without saying that video is a visual medium.
So, it's always good to show your product in action, highlighting its benefits and how it performs in real-life situations. If you can show how your product may improve someone's life in 30 seconds or less, your chance of converting them will skyrocket.
More than half of all YouTube views are on mobile devices, so it makes perfect sense to gear your videos towards devices such as phones and tablets.
Keep the frame sharp, embolden your text and make your graphics as vibrant as possible, and you'll be on your way to lead generating success.
Captivate Your Audience and Associate With Them
It's hugely important to convey the right message, captivating your audience as quickly as possible. Whether that means using music, harnessing the power of celebrity or using humour, the best performing ads captivate their audience almost instantly.
What's more, it's also important to relate to your intended audience. By empathising with your target demographic, they're likely to identify with and trust you implicitly.
By heeding this advice, you can easily transform your campaigns from good, to great!
Real-time reporting is key to evaluating your video marketing strategy and conveying it in a clear fashion for your clients or key stakeholders to understand. YouTube ads provide a wealth of information about views, costs and budgets, while the analytics for your account is very in-depth and always informative.
With real time reporting, you can even track video viewership. A useful reporting tool, with it you can see how often an ad is watched and to what length, helping you evaluate how impactful your ad is, how it's performing and if you need to make any alterations.
Clients and stakeholders love seeing actual tangible results and analysable metrics. And so, through the power of YouTube's real time reporting capabilities, you can provide a service that not only holds your work to account, but also highlight the amazing work you're doing.
Begin Your YouTube Ads Campaign - Today
Indeed, rich media, particularly YouTube ads, should be a monumental part of your paid advertising strategy.
With an impressive history and a truly inspiring future, it's an exciting moment to start your YouTube ads journey. Utilising the information, tricks and tips we've outlined here to your advantage, you can absolutely create a promising, successful and impactful YouTube ads campaign that delivers the leads, sales and notoriety you crave.
If you want to get better results from the YouTube Ads you are doing currently, simply book your Free YouTube Ads Audit today!
Master YouTube Ads By Asking The Experts!
Our YouTube PPC Ads Experts will show you how to get better results from your current budget.
Your YouTube Ads Audit is 100% Free
We have 15+ years of experience
20+ pages of in-depth account analysis
Actionable tips to do straight away
Get ahead of your competitors
Improve your Return on Investment
Maximise the potential of your Brand
And Much More!
Get yours today and soon you should be seeing improvements in your brands YouTube Ads budget!