Bing Ads: With over a 30% market share, Bing is a major search engine that no marketer can afford to ignore.
Combined with the powerful targeting capabilities of the Microsoft Advertising platform, optimising your Bing and Microsoft Ad campaigns is essential for reaching more customers and getting the best return on your PPC investment.
Looking to get up and running? Why not take advantage of our FREE Bing PPC Ads Audit?
Bing Ads, which is owned by Microsoft, has three search engines - Bing, Yahoo and AOL - so, when you advertise on one platform, your ad is in fact seen on three platforms. Opening up campaigns to searchers across an eclectic range of unique sarch engines, Bing adverts are a great way to reach wide audiences that span multiple demographics; it's also worth remembering that Bing has a whopping 6.7% market share, making it the world's second-largest search engine.
Are You Running Bing Ads?
 Find Out If You Could Be Getting Better Results
Your Free Bing Ads Audit are typically 40+ Pages and will give you actionable insight on how to get better results from your Bing Advert spend! Just some of the areas we will report on are:
Account Structure & Settings
Conversion Tracking
Target Audiences
Deep Dives into The Highest Spending Areas
Main KPIs Overview
And Much More!
Contact our PPC Agency today and soon you should be getting better results from your Bing Ads budget!
Why Should You Use Bing Ads If You Are Not Already?
Depending on your product and who you're targeting, Bing could be an impactful weapon in your PPC advertising arsenal.
Microsoft Bing Ads are a great complement to Google Adsense too.
As previously noted, Bing has a 6.7% market share. This means that there's huge potential for growth. Furthermore, over 1bn people use Windows 10 - and since Microsoft owns Bing, they direct a lot of their users to their own search engines through the search bar function on their computers. Now, how's that for some easy, reliable engagement.
Also, the average click-through rate for Bing PPC Ads is 1.25%, while for Google Ads it's just 0.86%.
How Much Do Bing Ads Cost?
While there is no set price for Bing ads, a click predominantly costs around 30-40% less than it does on Google AdWords, which is great if you're operating on a tight budget.
There are also two types of budgets to bear in mind when it comes to advertising on Bing:
Daily - Lets you set a daily targeted limit for your PPC ad spend.
Shared - Lets you create multiple campaigns with a shared budget.
Indeed, if you're operating within a strict budget, then Bing adverts may be worth exploring in a lot more detail.
How Are Your Bing Ads Doing?
Get your 100% Free Bing Pay Per Click Advert Audit here and find out How To Get Better Results Fast!
The Statistics Behind Bing
Be it global appeal, mass engagement, paid advertising or usage, the stats behind Bing show just how surprisingly big and influential the platform is; they also highlight how useful Bing could be for your business.
Bing has around 1bn unique monthly visits per month.
Bing accounts for 4% of the world's organic searches.
69% of searches on Bing involve some of the most famous brands and websites in the world.
Bing accounts for around 30% of all searches in the US.
Indeed, Bing's demographic statistics are quite interesting too.
51% of those who use Bing are women.
85% of Bing users are based in the US.
Over 70% of those who use Bing are over 35.
38% of Bing users earn over £100,000
Now, what about advertising statistics?
Bing has been downloaded on more than 1.5bn devices.
48% of Bing searches come from Windows 10.
Shopping ads on Bing have a 45% higher CTR thanon Google.
Ad revenue is projected to rise in 2021
There's no denying how intriguing some of these stats are. From user demographics to paid advertising, Bing has certainly carved its own path regardless of popularity or notoriety.
Do You Want Better Bing PPC Ads Results?
Get your 100% Free Bing PPC Ads Audit here and find out How To Get Better Results Fast!
The Most Impacful Types of Bing Ads
Bing is a useful advertising platform for you to drive people to your website or entice them to buy your product. With this in mind, Bing has a number of ad formats to choose from when launching a campaign, each with their own specific qualities.
Expanded Text Ads are predominantly found in search results. With three headlines of up to 30 characters each, and content including up to two descriptions of 90 characters, Expanded Text Ads are one of the more simple text-based Bing adverts, but they're also one of the most impactful.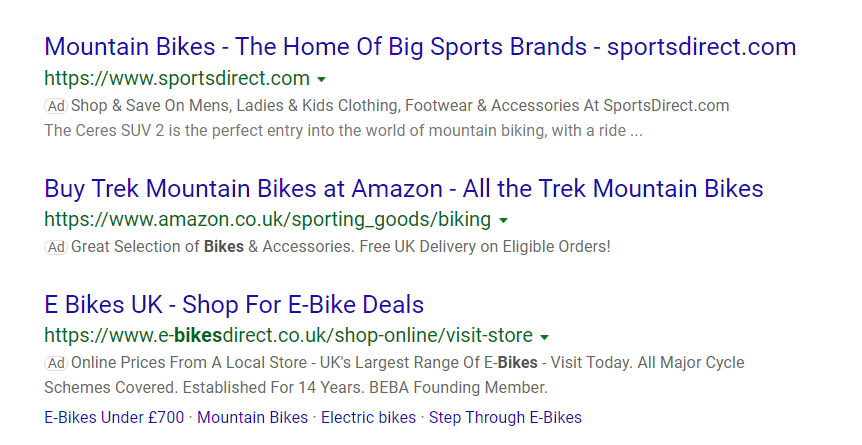 Dynamic Search Ads appear like predictive text on relevant search queries in relation to your website or product. One of the biggest benefits of Dynamic Search Ads is that there's no need to manage bids or maintain keyword SEO.
3. Microsoft Audience Ads
Microsoft Audience Ads let businesses emass non-search related trade through specific ad placement. Be it in an article or page of content, this type of Bing ad is there to provide additional avenues for brands to communicate their message.
These Bing ads eliminate the need to identify headlines and descriptions. Indeed, list 15 headlines and 4 descriptions and away you go, Microsoft determines the best combinations for your campaign.
Other ad formats include App Install Ads, Bing Smart Search Ads and Product Ads respectively. Moreover, not only are all of Bing's ad formats great in their own right, but they also compliment one another entirely, meaning you can engage with customers in a number of unique ways.
Bing Advertising Best Practices
Now that we've established that creating a Bing advert is simple enough, it's now important to consider what makes an advert successful. Here are just five things to keep in mind when launching your next campaign on Bing.
1. Target Specific Devices
One of Bing's most amazing functions is that it lets advertisers control what devices their ads reach. This is monumental.
This specific feature is perfect when building a website for a certain website, like a mobile, desktop, app or tablet. What's more you can even target specific operating systems such as iOS, Android and Windows.
2. Perfect Your Search Demographics
If you want more control over your search demographics, then look no further than Bing.
Bing gives you the power to decide exactly who sees your ads. Cast your net as wide or specific as you like and launch your campaign safe in the knowledge that you can adjust your demographic with every campaign you run.
3. Optimise For Siri… Trust Us
Incredibly, Bing is the default search engine for Siri.
Because of this, you can amazingly reach hundreds of millions of people. Also, with Bing, you can optimise your ads for voice-based keywords that take mistakes and similar-sounding words into account.
So, even if a user mispronounces your ad, your product can appear regardless.
4. Invest in Ad Extensions
Bing provides similar ad extensions to the likes of WordPress and Google, giving you access to useful additional functions.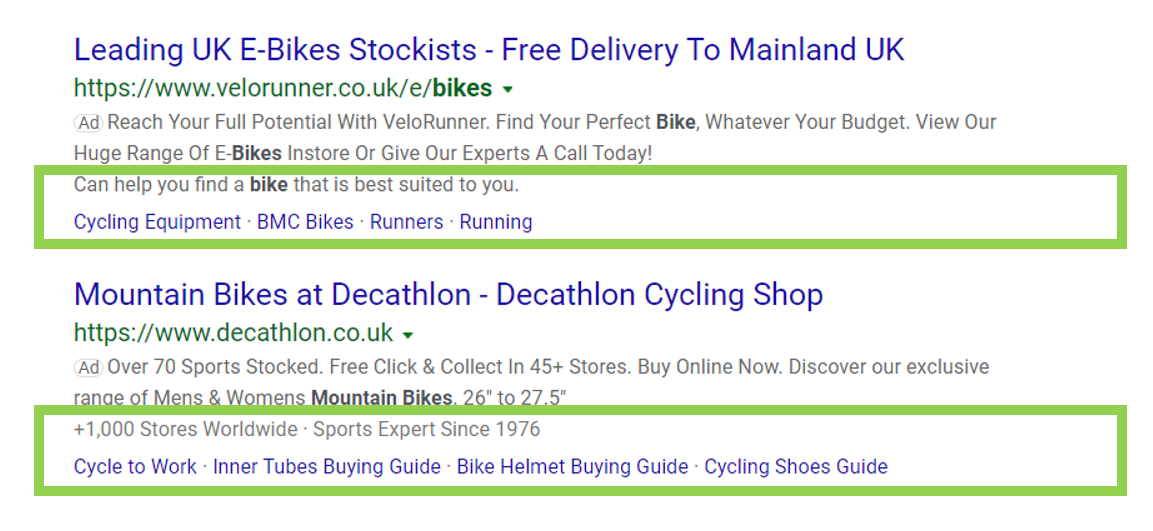 Sitelink; call; app; review; image; callout - these are the seven types of extensions, all of which can be extremely beneficial to your campaign. Think of them as the icing on the cake.
5. Monitor Your Competitors
With Bing ads, you can get detailed reports on your competitors.
These reports show you how much influence you have in relation to your competition. This is one of the most important features in Bing Pay Per Click and, when analysed right, can positively impact your Bing campaigns.
Get 5-Star Bing Ads Results With Our Free Audit
Get Better Bing Ads Campaigns
 Start Your Bing PPC Improvement Journey Here
The time to stop overlooking Bing ads is now. If you run a business or have a product you want to show to the masses, then you absolutely must consider investing both time and money into advertising on Bing - it could just give you the edge over your competitors who, like so many misguided people, underestimate the sheer power and popularity of Bing.