We will help you make Video Ads work for Your Brand
Video Ads: Everyone has heard the time-old adage: video is king.
But how can you make it the king of your paid marketing strategy?
Indeed, video advertisements are one of the most popular ways to reach audiences online and are set to dominate the marketplace for years to come.
So, whether you're looking to reach a young, energetic and vibrant audience, or a more serious, demure demographic, this could be your solution.
And, to get you started, why not take advantage of our FREE YouTube Ads audit?
What is Video Advertising?
Video advertising is promotional content in the form of paid ads that play either before, during or after a video. Serving up ads on multiple platforms including YouTube, Yahoo, Google and Facebook, to name but a few, video advertising is set to dominate the next decade due to not only the emergence of Instagram Reels and TikTok, but also for the fact that they are easy to create and have shown to seriously boost lead generation.
Do You Want Better Results From Your Video Ads?
Video ads are both the present and the future because they empower advertisers to connect with audiences in a format that, research suggests, they prefer most.
Owing to their format, video adverts incorporate audio and visual elements that appeal to multiple senses. They also give marketers more unique opportunities to engage with and convert prospects than standard text-based or image ads do.
Best used on social media, video advertisements not only garner more impressions but also give advertisers more creative freedom.
Our PPC Geeks will review your current ads and report back on how to improve them! Get your 100% Free Video Advertisements Review today from the PPC Experts!
When Did Video Ads Begin?
Whilst video advertising can date back to around 1955, video ads online were launched around 1994 with the emergence of Yahoo and the subsequent launch of Google three years later.
That said, the 2000s saw their true power on the likes of Facebook, which launched in 2004. However, it was YouTube's emergence on the scene in 2005 that truly changed everything, launching two dedicated advertising models - Participatory Video adverts and Brand Channels - in 2006.
After this, video advertising grew stronger and stronger, migrating across multiple other channels including Instagram, LinkedIn and TikTok, which came about in 2017.
Why not contact our PPC Agency London branch, to find our more?
Video Ads Statistics You MUST Know Now
85% of businesses use video as a marketing tool.
66% of people said they'd prefer to watch a short video to learn more about a product or service.
78% of users got more engagement on their website after using videos.
⅓ of all online activity is spent watching videos.
78% of people watch videos online each week, while 55% watch videos every day.
The statistics continue to excite:
32% of businesses use video advertisements for sales purposes.
74% of marketers say video has a higher return on investment than static imagery.
53% of businesses have seen an improvement in brand awareness since using video adverts.
YouTube has the best ROI for video content, followed closely by Facebook and Instagram.
The average spend on video ad production is between £100-£10,000
How Are Your Video Advertisements Doing?
Get your 100% Free Video Adverts Audit here and find out How To Get Better Results Fast!
Video Advertisements Our 3 Basic Tips
Video ads are crucial for marketing your products and services, but what are the main  principles? From making your videos understandable to capturing customer intent, here are a select number of best practices available to you.
1. Make Your Video Understandable Without Audio
Did you know that a significant amount of smartphone and desktop users watch Yahoo videos on mute?
Therefore, to ensure that most users can understand your video adverts without audio, Yahoo recommends adding subtitles to your videos. And, as smartphone users, in particular, are looking at reduced screens, display text is much larger than normal, therefore, this is just another way to get your message across.
2. Display Your Brand Name at the Beginning
To ensure that everyone who exits your video early remembers your ad, place your brand name at the beginning of the video.
This just further increases the user's contact with your brand.
3. Capture the Users' Interest Straight Away
The public's attention spans are short, so always remember that when creating your ads on Yahoo.
Get Better Results From Your Video Ads!
Our Video Ad Experts will show you how to improve your results!
Booking your 100% Free Video Advertisements Audit here will show you how to get better results from your video ad spend!
Video ads on YouTube can help boost your brand awareness and drive sales. Moreover, there are a number of ways you can serve up video adverts on YouTube. So, here are just a select few of the options at your disposal.
1. Non-skippable Video Advertisements
Appearing before, during or after the main video, non-skippable ads are great because they have to be absorbed and cannot be skipped. Though you have to pay every time someone watches your ad, if your landing page is set up and optimised, and your video is engaging and enthrals the viewer almost instantly, the leads should come pouring in.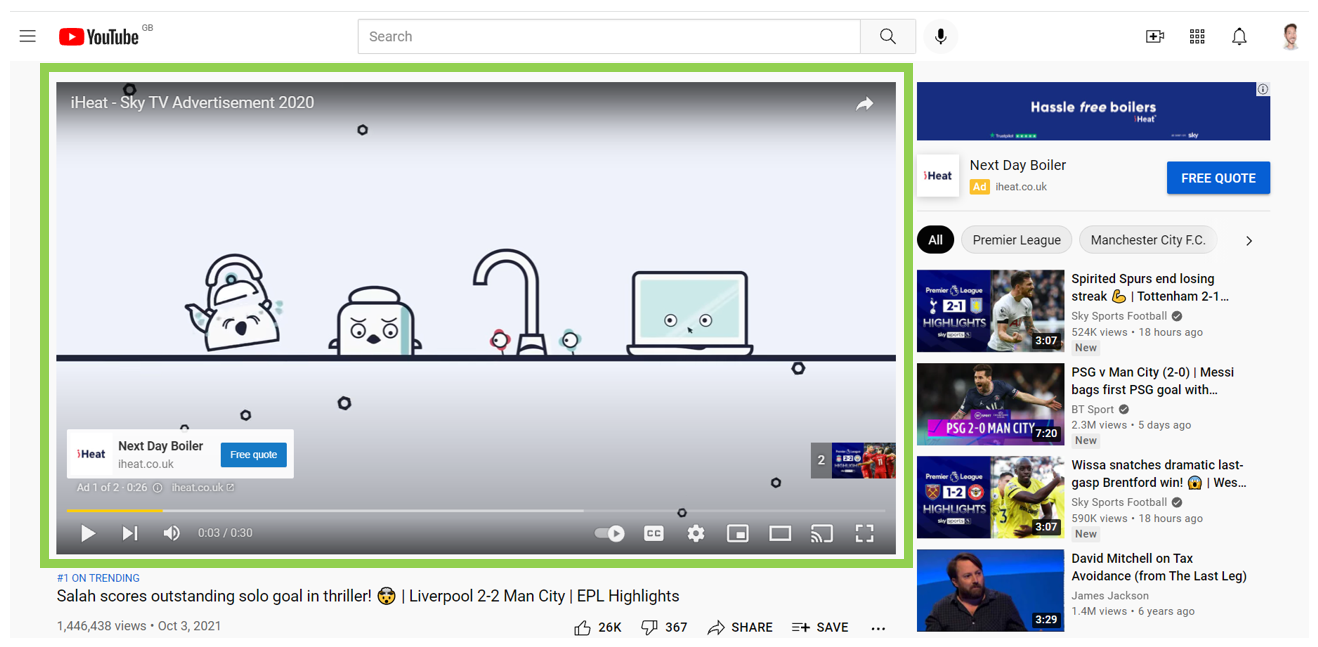 Display Ads appear on the right hand side of the screen in the form of a suggested list.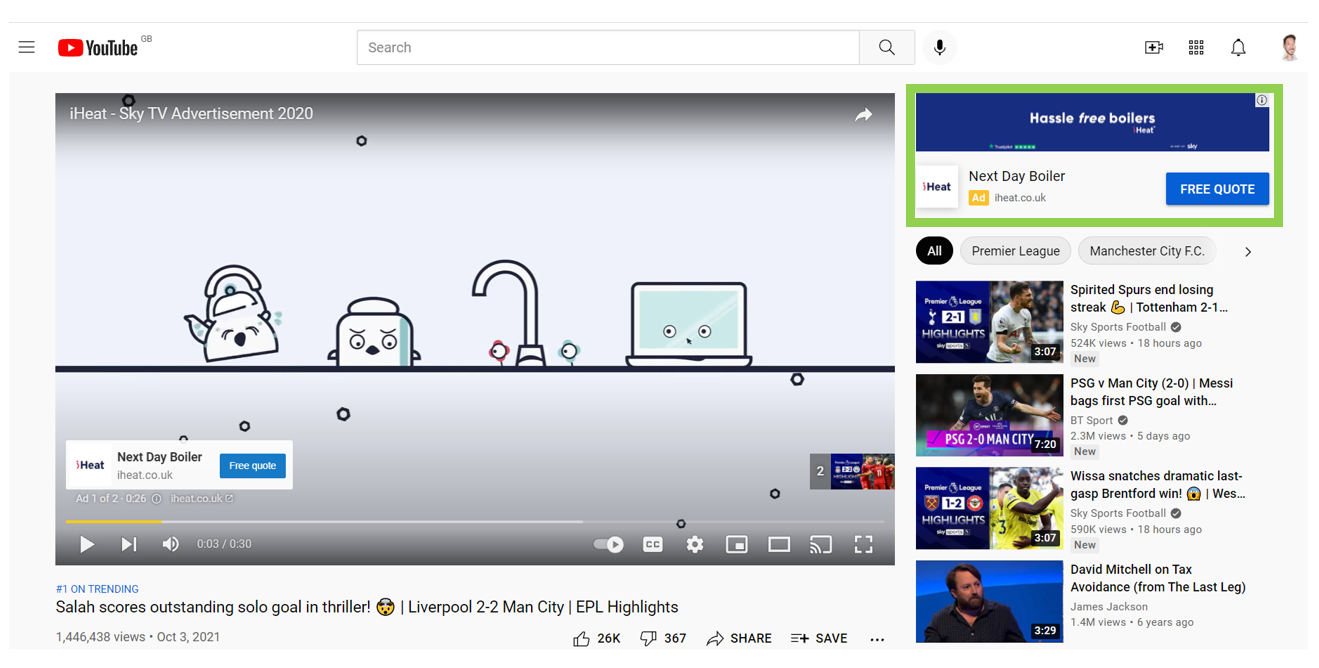 These ads can be visible across the whole of YouTube, except on the homepage. Indeed, if a viewer is interested in your product and they notice your ad, they should, more often than not, click on it and then be brought through to your landing page.
This banner-like ad is one of YouTube's most used options. Overlay ads appear overlaid when a user plays a video. They are usually static and take up 20% of the screen.
Get 5-Star Video Advert Results With Our Free Audit
If you're using Google to generate leads, then you should be aware of Google Adwords for video. Presenting a massive opportunity for marketers and businesses alike, here are the three types of video ads on Google you should know about.
Exactly the same as, and mostly served up on Youtube, in-stream ads play at the beginning, middle or end of your video adverts on Google.
However, it's worth noting that viewers have the option to skip the ad 5 seconds in.
Similar to Google's search engine layout, in-search ads are displayed like search results when specific keywords are searched. These videos are not played until someone clicks on the video; you are also only charged once the user clicks on the video to play it.
Visible across the whole of YouTube, except on the homepage, display-ads are labeled as an ad. Your ads also appear alongside other videos on the watch-specific page.
There's a video ad solution to suit every budget. However, it's always important to know some best practices before starting out on your ads journey.
Personalise your video adverts, make people think your ad was made with them in mind.
Make it relevant.
Choose the right video ad type and media platform for your business.
Capture your audience's attention span right out the gate.
Test your ads as much as possible.
Various factors can affect your video advertisements' performance, however they usually encompass the quality of your ad and CTA, your goal and who you are targeting.
Improve Your Video Ads Campaign Results - Today
Be it on Yahoo, YouTube or Facebook, video advertisements should play a substantial part in your marketing strategy.
We said previously that video advertising is set to dominate the next decade - and we mean it.
Indeed, using the helpful tips outlined above, you can now start preparing for the next ten years by creating impactful video adverts that deliver on your objectives.
Want to vastly improve your results on Google? Book your free YouTube ads audit now!