STARS Google Ads Strategy
The purpose of your Google Ads Specific, Tailored And Researched Success Strategy (STARS) is to ensure that you and PPC Geeks are aligned in understanding your company growth objectives and the deliverables required to achieve them.
By formally mapping out this process we aim to have a solid plan with defined measurable results to report back progress against. Sounds great right? Talk to us today to find out more!
PPC Geeks are not your average Google Ads Agency - we help you deliver specific objectives and key results that complement your overall business goals and marketing mix when crafting your Specific, Tailored And Researched Success Strategy.
PPC Geeks are not the kind of agency that sets and forgets your account. While we have strict, detailed, essential and controlled regular maintenance routines that we perform on your account, we add the most value when we are able to align our work with your overarching business goals. This way we can ensure that we shape and help you grow your business through an integrated digital marketing strategy to help achieve your overall business goals.
You get to work with a team of highly experienced, regularly trained Google Ads specialists and digital marketing strategists who can provide not only the technical support you need to manage your Google Ads account but the business acumen and strategy to understand what you need to grow the success of your paid advertising campaigns.
Why you need a Specific, Tailored And Researched Success Strategy
You wouldn't set out on a car journey without defining where you are going and how you are going to get there. Too often digital marketing decisions are made on the fly with no regard to an overarching goal or the strategy required to deliver it. While agile changes for day-to-day operations are of course needed, it is important to understand why we are doing something and what is expected to be delivered. Only then can you reliably decide how that will be delivered. While we can, and do, hit the ground running to improve your account, it is important to make sure that we are aligned with your overall business strategy to allow us to create the STARS you need to get where you need to go.
If your current or potential digital agency has not talked about defining exactly why and what you want, then you to question whether they have the experience, business acumen and expertise to deliver what you truly need to exceed your goals.
While we are Google Ads experts, and that is the key reason you are speaking to us because you need help in this area, we hear time and time again from our clients that the well-structured strategy and processes we put in place help them to better align their overall business and marketing goals positioning them for what they want to achieve. This is only after the positive experience of completing a STARS with us. All value. All the time.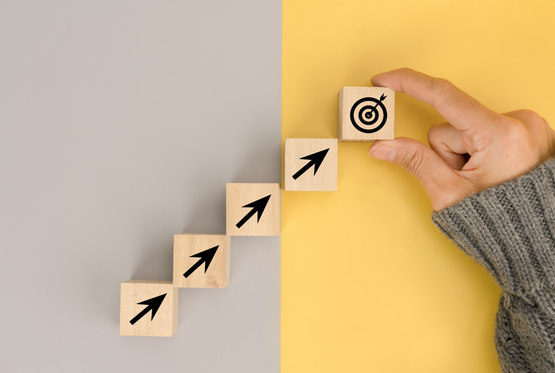 Specific, Tailored And Researched Success Strategy: Setting your OKRs
Based on the above we will determine the objectives for the next period and the measurable key results that are needed to deliver them.
What are objectives and key results (OKRs)?

Used by Intel and implemented with great success at Google, we have taken to using the OKR process in our own business and define them for our clients to ensure everyone is on the same page and knows what we are aiming to deliver and how it will be measured. We find again and again that even simple KPIs are not set by digital marketing teams and external agencies for their clients. As far as we are concerned it all starts with why we are doing something and what needs to be delivered. Only by defining the OKRs can we truly understand the needs of your business and therefore be able to create the STARS unique to you to deliver.

Objectives should be ambitious, qualitative, time-bound and actionable. For us, this is knowing the goal of your Google Ads campaigns and what you need to achieve.

Key results should be defined for each objective, usually 2-4 key results will be tracked. These should be quantifiable, achievable, lead to objective grading and be difficult, but not impossible. OKR results can be based on growth, performance, revenue or engagement. Often they are numerical, but they can also show if something is done or undone, so a binary 0 or 1. These are often the specific volume of leads, cost of lead KPIs or the return on ads spend (ROAS) figures we need to exceed.
Your objectives
What does your digital advertising campaign need to achieve?
Most of our clients come under one of 4 broad goal programmes. They either want more leads (lead generation), more sales (e-commerce), more exposure/branding (impressions and reach) or more signups (lead generation for SaaS, newsletters sign ups etc). We will work with you to see which of these or a combination of these works best for you going forward and align our strategy and OKRs to fit these,
The key results required to deliver your objectives
Your Key Performance Indicators (KPIs) that you and we need to track against to report back to you and your business
Positioning Strategy
It is critical that we understand and align your strategy to how you wish for your products and services to be positioned in the marketplace.
Your specific ad platform strategy
Our specialism is Google Ads, but within Google Ads there are lots of areas that can be utilised to expose your company and get more leads and sales. We take a trickle-down approach combined with aligning with your strategy to work with you to define the best mix of these options to achieve your OKRs. This comes from:
Search
Display
Video
Gmail Sponsored Promotions
Shopping Ads
Programmatic
More
Each of these areas will be broken down into their own specific campaigns as appropriate each with their own OKRs if required. We want to ensure that we are using all the tools available to help you achieve your Google Ads OKRs and have a complete Google Ads strategy to deliver your STARS.
Measure the right stuff - tracking
It is critical to ensure that you have measures for all the relevant data points to understand the performance of your campaigns. This is not the same as tracking 'everything'. We need to ensure that your tracking is set up to give you the best possible view of what is working and what isn't.
"What gets measured gets managed."
Strategy: How will your objectives be delivered?
High-level digital marketing strategy
This needs to align with what is needed for your unique product/service offering and the other activities that you have going on to market your business.
Google Ads specific campaign strategy
We will create an action plan to deliver over the next period which includes, but is not limited to:
Map strategy to achieve/exceed OKRs.
Go through 3 months worth of experiment opportunities with the client to agree on what to implement.
Explain expectations for what you need to do.
Agree on roadmap/plan of action and KPIs.
Plan a timeline and schedule tasks in asana to measure progress.
Ensure we report back in Weekly and Monthly reports against quarterly OKRs.
Deliverables
PPC Geeks are measured and strive to exceed your KPIs. If there are any other specific deliverables required these will be defined here along with our standard reporting and any bespoke reporting requirements required to help you get the most out of and understand our service thus enabling us to integrate into your overall marketing mix. There are many ways to define a businesses success but with the right plan we can align everything we do to what your business wants to achieve.
Commitment: We're in this together
Once we have agreed your OKRs, KPIs and STARS require to deliver your goals we ensure that we all sign up to what we are going to deliver. This commitment to what needs to be done to drastically improve your account performance and reach your goals is a partnership between you (our client) and us (your PPC Geeks team) to exceed your goals.
In turn, this ensures that we are aligned on what we are working towards, and it gives us the flexibility and authority to make the right decisions in the account to aim to deliver the OKRs.
Your Business Success Is Defined and Delivered by our Specific Strategy
As you can see from the above we take becoming a critical partner in your business very seriously. We go above and beyond to ensure that you have the business consulting over and above just day-to-day Google Ads management to ensure your companies success over the long term.
See for yourself what PPC Geeks can do for you - get your account audit today and discuss with our team what a STARS could do for your business this year.
YOUR FIRST STEP TO GOOGLE ADS EXCELLENCE
Get started with the PPC Geeks
We'll show you what difference we can make. Let us in for a free, no obligation audit of your account.
Step One
Give the Geeks secure access to your AdWords account (it's easy, we'll show you how)
Step Two
The Geeks will review your account, finding where we can increase your return on investment
Step Three
We'll take you through our findings and present a plan to improve your AdWords performance