The #1 Agency for Helping Businesses Who Believe They've Maxed Out
If you answered YES to any of the above, then PPC Geeks can help - be it by managing your PPC altogether or advising on how to drastically improve your results.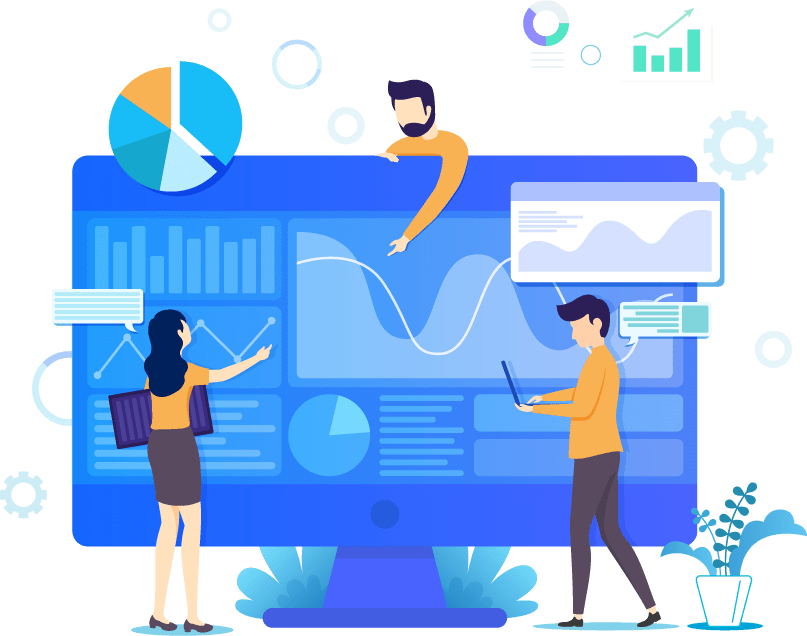 Will Your Brand be our next happy Google Shopping Ads client ?
Get Your Free PPC Audit and See How PPC Geeks Can Help You Significantly Improve Your Results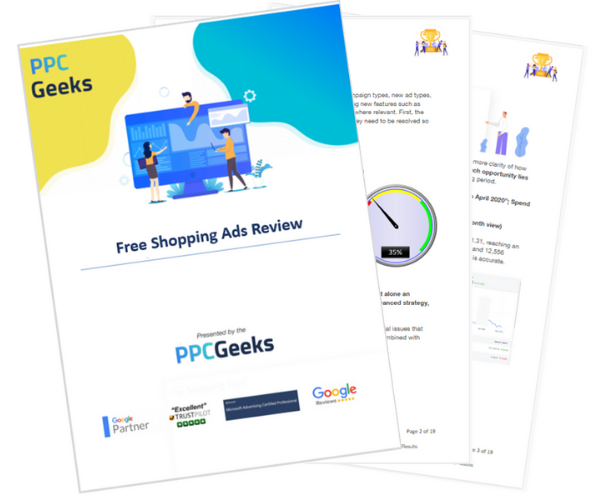 Our PPC Ads Audits are around 30+ pages and are perfect for those looking to gain valuable insights on how to improve their plateaued results and understand why they stagnated in the first place. Some of the areas our reports cover include:
Account Structure
Conversion Tracking
Target Audiences
Deep Dives into The Highest Spending Areas
Main KPIs Overview
Where Your Brand Is Wasting Budget
Missed Opportunities
In order to get back to succeeding, it's important to understand how to maximise your PPC Ads in order to fix what went wrong in the first instance, and also to make sure your results never plateau again.
Why Has My PPC Results Plateaued?
Everything from the political climate to financial uncertainty can cause your PPC results to plateau. So, it's important to understand why you feel like you've maxed out in order to improve your results because, there's always room for improvement that can ultimately take your campaigns to a level you may not have ever considered.
If you've been working on a PPC account for a long time, there's no doubt that you know what works and what doesn't. But regardless, sometimes you just reach a plateau. It's not necessarily a bad thing — in fact, a plateau can be a great opportunity to take a step back, reconsider your approach, and ultimately come away with a new way of taking your accounts further than ever imagined.
That said, it can be tough when you feel you've maxed out. But don't despair - PPC Geeks can help you get back on the right track.
Why Work with One of the Best PPC Agencies in the World?
At PPC Geeks, we pride ourselves on what we achieve for our clients on a daily basis, be that significant results or improving their PPC campaigns through implementing a successful strategy that aims to never let your results plateau.
We always have your best interests in mind when it comes to investing in help with your PPC Ads. That being said, we also provide a lot of added value, including:
Exclusive access to our UK based, comprehensively certified PPC team who pride themselves on having worked with some of the most established brands in the world
No surprising pricing models. Just an uncomplicated structure that prioritises improving your PPC results
Our work is unmatched by anything an inhouse team could produce. We are simply more equipped and knowledgeable in the field of PPC advertising, hence why our results don't plateau
With a proven track record in the sector, we make our clients millions of pounds in improved sales through improving ad performance
We provide you with one single point of contact. This way nothing gets lost and you can communicate with one dedicated individual whilst also benefiting from the use of the whole PPC Geeks team.
We are completely focused on making smart, informed and data-driven KPI decisions that have your marketing interests in mind
When it comes to feed optimisation, we don't believe in unnecessary risk. We always consider your wider objectives before making any decision
We have hundreds of 5-star reviews on Trustpilot from some of the world's biggest businesses.
How to Stop Your Results from Plateauing
Results can plateau. However, there are ways to reduce the chances of this happening and help you to never feel like you've maxed out.
It goes without saying that increasing conversion rate will boost your revenue for the same amount of advertising spend. In this case, it's important to utilise AI and how, by reviewing your landing pages, you can ultimately revitalise your results by making simple changes.
Make sure your pages are fast loading on mobile browsers and desktops. Highlight a clear CTA, and make sure you differentiate your offerings from your competitors. In doing so, you should be able to stave off any unwanted plateaus.
The biggest block to performance is, without doubt, wasted ad spend. Money is often being wasted on fruitless campaigns, ad groups, keywords and other extensions that just aren't performing. Though your ads may be performing well in certain areas, it's important not to assume that your account is performing well as a whole.
It's more than likely that your average ROAS is being negatively impacted by low performing assets and so it's vital that you reduce wasted ad spend as much as possible in order to see a significant improvement in campaign performance.
If you want to stop your PPC from plateauing, then improve your conversions by improving how you target your demographic. A high achieving account manager like the ones we have here at PPC Geeks should be able to improve how you target your audience by considering the likes of Performance Max, Broad Match and Dynamic Search Ads, for instance.
Once consistency in volume is reached, these methods can be refined so you can make the transition into targeting high quality traffic which means that your results should significantly improve.
PPC Geeks: Specialising in Significantly Improving Results
Take the guesswork out of whether or not your PPC campaigns may succeed and fail and let one of the world's best PPC agencies guide you on how to significantly improve your results and stop any unwanted plateaus.
In short, our team of PPC e experts are on hand 24/7 to help grow your business and make sure your campaigns don't plateau.