We will help you make Display Ads work for Your Brand
Google Display Ads are not essential to finding and retaining customers. They are a seriously good investment if you want to do two things: build a valuable and recognisable brand, and keep that brand at the forefront of your prospects' minds.
Google is the world's largest search engine; Google Display Ads give you the opportunity to cement your brand in the minds of consumers using a platform used by the entire world.
Display Ads are visual-based ads you see while reading an article, watching a video on YouTube or using your favourite mobile app
.
Indeed, Google banner advertising (the main player in this market) are
appropriately
served on the Google Display Network
. This is a platform of over 2 million websites and apps that reach around 90% of the internet.
Therefore
, this network empowers you to market your brand to an astronomical number of consumers
. While some may not always be very receptive, Google Image Ads opens your business up to the world.
Get Better Results With Your 100% Free Expert Review Now!
If you are currently running Display Ads for your brand but not seeing the results you would like, simply book your 100% Free Expert PPC Audit of your Image Ads here. Just some of the areas we will look at are:
Account Structure & Settings
Conversion Tracking
Target Audiences
Deep Dives into The Highest Spending Areas
Main KPIs Overview
And Much More!
Get yours today and soon you should be getting better results from your banner advertising budget!
A distinct alternative to Google Search Ads which enable marketers to buy promotional space within the platform's search results, Google Image Ads, on the other hand, are served up whilst consumers are consuming content rather than searching for it.
This form of marketing is called 'interruption based' and as such you are putting your message in front of people when they are not necessarily 'looking for your brand, product or service'.
One of the main reasons to use banner advertising concerns brand awareness. Thanks to the power of stimulating imagery, Display Ads really establish your brand in your prospects' minds.
In reality, a prospect won't become your customer immediately, however, with Image Ads, you can keep your brand at the forefront of your prospects' mind.
Google Display Ads Statistics You NEED to Know
Check out these stats that highlight the power of Google Display Ads and why the platform is one of the best advertising platforms in the world:
Google was the most-visited domain in 2020-2021, with 74.17b hits.
Google Ads is currently the biggest provider of display advertising on the market.
Google accounted for 92.96% of the global search engine market.
And there's more. Did you know that:
The Google Display Network reaches 90% of online consumers.
50%+ of people can't differentiate between a display ad and an organic result.
Google Ads receive 95% of mobile clicks.
96% of brands are spending money on Google Ads to boost brand awareness.
41% of people trust online Banner Ads.
The stats speak for themselves. Google banner advertising is, without doubt, one of the world's leading online advertising tools, and for good reason.
How Are Your Display Ads Doing?
Get your 100% Free Banner Ads Audit here and find out How To Get Better Results Fast!
Why Shouldn't You Use Google Display Ads?
There's no doubting Google's success and popularity amongst advertisers. But that doesn't
necessarily
mean that the platform is without its shortcomings.
Indeed, the main reason why you should be wary of Google banner advertising is
mainly
their penchant for displaying your advert to
absolutely
anybody
.
This means that, though your advert is being served to a large audience, they are not necessarily receptive to your product.
For this reason, it's more important than ever to understand your product and your target demographic. Indeed, if it's a niche product aimed at a unique audience, then maybe Google Image Ads are not for you.
Display Ads Best Practices
Now that we have established that Google Banner Ads may be absolutely worthwhile for your brand, it's equally important to note that they can be tricky to execute at first. If you have always struggled with banner advertising, here are some best practices to take a closer look at.
1. Tap Into Your Top Performing Search Keywords
Keyword targeting is a great way to introduce your brand to relevant audiences, and not the unspecific demographic we noted earlier. Borrowing from your top performing keywords on the search network, you can feel confident that these keywords should generate clicks and conversions on the Display Ads network too.
After running your Image Ads for a while, you will have enough quality data to make an informed decision regarding performance. Fundamentally, bid adjustments allow you to turn those metrics into an actual strategy.
From telling Google Ads to increase your maximum CPC bid to setting a negative bid adjustment, plain and simple, using bid adjustments is a great way to boost your gains and cut your losses.
3. Analyse Your Referral Traffic
For display advertisers, understanding your referral traffic can be incredibly valuable. Google's referral traffic report informs you of which websites are linking to yours the most.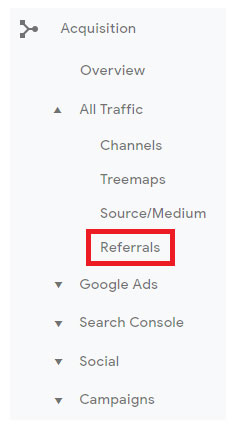 These websites, therefore, make for the ideal places to serve your Banner Ads because you know you're marketing to relevant audiences.
4. Emphasise Your Value Proposition
The visual aesthetics of your ads play a monumental part in their effectiveness. However, don't discount the important role your value proposition plays in everything.
Your value proposition is the extra benefit someone will enjoy when buying your product. An enhanced confidence one feels when they look good wearing your clothes, or a boost of motivation when listening to a particular song on your headphones.
Whatever it may be, make sure to make it as prominent as it can be.
Understanding your buyer journey and employing advanced funnel strategies combined with audiences and value propositions will likely make the difference you are looking for in performance!
5. Focus on Writing Punchy Headlines
Because Google will sometimes exclude your beautifully crafted descriptions, it's vital you write the perfect, punchy, all encompassing headline. So, make sure that your headlines are strong enough on their own as they should communicate your unique values as a business and also the offer you're making.
Want to Get Better Results From Your Display Ads?
Getting your 100% Free Dispaly Ads Audit here will show you how to get better results from your banner advertising!
What Are the Main Types of Google Image Ads?
Display Ads provide opportunities to engage users with vibrant images. Indeed, there are three main types of Google banner advertising you can choose from:
Responsive Display Ads are partially automated. To create a responsive ad, simply add your text, images and logo and Google will optimise your ads to improve performance.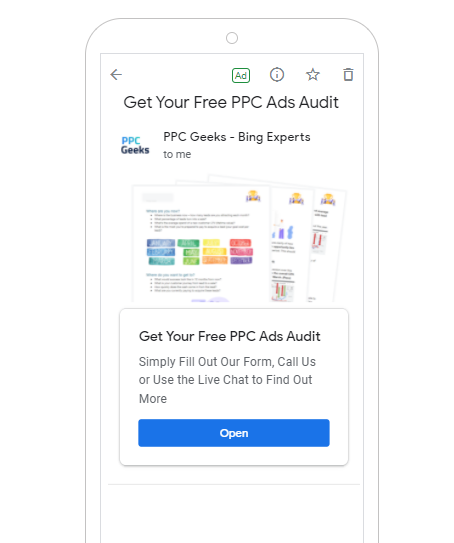 Moreover, both new and advanced users benefit profusely from responsive ads because they blend into the publisher's website, using their font, structure and embodying their all round feel.
2. Upload Your Own Images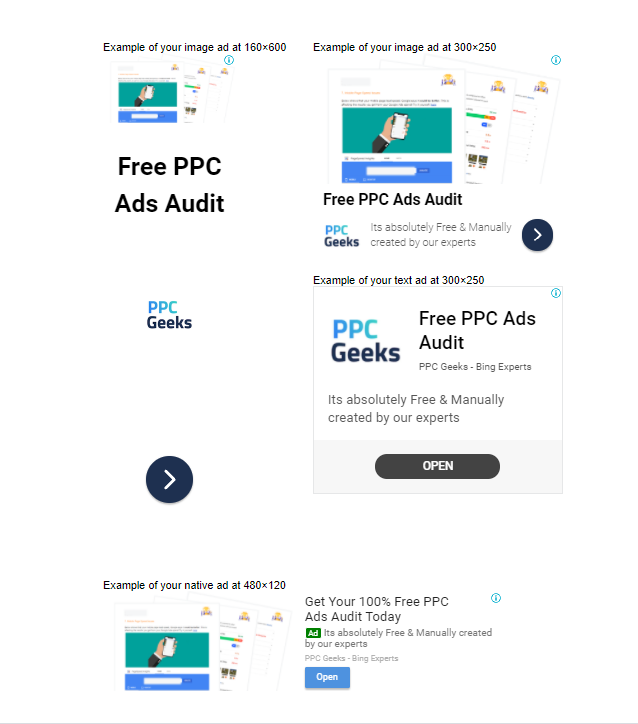 For more control, you can create and upload an image-heavy ad. Indeed, you can upload ads as images in multiple different sizes that best suit the publisher's website. Furthermore, the best place to run image-based ads seems to be on YouTube and across the Display Network.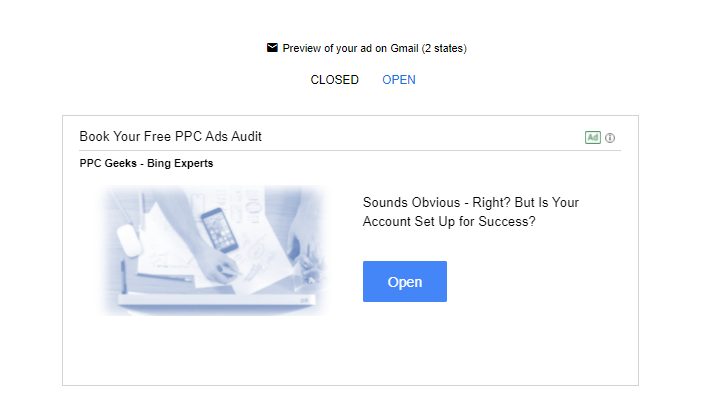 Gmail ads are expandable and show on the top tabs of people's inboxes. First showing in its collapsed form, a user then clicks the ad which takes them to either an advertiser's landing page or expands to the size of an email with numerous pieces of information on it.
Any of these three campaign types - depending on your short- and long-term objectives - are important in their own right and are dedicated to providing an increase in brand awareness.
Get 5-Star Image Ads Results With Our Free Audit
Master Display Ads With Our 100% Free  Audit!
In essence, Google Display Ads should play a big part in your paid marketing strategy.
From appreciating the statistics that underpin the platform, to understanding how it works in more detail, it goes without saying that you can use Google Image Ads to your advantage.
Using the information, tips and metrics we've outlined here, you too can create a successful Google banner advertising campaign that boosts brand awareness.