The #1 Agency for Google Shopping Ads
Do you need help from one of the best Google Shopping Ads agencies in the UK?
Do you want to improve your ROI through Google Shopping Ads?
Do you want to unlock the potential of Google Shopping Ads?
If you answered YES to any of the above, then PPC Geeks can help - be it by managing your Google Shopping Ads or providing specialist advice.
Get Your Free Google Shopping Ads Audit and Transform Your Business
Our Google Shopping Ads Audits are around 30+ pages and are perfect for eCommerce business owners looking to gain valuable insights on how to improve their Google Shopping Ads. Some of the areas our reports cover include:
Account Structure
Conversion Tracking
Target Audiences
Deep Dives into The Highest Spending Areas
Main KPIs Overview
Where Your Brand Is Wasting Budget
Missed Opportunities
In order to capitalise on the expanding eCommerce market, it's important to understand the details of how your Google Shopping Ads operate online.
Why Use Google Shopping Ads to Improve Your eCommerce Business
There are a ton of advantages to using Google Shopping Ads to increase ROI. Some of the most recognisable brands in the world use Google Shopping Ads to boost brand visibility and product sales - with 90% of consumers acknowledging that Google Shopping Ads have influenced their purchasing decisions in the past.
Indeed, as one of the best advertising platforms for products sold through eCommerce websites, it's important to extract the most out of Google Shopping - and with the launch of free product listings, it's now even easier to reach your demographic.
So, with over 60% of consumers revealing that they have clicked on a Google Shopping Ad at least once, it's now time to recognise how essential these ads are to your success within the eCommerce market.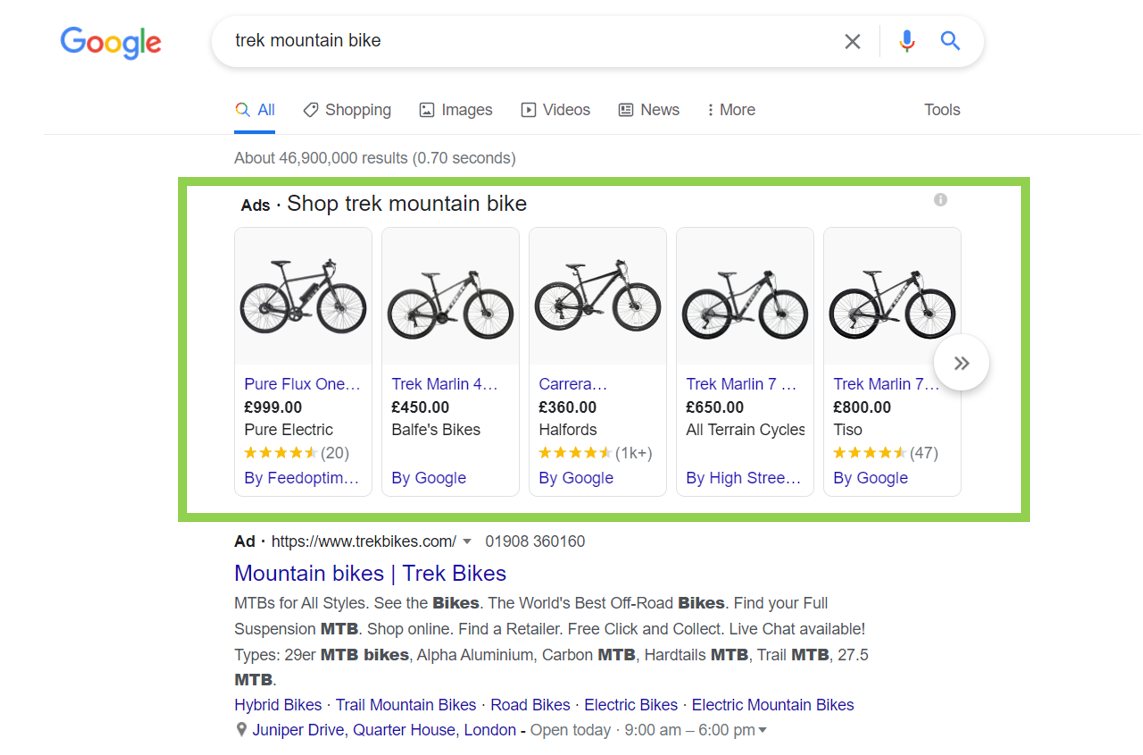 Get 5-Star Ecommerce Ads Results With Our Free Audit
Why Work with an Award-Winning Google Shopping Agency that Thrives on Achieving eCommerce Success?
At PPC Geeks, we pride ourselves on what we achieve for our clients on a daily basis, be that significant results or improving their eCommerce business through expert Google Shopping marketing.
We always have your businesses' best interests in mind when it comes to investing in Google Shopping Ads. That being said, we also provide a lot of added value, including:
Exclusive access to our UK based, comprehensively certified PPC team who pride themselves on having worked with some of the most established eCommerce businesses in the planet
No surprising pricing models. Just an uncomplicated structure that prioritises increasing your sales through your Google Shopping Ads
Our work is unmatched by anything an inhouse team could produce. We are simply more equipped and knowledgeable in the field of Google Shopping
With a proven track record in the eCommerce sector, we make our clients millions of pounds in improved sales through paid advertising on Google Shopping
We provide you with one single point of contact. This way nothing gets lost and you can communicate with one dedicated individual whilst also benefiting from the use of the whole PPC Geeks team.
We are completely focused on making smart, informed and data-driven KPI decisions that have your marketing interests in mind
When it comes to Google Shopping Ads, we don't believe in unnecessary risk. We always consider your wider objectives before making any decision
We have hundreds of 5-star reviews on Trustpilot from some of the world's biggest eCommerce businesses
How Are Your Shopping Ads Doing?
Get your 100% Free Shopping Ads Audit here and find out How To Get Better Results Fast!
How to Guarantee Google Shopping Success
Whether you're taking advantage of free listings or focusing on a PPC campaign, there are a number of ways of ensuring success with Google Shopping Ads
Optimise Your Google Shopping Feed - Your Google Shopping Feed sits at the epicentre of any eCommerce campaign, providing you with insights in terms of keyword and ad ranking. It's imperative that your shopping feed includes vital information including your product ID, title and description, images, pricing, stock levels and active landing page links
Keyword Rich Content - Instead of identifying the keywords you want to target like you would with a standard PPC campaign, with Google Shopping you bid on product groups. Google then locates relevant keyword matches from your product titles and description fields. Therefore, it's important to write product titles and descriptions using search terms your target audience is likely to be searching for
Positive Reviews - A successful Google Shopping campaign needs to incorporate on-page conversions. Providing proof through user generated reviews gives customers confidence that your products are what they're looking for.
Boost Sales Through Your Shopping Ads!
Get your 100% Free Shopping Ads Audit here and find out How To Get Better Results Fast!
PPC Geeks: The Google Shopping Agency You Can Depend On