The #1 Agency for Helping You Rescue Your Underperforming PPC Accounts
If you answered YES to any of the above, then PPC Geeks can help - be it by managing your PPC altogether or helping you rescue and fix your broken accounts.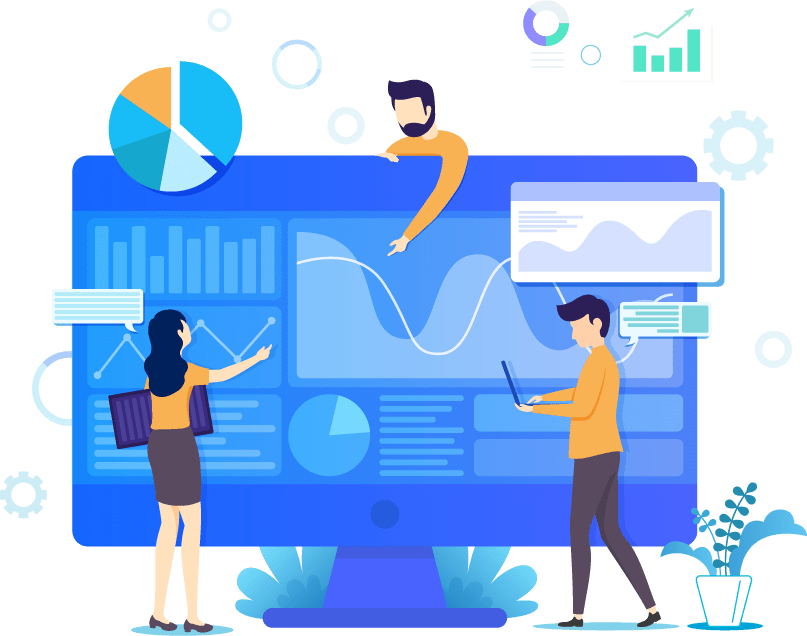 Will Your Brand be our next happy Google Shopping Ads client ?
Get Your Free PPC Audit and See How PPC Geeks Can Help You Fix Your Underperforming Account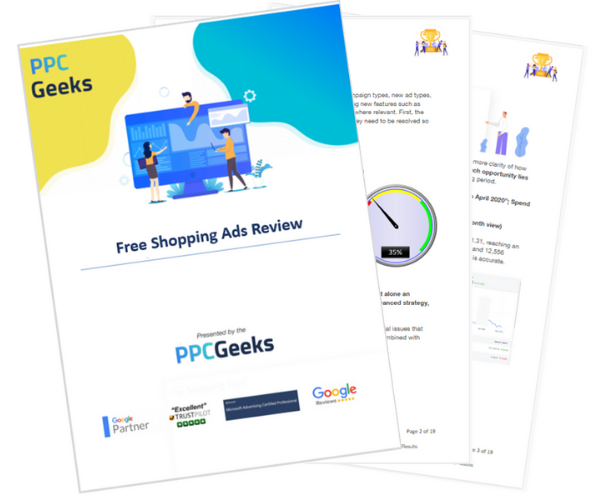 Our PPC Ads Audits are around 30+ pages and are perfect for those looking to gain valuable insights on how to fix their broken or underperforming accounts and understand why they are not working as they should. Some of the areas our reports cover include:
Account Structure
Conversion Tracking
Target Audiences
Deep Dives into The Highest Spending Areas
Main KPIs Overview
Where Your Brand Is Wasting Budget
Missed Opportunities
In order to get back to succeeding, it's important to understand how to maximise your PPC Ads in order to fix what went wrong in the first instance, and also to make sure you never repeat the same mistakes again.
Why Are My PPC Accounts Underperforming?
For many marketers, the world of PPC can seem extremely confusing at best and impenetrable at worst. So as you can imagine, within the world of PPC there are numerous pitfalls which, when made, can result in unsuccessful campaigns and accounts sometimes underperforming or breaking down.
For example, just take keywords alone: there are four unique match types including broad match, broad match modified, phrase match and exact match. One of the main reasons why we see campaigns not performing is the misuse of keywords. This can look like not using negative keywords; not using keywords in your ad copy or descriptions, or not ranking for the best keywords altogether.
And there are a number of other reasons why your PPC might be failing too, be it not using your audiences to their maximum potential; not using device bid modifiers, or even something as simple as not entrusting the running of your PPC account to a certified expert.
At PPC Geeks, we can change that and help rescue your broken accounts or underperforming campaigns.
Why Work with One of the Best PPC Agencies in the World?
At PPC Geeks, we pride ourselves on what we achieve for our clients on a daily basis, be that significant results or improving their PPC campaigns through implementing a successful strategy that aims to never make the same mistakes you may have made in the past.
We always have your best interests in mind when it comes to investing inPPC Ads. That being said, we also provide a lot of added value, including:
Exclusive access to our UK based, comprehensively certified PPC team who pride themselves on having worked with some of the most established brands in the world
No surprising pricing models. Just an uncomplicated structure that prioritises improving your PPC success rate
Our work is unmatched by anything an inhouse team could produce. We are simply more equipped and knowledgeable in the field of PPC advertising
With a proven track record in the sector, we make our clients millions of pounds in improved sales through fixing broken campaigns and poor performing accounts
We provide you with one single point of contact. This way nothing gets lost and you can communicate with one dedicated individual whilst also benefiting from the use of the whole PPC Geeks team.
We are completely focused on making smart, informed and data-driven KPI decisions that have your marketing interests in mind
When it comes to feed optimisation, we don't believe in unnecessary risk. We always consider your wider objectives before making any decision
We have hundreds of 5-star reviews on Trustpilot from some of the world's biggest eCommerce businesses.
How Can We Help You Rescue Your Underperforming PPC Campaigns?
Even if you have already put a lot of considerable time and expertise into building a successful PPC campaign, chances are that there's room for improvement. However, you may not need to completely overhaul your campaigns to achieve success.
Poor campaigns can be rescued and there may be enough left in the tank to improve your click-through rates and conversions, and ensure that you are spending your remaining marketing budget wisely - even more so if you spend it on instructing an agency like us here at PPC Geeks.
Perform Comprehensive Keyword Research
The biggest mistake that even some of the most experienced account managers make is to perform an initial keyword search when building their campaigns and leave it at that.
The popularity of search terms is constantly evolving, and there may be new prominent high-volume keywords emerging that you are not targeting on a weekly basis.
Fresh additions to your strategy may result in more impressions and a click-through rate increase. Indeed, a lack of keyword knowledge may be one of the main reasons why your PPC campaigns are failing.
Understand your Competitors in Great Detail
It's always important to know what your competition is doing. Studying your rivals' strategy may provide you with valuable insights and ideas for examples of keywords that you may have missed in your research. You can also find out how many other companies are bidding on certain search terms and compare your own performance to theirs.
Seeing what other marketers are doing to extract more value from their PPC campaigns and how they continue to make marginal gains is a great example of the importance of employing an agency to take a deep dive into your competitors' exploits in order to put things right and improve your accounts.
Utilise Negative Keywords
Negative keywords are massively important; play a huge part in the success of your PPC campaigns; and yet for some reason, are hugely overlooked. There are a number of ways to improve your PPC campaigns, and negative keywords are a big component of that.
The power of negative keywords cannot be underestimated as they are extremely helpful in terms of trying to limit your ads so that you don't over exaggerate your reach and ultimately fail.
PPC Geeks: Specialising in Fixing Underperforming PPC Campaigns
Take the guesswork out of whether or not your PPC campaigns may succeed and fail and let one of the world's best PPC agencies guide you on how to boost product sales and increase brand awareness through online marketing.
In short, our team of PPC and eCommerce experts are on hand 24/7 to help grow your business and make sure your campaigns don't fail or falter.