Facebook Ads: Can You Do Better?
We will help you make Facebook Ads work for Your Brand
Facebook Ads: Learn everything you ever wanted to know on Facebook PPC Advertisements and more with our unmissable introduction into Facebook PPC Ads.
If you want to know if your business is a good fit for Facebook PPC management or if your Facebook Ads are working as hard as they could be, simply book in for your 100% Free Facebook Ads Audit.
Facebook Ads The All You Need to Know Guide!
Facebook is on course to make a staggering £60b+ in advertising revenue this year. So, the next time you think nobody clicks on Facebook ads, think again.
Facebook is the biggest social network in the world. Therefore, if you're looking to advertise a product on mass then Facebook, and Facebook ads, in particular, are the way to go - they could just be the biggest factor in your businesses success moving forward.
Nevertheless, before you launch your first Facebook PPC Advertisements campaign, make sure to take advantage of our FREE Facebook PPC ads audit.
Are You Already Running Facebook Ads? 
If So Learn How To Get Better Results On Your Facebook Ads Spend
Your Free Facebook Ads Audit are typically 20+ Pages and will give you actionable insight on how to get better results from your Facebook spend! Just some of the areas we will report on are:
Account Structure & Settings
Conversion Tracking
Target Audiences
Deep Dives into The Highest Spending Areas
Main KPIs Overview
And Much More!
Get yours today and soon you should be getting better results from your Facebook PPC Ads budget!
If You Are Not Sure What Facebook Ads Are, Find Out All About Facebook PPC Ads Here!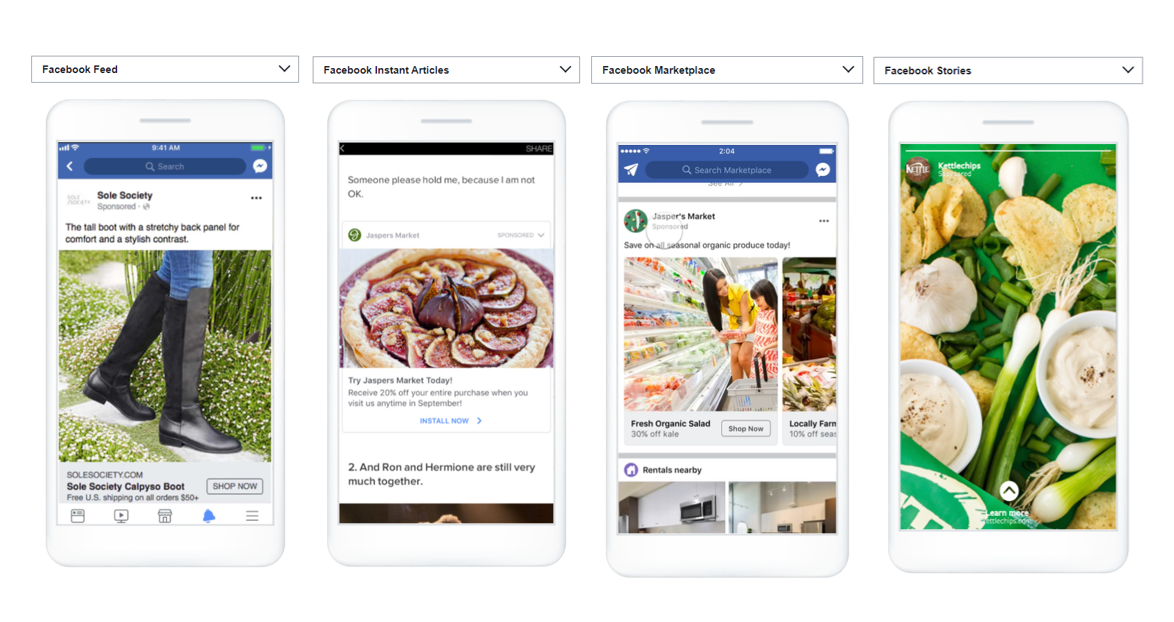 Facebook advertising is now one of the best tools in which to grow your business.
Opening up a range of multifaceted campaigns to users across a number of demographics and locations, Facebook ads are a great way to reach huge and diverse audiences; and, don't forget, Facebook is the world's biggest social network platform, so introducing your ads to such a wide range of people is bound to be successful.
Why Should You Consider Using Facebook Ads?
Facebook ads are an absolute must for any advertiser, marketeer or business owner looking to grow their brand and make sales.
As previously noted, Facebook has around 2b monthly active users. This indicates that there's monumental potential for growth. Indeed, be it how simple they are to set up or the range of advertising objectives available, Facebook PPC Advertisements are hugely important when it comes to marketing a business.
When did Facebook Ads Start?
The Facebook platform initially started in 2004 with the official launch of its Facebook PPC Ads platform in 2007.
Since then the Facebook Ads platform has continued to evolve and now sits comfortably in many successful brands strategies to maximise their reach to prospective customers.
Facebook PPC Advertisements is predominantly interruption-based, but with a huge selection of targetting options much-watsed spend can be taken out of the equation if done properly.
How Are Your Facebook Ads Doing?
Get your 100% Free Facebook PPC Ads Audit here and find out How To Get Better Results Fast!
Facebook Ads Statistics You MUST Know About
Indeed, Facebook's advertising statistics are also seriously impressive:
What's more, the stats behind Facebook Ads are just as incredible:
There's no denying how staggering some of these statistics are. From user demographics to advertising and marketing, Facebook PPC Advertisements are one of the most successful ad platforms ever - and for good reason.
The Best Types of Facebook Ads
Facebook is the perfect platform to drive people to your website or entice them to buy your services or products. Taking this into consideration, Facebook has a number of advertising formats to choose from when starting a campaign, each with its own very specific qualities.

These ads are a great way to get more awareness of Facebook paid advertising, while they also generate the impact you desire. Giving your campaign a splash of vibrancy and uniqueness, image ads catch people's eye and thus, turns that awareness into revenue.
Video ads on Facebook can appear in your news feed, story feed, or they can also appear as a longer video altogether. Rich media such as video is a great way to show your product in action, while it also lets you exercise your creativity. Be it GIFs, animation or traditional video content, film footage can be the perfect medium to transform your advertising output.
In keeping pace with the likes of Instagram and TikTok, Facebook launched stories in 2017. Story ads are a mobile-only, full-screen format that enables you to advertise to users without infiltrating their news feed.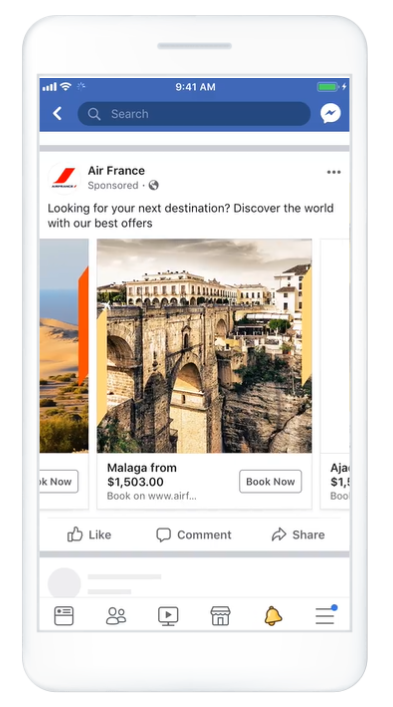 A carousel ad gives advertisers the opportunity to use up to 10 images or videos to showcase their products.
Great for advertisers looking to highlight multiple products, carousel ads work perfectly in tandem with shopping ads.
Poll ads are a mobile-only format that incorporates an interactive component to your advertising output. 
Indeed, not only are all Facebook ad formats good in their own right, but they also complement one another completely. This means you can engage with customers in a number of unique and eclectic ways.
Facebook PPC Ads Best Practices
Now that we've outlined the various types of Facebook PPC Advertisements, it's now important to consider what makes an ad successful. Here are a few things to bear in mind when starting your next campaign.
Choose a Positive Objective
Facebook provides a wide and eclectic range of objectives that can help businesses reach their goals. 
From page likes, to website clicks, to consideration, to conversion, nowadays it's hugely important to pick the right advertising objective which aligns with your business strategy and drives true value for your business. 
Maximise Mobile Dedicated Content
Social media these days is mostly mobile-based. For this reason, it's important to keep in mind the mobile-first user experience when creating your Facebook campaigns. 
When it comes to creating content for a mobile, artistic license is key to success. Consider bright visuals, snappy copy and be sure that your videos are under 15 seconds.
Facebook's campaign budget optimisation system enables the platform to continuously and automatically find the best opportunities in order to achieve your objectives. 
Although this gives you less control as a marketer, it does give Facebook more freedom to use your budget to its maximum.
Understand the Importance of Ad Placement
Facebook is always learning and generating data so, the more placements you use the more Facebook learns. Once you've decided where you want your ads to be seen, the next thing to do is utilise placement optimisation and release your ads into the marketplace.
Get 5-Star Facebook Ads Results With Our Free Audit
Boost The Results You Get From Facebook PPC
Your Free Facebook Ads Audit are typically 30+ Pages and will give you actionable insight on how to get better results from your Facebook spend! Just some of the areas we will report on are:
Account Structure & Settings
Conversion Tracking
Target Audiences
Deep Dives into The Highest Spending Areas
Main KPIs Overview
And Much More!
Get yours today and soon you should be getting better results from your Facebook PPC Ads budget!
Why You Shouldn't Use Facebook Ads?
There's no denying how impressive Facebook ads can be. But there's also no denying that there are some situations in which Facebook ads just aren't what you need. 
Here are a number of instances where you may not want to consider using Facebook PPC Advertisements:
You Haven't Maximised Organic Social Media
If you haven't yet seen results from your free promotional activity yet, simply investing in Facebook ads won't have the desired impact you think it will.
Before you start investing money into your campaigns, make sure to get your organic social media spot on. Indeed, without a strong organic presence, Facebook paid ads won't perform to their potential.
You Can't Monetise Your Product
Do your Facebook ads, prompt users, to spend money? 
If not, don't bother using Facebook PPC Advertisements just yet. First, learn how to monetise your product and then make it as clear as possible for customers to navigate your sales funnel.
Don't Be Expecting Amazing Results From Day One
Don't underestimate the time that goes into building a successful campaign. 
It's not as simple as boosting your ad and walking away, it takes craftsmanship, time and numerous talents such as copywriting, graphic design and videography to guarantee success.
Best Practices for Facebook Ads
Facebook is a hugely important tool in terms of advertising. That said if you can't seem to crack it just yet, here are some best practices that may help in your quest for Facebook Ads marketing success.
Always remember that attention spans are short these days. Facebook's own research shows that when viewing Facebook PPC ads, the attention span of users is dropping.
Make sure you are setting your Facebook PPC Advertisements for success by constantly testing and evaluating your results.
If you are testing and improving your engagement rates and Return on Investment, you will see improvements.
Test everything from content, offers, audiences and much more. Find the right demographics for your offers and capitalise on them
With dwindling attention spans and Facebook Ads being interruption-based advertising, you are interrupting their day. So be creative and test vivid and wild colour schemes, offers and enticements to peak the end-users interest.
Ask yourself the advert you are about to go live with, would it interest you enough to click it?
Ask yourself, would the advert you are posting entice your interest if you were not involved with your brand? Be honest with yourself, and try to make everything you do, all about your customers.
If your adverts are customer-centric and can answer the issues they are facing you should do well so look at your offering, pricing, branding and much more.
Make your ads exciting and too good to miss out on and keep scrolling.
Remember you pay based on impressions so try and get your CTR as high as possible!
Get More From Your Facebook Ads!
Book your 100% Free Facebook PPC Advertisements Audit here and find out How To Get Better Results Fast!
Nailing down your customer buying journey will affect your decisions and how you might want to use different platforms such as Facebook ads in your funnel.
Facebook PPC Ads can be used on both Cold and Warm traffic and understanding this will hugely affect your approach.
Being able to serve different adverts (offers, messaging, products to name just a few) to people at different cycles in your buyer journey will help you tailor the right message to the right people, critically at the right time!
Understanding the dimensions of phone screens is a must, Facebook already does not like text in images, but any accompanying text in the appropriate fields are reduced when on mobiles.
Don't get stuck in the trap of long headlines and explanations with CTAs (call to action) at the end of the copy. On many mobile devices, this will be wasted as no one will be able to view your 'killer' CTA.
Think mobile-first and always test and make sure your message is getting across in the limited space.
Captivate Your Audience and Amaze Them
As you will know, it is hugely important to convey the right message, captivating your audience as quickly as possible.
What's more, it's also important to relate to your intended audience. By empathising with your target demographic, they're likely to identify with and trust you.
By heeding this advice, you can easily transform your campaigns from good, to great!
Reporting And Understanding The Numbers
Your campaigns will only ever be as good as your Conversion Tracking and reporting.
If you are trying to work from inaccurate conversion data everything will be difficult. Make sure your conversion tracking and reporting are as accurate as possible with your backend figures before spending a lot of money on Facebook Ads.
Get Going! Start Your Bing Ads Campaign Now
The time to start building your Facebook campaign is now. If you run a business or have a product you want to promote to the masses, then you absolutely must consider investing both time and money into advertising on Facebook - it could just catapult your brand to new and exciting heights.
Master Facebook Ads By Asking The Experts!
Our Facebook PPC Ads Experts will show you how to get better results from your current budget.
Your Facebook Ads Audit is 100% Free
We have 15+ years of experience
20+ pages of in-depth account analysis
Actionable tips to do straight away
Get ahead of your competitors
Improve your Return on Investment
Maximise the potential of your Brand
And Much More!
Get yours today and soon you should be seeing improvements in your brands Facebook PPC Advertisements budget!