What is a Squeeze page? And How to Make a Great One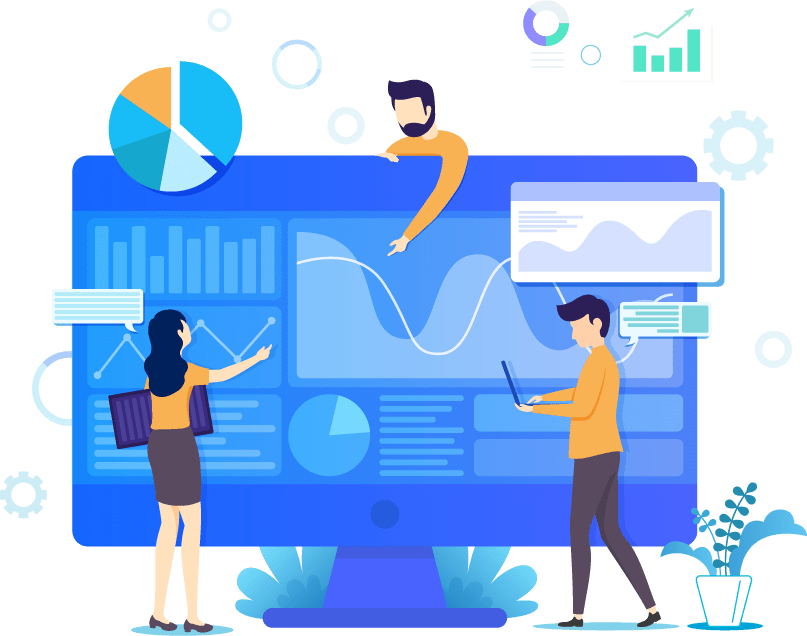 What is a Squeeze page? And How to Make a Great One
Squeeze page? You can put all the effort (and money) in the world into getting people to your website, but if they don't do what you want, what's the point?
You might be expecting me to say what the point is.
But, really, there isn't any.
You should always have an objective you want your audience to complete.
Often this would be a purchase, enquiry or sign up.
But it doesn't always have to be this direct. For a brand awareness campaign, for example, it might not be as action-based.
So, how can you make sure your audience do what you want them to do?
What is a Squeeze Page?
A squeeze page is a page designed to gain subscribers by encouraging them to sign up with their email address.
The aim is to ultimately build a high-quality email list full of potential customers who you can continue to engage and promote your services or products.???
Isn't that just a landing page?
It's a type of landing page but not all landing pages are squeeze pages.
A landing page is any page you direct traffic to where you want someone to take action, this could be:
Purchase a product
Book onto an event
Make an enquiry
Request a quote
Download a whitepaper
(and of course) subscribe to your email list
How to make a good squeeze page
Creating a great squeeze page is a delicate balance. ⚖
You've spent so much time and effort getting your target audience in the right place and this is the moment.
This is the moment you find out who they are – and can contact them directly!
You don't want them to escape – but you don't always want to come on too strong.
The balance you need to achieve will be very dependent on your industry. In some industries, you can get away with being a little pushier!
But in others, especially any industries that might tackle sensitive subjects, you might need to be a little careful.
Sending the right people there
Though not strictly part of creating your squeeze page, it's important not just for the success of your squeeze page but also for the health of your email list.
First of all, you need to make a decision.
I know it can be difficult but do not miss this step.
You need to define what you want from your email list. Do you want to sell, engage or inform?
It's also worth figuring out how you will communicate with the list too – especially if you're new to email marketing.
By mocking up some email ideas, you'll get an idea of the essential information you might want alongside their email address – and how you can clearly tell them what to expect from signing up.
You need to be clear
The worst thing you could do is confuse someone.
From your headline to your copy, be clear and concise:
Use short, clear sentences
Avoid unnecessarily complicated words
Just say what it is! – I can't stress this enough
Pretend you're explaining it to someone who has no idea what you're offering. If at any point you say 'which basically means…' – you haven't got it right yet!
Your headline should say it all. You should immediately know what's going on.
Then your short copy can explain in a little more detail exactly what to expect.
Trust me, you don't have to write reams and reams.
Look at Neil Patel's pop-up.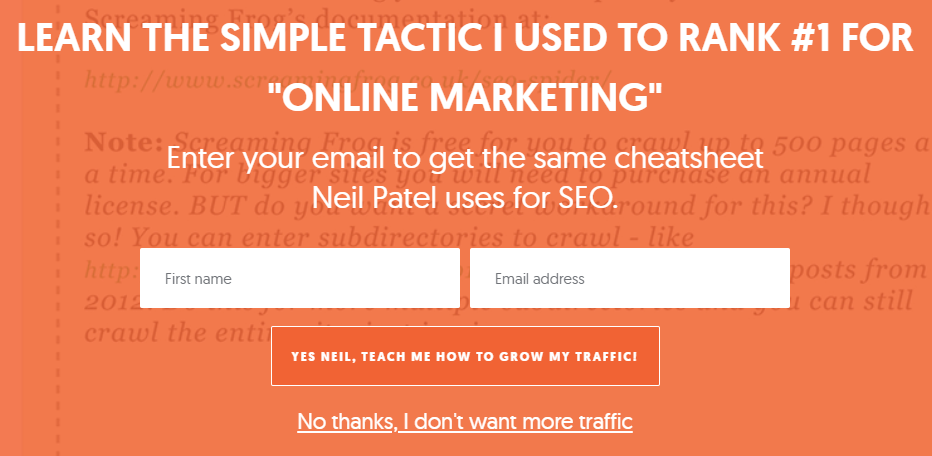 That's just a clear headline and 13 words to clarify.
I know:
What it's for (to learn to rank higher)
What it is (cheat sheet)
How to get it (enter your email)
What else do I need to know?
And in case I was confused – the button 'teach me how to grow my traffic' just adds that little bit of extra clarification.
Perfect.
Appealing imagery for your squeeze page
If you're giving something away – show it!
Just saying it's an 'e-book' or 'whitepaper' without an image of the front cover or some of the contents can be a limiting factor.
You're trying to keep text short and simple – so why not make up for some of that with an image?
Why describe what it includes if you can see it right in front of you.
For clarification – please do not fill the page with images.
One or two strong images – like this example for Ramit Sethi's squeeze page for his book which has been used in examples in a great squeeze page guide set up by instapage.com.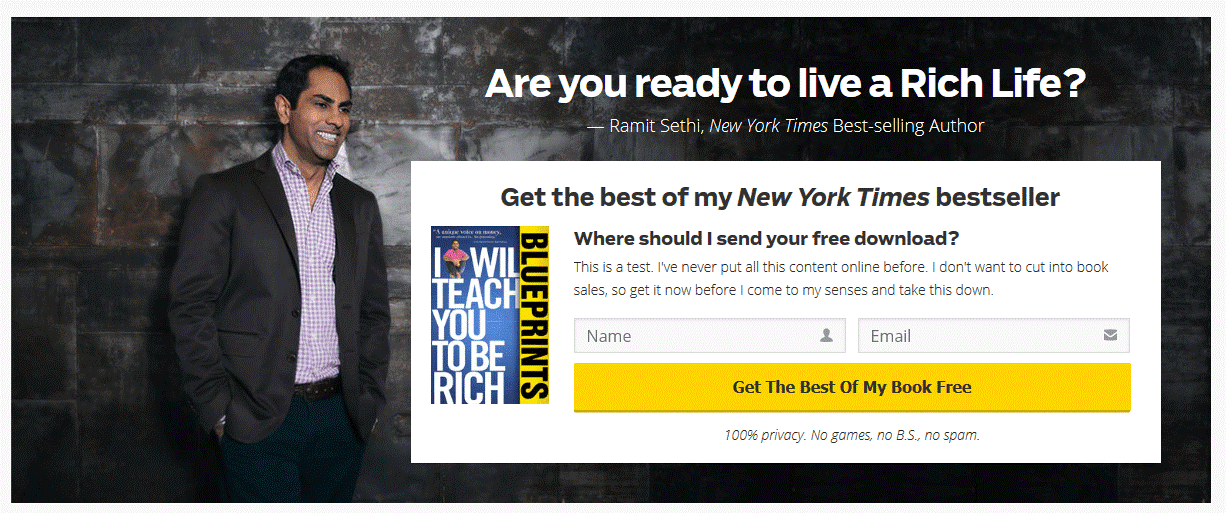 The front cover image shows me what I'm getting – it doesn't even say the word 'book' on the page.
It doesn't really need to because I can see it.
Squeeze Pages Need To Create Urgency
You might have noticed it already in the example above but if you're looking to be a little 'pushier' urgency is your friend.
We're all busy – and if there's something we're all amazing at, it's putting things off until later.
Now that's where you come in.
Why should they take time out of their busy day to do this now?
I'll take you through my own thought process:
Oh, so and so is giving away a free book download
Hmm… I guess that would be good
But am I really going to get time to read it?
I guess it'll probably end up going into my junk folder and I'll have to dig around for it
Meh
Maybe I'll mention it to someone later if they say they're interested in that kind of thing
If you are a digital marketer, or you hang around with them a lot, you probably know that we're all about breaking down barriers.
If you can do something in 1 click, why do it in 5.
For this reason, PDFs and unnecessary downloads can really eat us up inside.
Now, if you're using it to build your subscriber list – then fine. We can get behind it but don't think all of those 'barrier' issues go away.
You're putting up a huge barrier but you're willing to do it for what you'll gain – a big juicy list of leads.
You also need to remember it's not just the barrier of filling in your email address, it's so much more:
Filling in your email address
Waiting for the email to arrive
Finding the email (has it gone to a different inbox? – Gmail now has 4 different inboxes as default!)
Opening up the email
Downloading the attachment or visiting the webpage you're given and downloading the document
Saving it somewhere
Actually reading it
Now you might be thinking, 'I don't care. I just want the email address'.
But by thinking this way, you're majorly underestimating the intelligence of your audience. We already know that it's effort.
We might not be thinking about the steps involved but we know it's going to take a while and can we really be bothered?
Now, while you can work to make the process as easy as possible (please do this!). You can also use urgency to help override our natural pessimism. So, the thought process might be something a little more like:
Oh, so and so is giving away a free book download
It's normally worth £20 – and it's a limited time offer!
Eeek – let me just get it now and I'll read it later!
Done.
I know I might not read it – but I want to sign up so I CAN if I want to.
GDPR
It wouldn't be fun if we didn't talk about GDPR now, would it?
Starting on 25th May 2018, GDPR means you need to get explicit permission to email anyone who signs up.
That means:
No pre-ticked boxes!
No being vague about what they'll receive from you
Double opt-in is recommended
Not sure if you're compliant, you can find out more with this handy guide from MailJet.
How Can I Get Started?
There's lots of different types of squeeze pages which you can make in tons of different software (or all on your own!).
We help our clients by using our team of experienced designers to create bespoke landing pages just for them. Get in touch to find out how we can help you.
If you want to know more about how to make them – WordSteam have a fantastic guide on how you can make them yourself.
Book Your 100% Free PPC Audit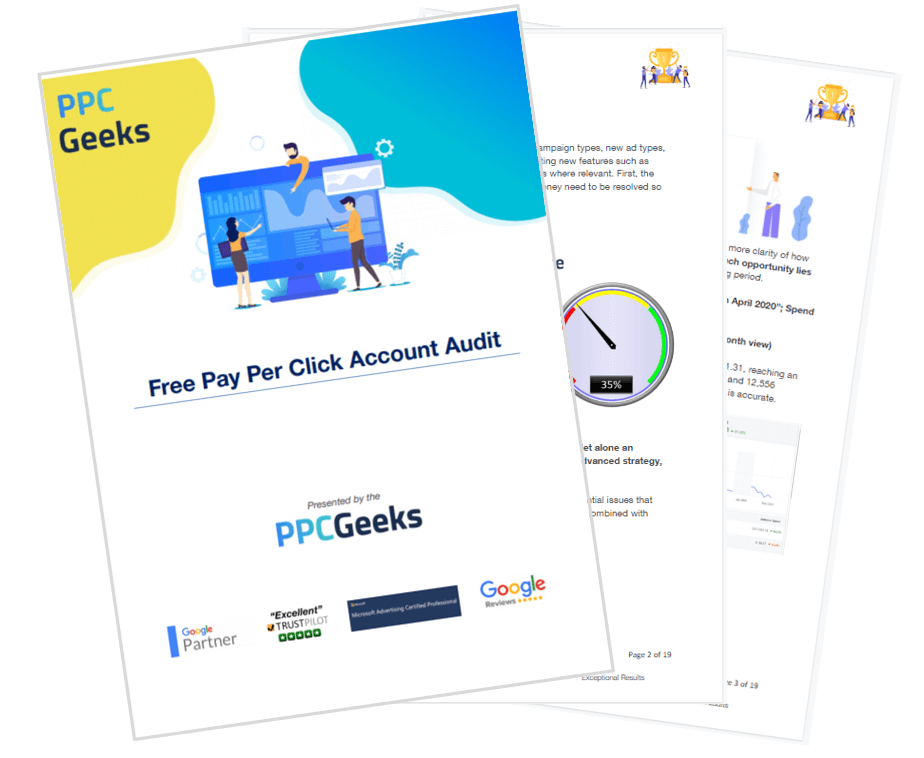 SIGN UP TO OUR NEWSLETTER