PPC For Dentists, We Are Voted No. 1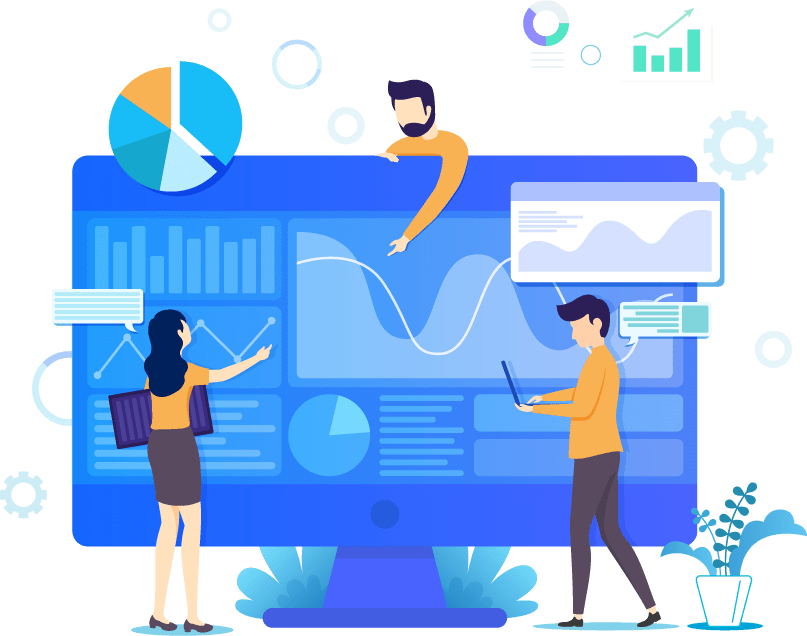 PPC For Dentists, We Are Voted No. 1
Are you looking at ways to get new patients to sign up to your dental practice? PPC for dentists is a great way for surgeries and practices to generate more leads, entice new patients, and get the most out of your marketing material.
Indeed, just like any SME or multinational business, dentist surgeries are competing for potential patients just like any other type of organisation. And so, for this reason, PPC for dentists has never been so important.
From Facebook Ads and Instagram Ads to topics ranging from adult braces to dental implants, PPC for dentists can truly transform your practice.
PPC for Dentists: Where Can I advertise?
PPC for dentists is a prosperous way for surgeries up and down the country to generate more leads and promote your more desirable dental procedures.
That said, there are a number of outlets to choose from including:
Google Ads – When it comes to PPC for dentists, Google or Search Ads provide every type of dentist surgery with the chance to appear at the top of search results. Indeed, whether your ads are text, image, or video-based, Google Ads are a great way of driving patients to your website and increasing sign ups at the same time.
Facebook Ads – Facebook advertising is now one of the best tools in which to market your dental practice.
PPC for dentists is indebted to two metrics: demographic and location. Now, Facebook Ads can help you reach a vast and diverse audience, driving people to your website or even enticing them to become a member of your surgery.
Bing Ads – With more than 1bn unique monthly users, Bing is both hugely popular and extremely useful. And, in terms of PPC for dentists, it's certainly impactful. Bing has a 6.7% market share, so when it comes to locating interesting parties, it could provide the boost your dental practice needs.
LinkedIn Ads – Does your dental practice pride itself on their high-class service? Maybe you go above and beyond to schedule appointments around people's jobs? If so, a B2B advertising platform like LinkedIn, is exactly where you want to focus your resources, be it on sponsored content, text ads or rich media.
Instagram Ads – Despite what you think, modern dentistry is a highly visual medium.
With the rise of the celebrity dentist and the subsequent increase in influencers wanting to showcase their new teeth online, Instagram Ads are a sure way of increasing your ROI – even more so if you specialise in cosmetic dentistry.
Twitter Ads – Twitter Ads help you cut through the noise online. They present the opportunity for your dental practice to not only earn and increase its ROI, but also boost your brand awareness, which is extremely important nowadays.
YouTube Ads – Dentistry and video go hand-in-hand, providing your audience with an insight into the jaw-dropping work you do on a daily basis. Driving sales and capturing your audiences' eye, YouTube Ads can be a great way of spreading the name of your surgery online whilst also calming down the most nervous of potential patients.
When it comes to PPC for dentists, there are a myriad of platforms to choose from in terms of trying to boost your brand awareness, entice potential new patients and increase your ROI.
PPC For Dentists: Choosing the Right Strategy for Your Practice
Choosing the right strategy in terms of PPC for dentists is just as important as being on the right platform. Think of it this way: what would be the point of being on Youtube if you are not going to invest in producing videos?
So, with this in mind, here's a more in-depth look at some of the strategies you can focus on.
Search Ads
Search Ads come in many unique shapes and sizes across multiple platforms, making them perfect for the dentistry industry. Simply put, the main platforms promote ads that appear in its search results in relation to a specific keyword that is bid on and won at an online auction. Indeed, these keywords can include anything from a specific type of dentistry to a common phrase such as: 'dentist surgery in [location].'
In addition, Search Ads are extremely trackable, making it easier than ever to report on the success of your campaigns. This is something to seriously factor in when choosing the right strategy for your dental surgery.
Display Ads
If you want to convert new patients, then Display Ads are not the first strategy we would recommend you pursue. However, Display Ads are a seriously good investment if you want to build a valuable and recognisable brand for your dental practice and keep that brand at the forefront of your clients' mind.
Display Ads are great for dentists as they are served up whilst prospects are consuming content rather than searching for it. This is even more useful if you are a cosmetic dentist as your prospective clients can be served up ads when consuming content based around anything, meaning it doesn't necessarily have to be medical or dental-themed.
From responsive display ads which are somewhat automated and blend into the publisher's website, to Gmail ads which show on the top tabs of people's inboxes, Display Ads are an impressive way of promoting your surgery.
Video Ads
Video marketing is one of the most popular ways to reach audiences online.
That said, with any video ad, it's hugely important to capture your audiences' interest instantly, preferably within 3-5 seconds. Despite dentistry being a long, intricate process, if you can capture the essence of your surgery on video, you can almost guarantee engagement and leads.
Social Ads
If you want to reach new, targeted audiences, then Social Ads are the way forward. Regarding PPC for dentists, nobody likes moving from organic to paid advertising, but they can seriously transform your surgery online and generate leads to transform your practice.
Advertising on social media is a hyper-direct way to reach your audience, targeting those either in either desperate need of a new dental practice or those who are simply considering having some work done.
PPC For Dentists: Services
As the number one ranked agency for dental PPC in the world, we are very much aware of the services most dental practices provide, but also what reacts positively to PPC.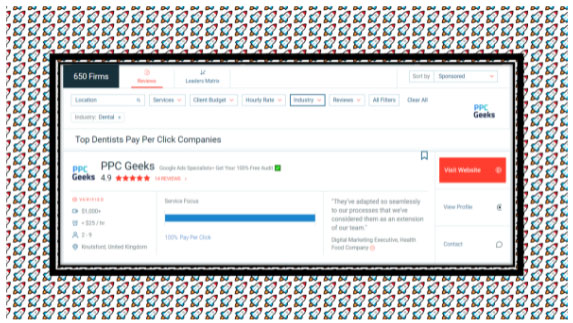 Invisalign – A clear alternative treatment to metal braces for anyone of any age, Invisalign is at the forefront of cosmetic dentistry technology. Unlike more traditional braces or old retainers, Invisalign is almost completely invisible. Furthermore, due to its popularity on social media, this service reacts great to PPC.
Adult Braces – It's not just teenagers who can benefit from braces, with more and more adults opting to undertake the procedure in later life. In fact, more adults are choosing to get adult braces to give themselves straight teeth; again, due to the rise in social media.
Clear Aligners – Similar to Invisalign, clear aligners are dentistry devices that are completely transparent. These plastic forms of dental braces are primarily used to adjust teeth. To compete with the popularity of Invisalign, we have found that this service significantly reacts to PPC advertising. The main platforms being Display Ads and Video Ads respectively.
All on 4 – All on 4 dental implants restore your natural smile and oral function in a single procedure. All on 4 is a comprehensive restoration of the upper or lower arch of your mouth using dental implants which are screwed to a dental bridge. Due to these spectacular results, video ads are a great vehicle for promoting this procedure.
Dental Implants – A dental implant is an orthodontic procedure that interfaces with the bone of the jaw to fit a dental prosthesis such as a crown or a bridge. Again, similar to the All of 4, this procedure reacts impressively to PPC investment.
Teeth Whitening – Coinciding with the rise of social media and influencer marketing, teeth whitening is hugely popular and, luckily for your PPC strategy, cost-effective. A relatively simple procedure, teeth whitening lightens the colour of the teeth.
Indeed, when it comes to PPC for dental practices, these procedures are relatively susceptible to a comprehensive PPC strategy.
Is Your Dental Surgery Beginning its PPC Journey? If so, Working with PPC Geeks Could Be One of the Best Things You Do.
Here at PPC Geeks, we are super proud of the fact we are ranked the No.1 PPC experts for dentists in the world on Clutch. This is out of a staggering 650 firms!
Indeed, using the tips and tricks we've outlined above to your advantage, you can now start creating impactful campaigns that deliver on your objectives.
That said, we don't just specialise in PPC for dentists. So, if your business wants to achieve better results, simply talk to us today!
Book Your 100% Free PPC Audit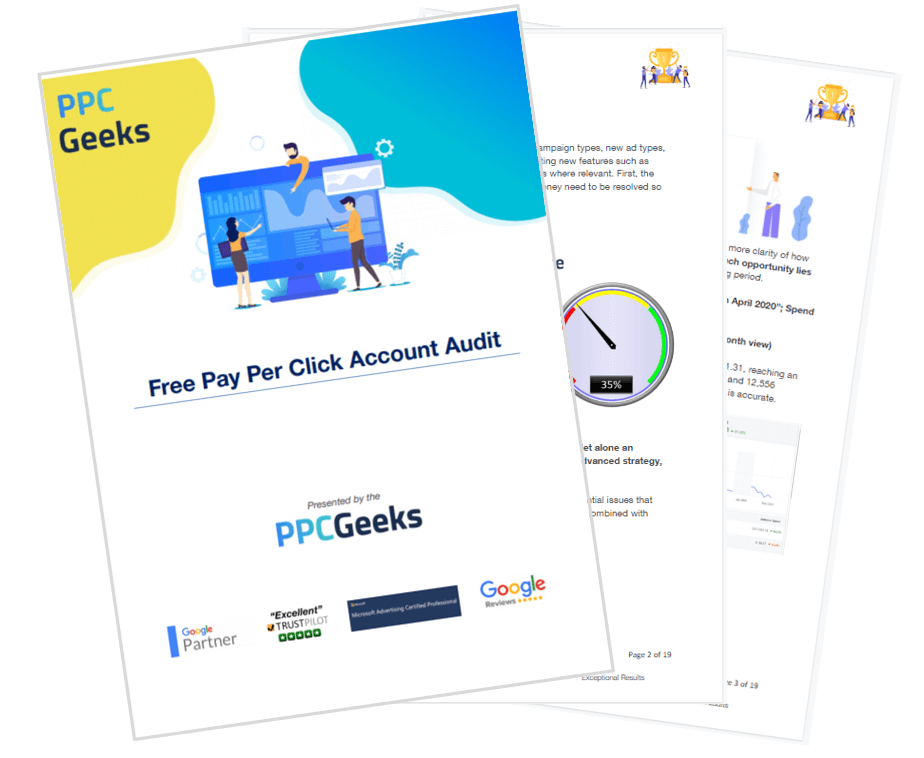 SIGN UP TO OUR NEWSLETTER