SEO vs. PPC – Which is Best for your Business?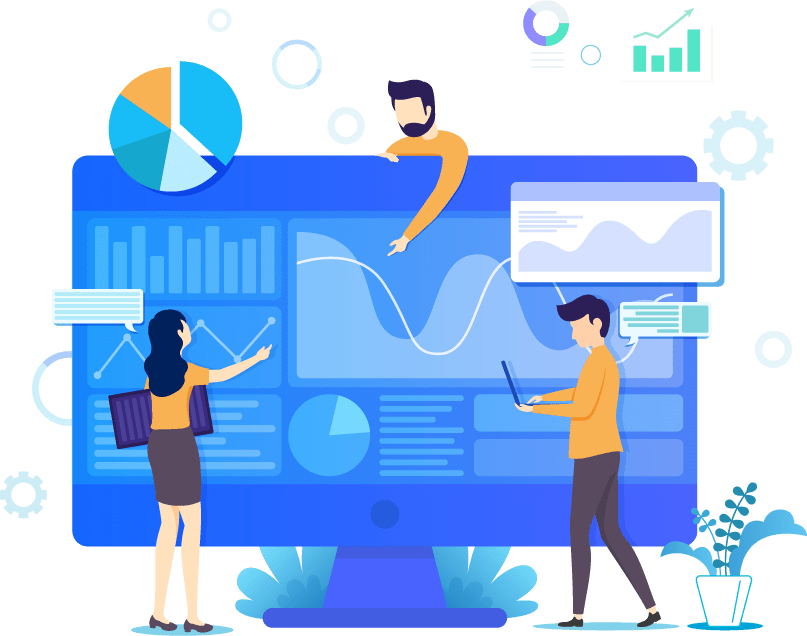 SEO vs. PPC – Which is Best for your Business?
SEO vs PPC: You don't have to spend long in the digital marketing industry for the question 'SEO or PPC – which is better?' to crop up.
Both are key areas of digital marketing and, as they're both generally focused on search results, it makes sense to compare the two.
Your business and core strategy will determine which would be better for you.
We're going to take a look at the pros and cons of SEO and PPC – and see which might be the best option for you.
What is SEO?
Search Engine Optimisation (SEO) is the practice of improving your website's visibility in organic search engine results.
The organic results are the links between the ads at the top and bottom of a search engine result page.
The aim is to attract more high quality traffic to your website through these results. You don't necessarily just want lots of people, you want to make sure you're getting the right people. ?
SEO consists of a range of different activities. Search engines use hundreds of factors to determine the order of their organic results.
What is PPC?
Pay-per-click (PPC) is a method of advertising where you pay each time someone clicks one of your ads.
Though it's not limited to search engine results pages, this is one of the most well-known places they appear.
Search engine ads appear at the top and bottom of the organic results.
In the following image, the ads are the three top results.
Below them are the organic results.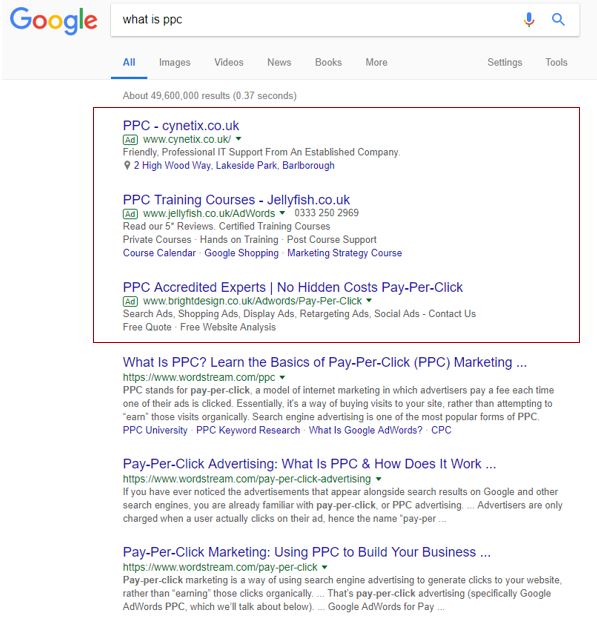 SEO vs PPC – Which is best?
This is a complex question as both offer a range of benefits and costs. Let's look at the positive and negative points of each. ?
SEO vs PPC: Pros and Cons
Beginning with SEO, the pursuit of improving organic listings, there are a number of positive and negatives associated with this activity.
Pros of SEO
Brand Awareness
SEO vs PPC: A key benefit of SEO is the exposure of your brand to new audiences.
By appearing for terms related to your products and services, you're exposing your brand to new audiences.
This even applies if they're just accessing information. If you appear for their queries time after time, your audience will start to recognise and remember you. ?
Authority and Trust
If you Google a brand and they don't appear, what does that say about them?
I'll give you a clue.
It's not good.
With strong organic results, you can dominate the search engine results page which reassures the searcher that you are who you say you are.
By appearing for common questions in your field, you can also build trust and credibility as industry experts.
No direct cost
You don't have to pay per click. But it's not fair to say it's free.
Improving your visibility in organic results takes time and effort from a professional. This is going to cost but it's not a cost per click like you'll get with PPC.
It just keeps going
Though it's recommended to keep SEO campaigns running, as they are less effective if you stop and start, if you do stop, it won't disappear overnight.
The work done will still apply and on ending an SEO campaign, your visibility is more likely to slowly drop off rather than immediately stop.
Cons of SEO
Takes time
As we've mentioned above, it's not an exact science.
There are hundreds of factors search engines use. A good SEO campaign will help you to more effectively communicate to search engines.
But a lot of this is built on trust – and, just as in real life, trust is built over time.
SEO can't be 'turned on' and 'turned off'. It's a long-term strategy.
Lack of control
By taking steps to help their bots crawl your website more effectively, understand your content and communicate your authority, you can help shape how you appear in search engine results.
But you can't directly control it.
Ultimately, search engines will do what they want.
They are totally free to change the way they display websites and the algorithms they use to rank them.
PPC: Pros and Cons
PPC is a separate practice to SEO, but often the guesswork of SEO can be counteracted by the precise nature of PPC.
Pros of PPC
Traceable costs
With current tracking capabilities, it is simpler than ever to trace exactly where your last customer came from. ?
With the direct cost of ads, PPC makes it easy to keep an accurate track of your ROI for the overall campaign right down to the different ads you show.
Full control
Unlike SEO, you have full control over your ad and how it shows.
Not only that, you have control over when your ad appears and when it doesn't.
Want to turn something off, that's fine.
Turn it on again, that's fine too.
You can add extra features too like 'click to call', display your ratings and even countdown to the end of special offers.
Variety
It doesn't stop at the text ads we looked at earlier.
There's lots of different types of PPC marketing and a variety of ads including display advertising, remarketing and social media advertising.
For example, ads like Google Shopping, which you might have seen when searching for a product you're interested in, displays products right at the top of search results.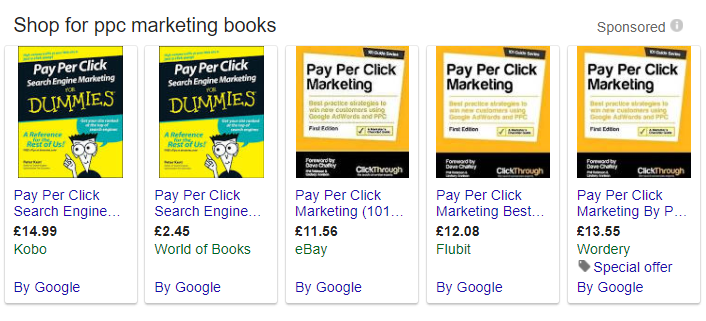 Instant
Unlike SEO, you can set up your AdWords account and be appearing in search results within hours.
In the same way, you can increase or decrease your spend in an instant.
If you have a time of year that you'd like to put more budget into your account – you can do that and it'll have a direct effect, straight away!
Visibility
The top ranking PPC ads appear right at the top of the page.
No matter how great your SEO is, you won't be appearing before the first set of ads.
This becomes even more crucial when a prospective customer is in a hurry or on a mobile device where the ads can take up the whole of their screen.
Cons of PPC
Management
PPC accounts take management, monitoring and maintaining.
Setting it up and just letting it run is a sure-fire way to lose the all important control that PPC gives you.
Without management not only will you miss profitable opportunities, you might lose tracking of your budgets, spending and ultimately ROI.
If you're not sure whether you can manage the account in-house or whether an agency could help, find out more with PPC Agency or In-House: Which is Best?
Complex features
Running an account to its full potential is a skill.
There are complex features you'll want to take advantage of to really unlock the power of PPC accounts like Google AdWords.
If you want to maximise your profits, you'll need a skilled professional on board. It's unlikely to be something you'll want to tackle yourself.
SEO vs. PPC – Which should you choose?
In an ideal world, you'll want to tackle both.
If you feel you've left it a bit late and you're keen to see results sooner rather than later, PPC can be a great option.
You'll instantly see results and will have full traceability.
For small to medium-sized businesses who haven't ventured far in the world of digital marketing, it has the added bonus of having a controlled, totally measurable budget.
E-commerce stores who are competing with the big names will also want to get on board with the advanced features of AdWords, as they will help them to appear alongside the industry's major players.
Setting your strategy is essential for making the correct decision for you and great benefits can be found by running both together.
Find out how we can help you today.
Book Your 100% Free PPC Audit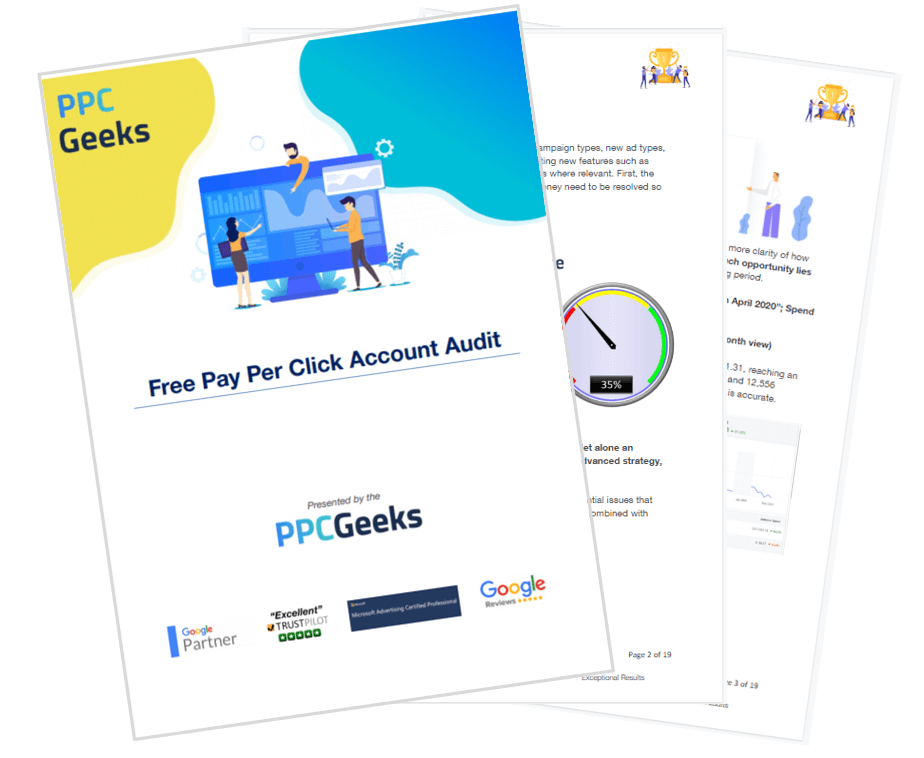 SIGN UP TO OUR NEWSLETTER