Google Ads Exams: Dan Trotter has Passed All Google Ads Exams and is Fully Certified for 2021-2022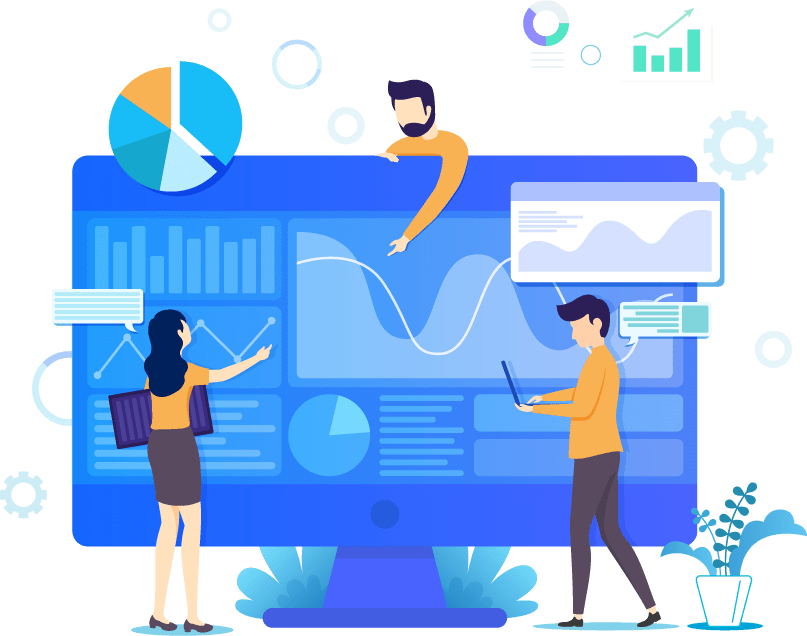 Google Ads Exams: Dan Trotter has Passed All Google Ads Exams and is Fully Certified for 2021-2022
Dan Trotter has Passed All Google Ads Exams and is Fully Certified for 2021-2022
Congratulations are in order! Why? Because our very own Dan Trotter has passed all Google Ads Exams and is now fully certified for 2021-2022.
Here at PPC Geeks, we understand the value of gaining individual Google Ads qualifications, and our expert PPC team are constantly striving to improve their knowledge and to equip themselves with the best qualifications to provide a service that is unmatched by almost any other PPC Agency!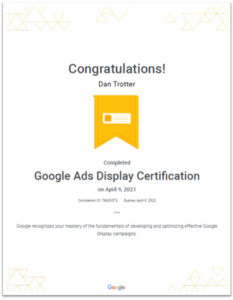 So, with this in mind, we thought we'd explain to you why it's important when choosing a PPC agency to work with, that you look for one with a team of certified experts who know exactly what they're doing; like us.
What Does it Mean to be Google Ads Certified?
To be Google Ads certified means you're proficient in Google Ads. You can show this professional accreditation to prospective clients and display it on your website.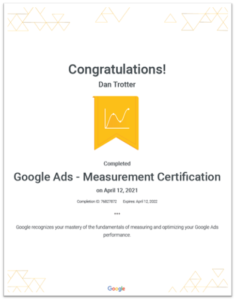 Like Dan, we at PPC Geeks are supported by a whole team of certified experts in PPC advertising, while the certification itself helps differentiate between agencies that are dedicated to their craft and have a proven proficiency for Google Ads, like ours, from those that don't.
The Importance of Trusting Certified Experts
Demonstrating knowledge, credibility and dedication to a specific craft, to be Google Ads certified is something absolutely worth shouting about. Indeed, just like shopping for a product or service, being certified is about displaying that you're reputable, trusted and knowledgeable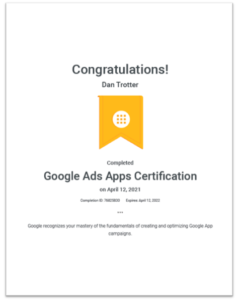 Nobody is going to invest in your product if they don't trust that you're an expert so, by obtaining a Google Ads certificate, you're able to promote and position yourself as an industry expert – and you've got the qualifications to prove it.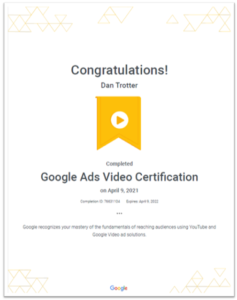 Whether it's helping drive authenticity and trust, or even simply wanting to brush up and expand your repertoire and knowledge, obtaining a Google Ads certificate of recommendation is a form of documentation unlike any other, proven to entice even the most skeptical of prospects.
Why Choose Dan Trotter and PPC Geeks?
Are the people working on your PPC accounts up to speed and completely proficient when it comes to their exams and knowledge?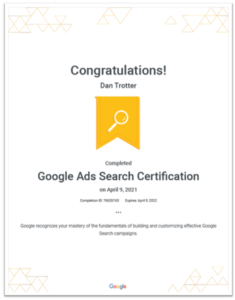 At PPC Geeks, we're a very hard working team who pride themselves on doing everything within our power to provide our clients with the best possible service available; studying and taking exams to constantly stay abreast of the most up-to-date processes and procedures. From shopping ads, to app ads, to video ads, Dan and the team are completely certified in Google ads.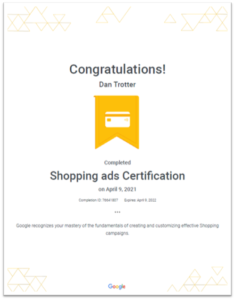 Instead of merely stating that our team are PPC experts, we back it up with hard work and intense study to exert our newfound expertise on your campaigns. Don't believe us, check out our Google Ads Quiz to see how you'd get on with the exams' Dan recently undertook.
PPC Geeks: Fully Google Ads Certified Agency
When there are thousands of businesses and agencies trying to position themselves as PPC experts, it can be hard to stand out.
However, what sets PPC Geeks apart from the rest, is that we put in the hard work on your behalf, spending hours and hours studying, researching and passing exams to make your Google Ads campaigns the strongest they can be.
Supported by a team of dedicated and clever experts who have the certificates to prove it, your Google Ads campaigns are in safe hands with us. And so, to kickstart your journey with us, why not check out our FREE Google Ads Health Check and find out where your business stacks up online.
Book Your 100% Free PPC Audit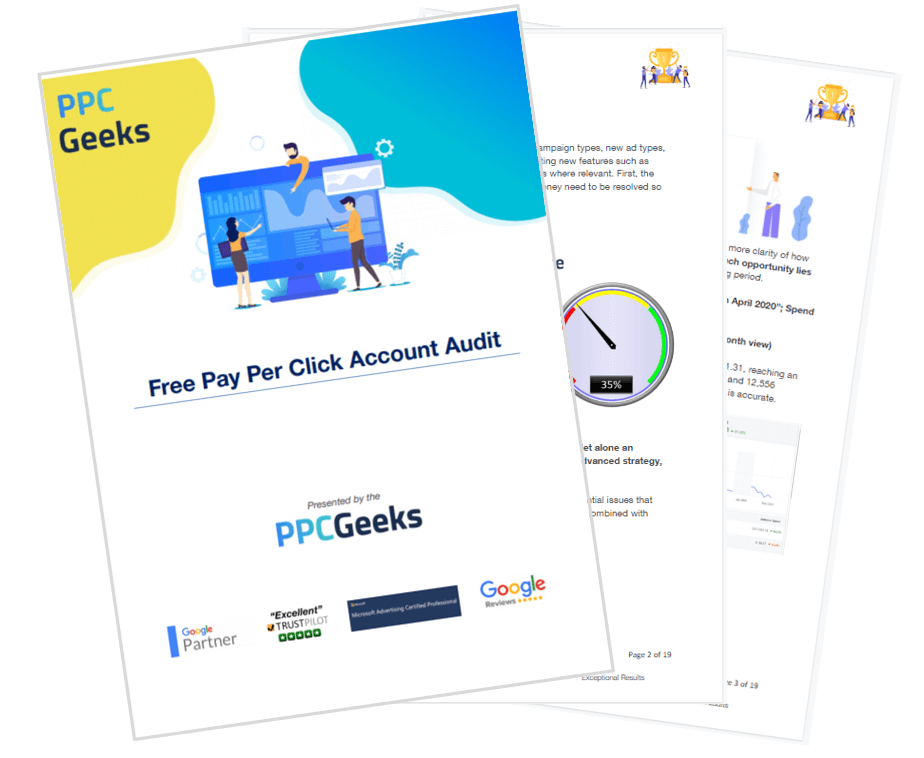 SIGN UP TO OUR NEWSLETTER