How to Set Up AdWords Conversion Tracking Today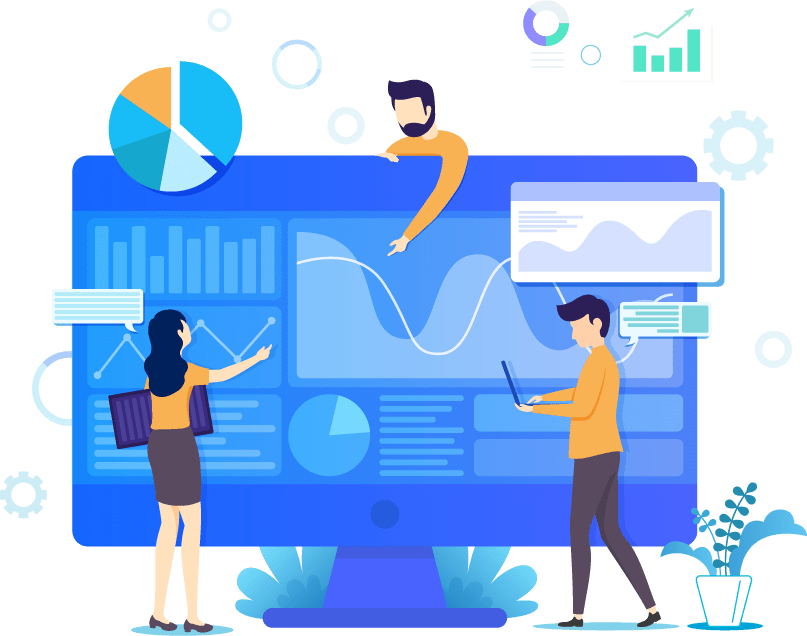 How to Set Up AdWords Conversion Tracking Today
See also our guide to setting up conversion tracking to Google Analytics 4!
Your campaign is up and running. You're getting impressions and clicks and feeling great!?
But do you know how much money you're making from all of this?
This is the crucial question everyone with an AdWords account needs to know.
Do I need conversion tracking?
In short, yes.
But I'll explain, don't worry.
If you buy and sell products, you want to know exactly how much they cost and exactly how much you're going to sell them for.
Let's say you buy something for £5, sell it for £10. That's fine, right?
What if you had no idea how much you were buying it for. How much could you sell it for?
You just don't know.
If you're not tracking your conversions properly, you don't know how much you're paying.
And not only that, you can't. ?
Most people put it off because it feels like something only bigger companies would do. And while that can be true, getting an accurate idea of your costs as a small business is essential.
For local businesses, profit margins can be tight so it's even more important that you know exactly how much you're paying for your next AdWords customer.
Different types of conversion tracking
There's a number of different options when it comes to tracking. If you're feeling a little overwhelmed by it all, try working through one at a time.
With each different type of tracking set up, you'll only get closer and closer to accurately knowing the cost of your conversions.
Calls from Ads
If you're a local business or get calls from people on the move, prospective customers can call directly from your ad. ?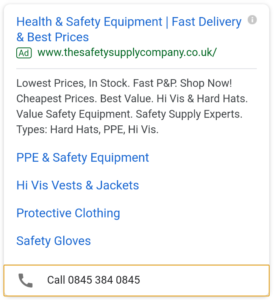 By tapping the "call" button at the bottom of the ad, it will directly call the number from the mobile device.
This is probably the easiest type of tracking to set up, so it's a great place to start.
Navigate to Extensions
Choose Call Extension
Enter properties and add the required information
And that's it!
Contact Form Submissions
If you have contact form on your website – whether it's to get a quote or to contact the team, you can set this up as a conversion in AdWords with a couple of simple steps.
When someone has come to your website through an ad and has filled in your contact form or requested a quote, it'll make sure you can attribute it correctly. There's just a couple of things you need to do:
Make sure your forms have a "thank you" page
Add your tracking code to the "thank you" page
For more detailed instructions, see Google's guidance on adding conversion tracking to your website.
If you're not sure where to get your tracking code, don't worry – keep reading!
Add Value to your Conversions
You can assign a value to each of your conversions.
If, for example, you work on a quote or enquiry-basis, you can assign a value to each of these enquiries.
If you find your average purchase value and divide by your conversion rate, then you'll have the average value of each conversion.
When this pulls through to AdWords, you'll get a much better idea of where the highest quality leads are coming from.
Call tracking
If you're the kind of business which gets leads rather than online purchases, then call tracking is for you.
It might seem 'old fashioned' but if you provide a specialist service, this is not the case!
Taking enquiries is necessary with all businesses that require a level of consultation. But you still need to track where these calls came from, otherwise you could miss out on finding out how your best customers found you. ?
There are a few options for call tracking from easy to more advanced.
Call Extension
We've already covered the easiest option – using the Google AdWords Call Extension.
This is very easy to set up, but can only track calls directly from your ad, not once they come through to your website.
I wouldn't hesitate to set it up, but you don't want to end there!
AdWords-Specific Number
To start tracking calls from your website, you can set up a number to be displayed to visitors who have come from an AdWords ad.
When someone has clicked an ad, the alternative phone number will be displayed in place of your normal number.
This means you'll know that the lead coming in has come from AdWords.
You'll get a much better idea of your return on your AdWords spend as a whole, but it's not going to give you the detail you need to improve your account in the long term.
Unique numbers
The most accurate way to track calls into your business from AdWords is by assigning a unique number to each visitor from AdWords.
With this information, you'll be able to identify the most profitable keywords and ads.
It totally eliminates any guesswork and means you'll not only be able to accurately calculate your ROI but you'll know exactly where to put more of your budget to better use.
We always recommend this for our clients and it's something we can help set up.
For more advice on how to set this up yourself, see WordStream's Guide to AdWords Conversion Tracking.
Revenue from your shopping cart
If you have an ecommerce store, you can pull through the value of the purchases to AdWords instead of relying on the manual way to set a value.
To set this up, you'll need to find out more from the platform you use.
It's always best to leave this kind of work to a web developer so we'd recommend mentioning this to whoever built or maintains your website.
Once it's set up, the actual value of the purchases will be visible in AdWords, making it even easier to see where you're getting the best value for money.
If this is something you're ready to do, take a look at Google's guide to tracking transaction-specific conversion values.
How to Get my Tracking Code
To get your tracking code, you need to make a new conversion.
It's a simple process, once you're in AdWords:
Navigate to the Tools and Analysis tab in AdWords
Select Conversions
Navigate to the Conversions tab
Select +Conversion
You'll now be able to get the tracking code you need.
Just give your conversion a name, try to be descriptive and clear. You're likely to set up a few so it might be worth bearing this in mind to make it easier to identify them from each other.
You'll be given options of types of conversion – choose the one that most matches what you're looking to track.
The Markup language you choose will probably be HTML, but if you're unsure there's no harm in asking your web developer.
As mentioned earlier, you can also add a conversion value. This is an amount you'll add manually which will be pulled through to AdWords.
If you're tracking leads, think about the average lifetime value of a customer and the likelihood of converting a lead into a customer.
For example, say an average customer will purchase £1,000 worth of products over their lifetime.
And, on average, 1 in 10 of your leads become a customer.
An average value of £100 per lead would be sensible.
Maybe you have a better conversion rate, let's say 1 in 5 of your leads become a customer.
In this case, an average value of £200 per lead would be sensible.
Find out more about calculating your ROI from 10 Ways You're Still Wasting Money in AdWords.
How to get started
We help businesses across the UK to make their AdWords accounts work harder for them.
As part of our standard service, we make sure your tracking is up to scratch so you have full transparency and know who came from where.
We're here to improve your bottom line and to do that we will work with you to make sure you have the best tracking in place.
For advice, or to find out how we can help you, find out more about our services and get in touch today.
Book Your 100% Free PPC Audit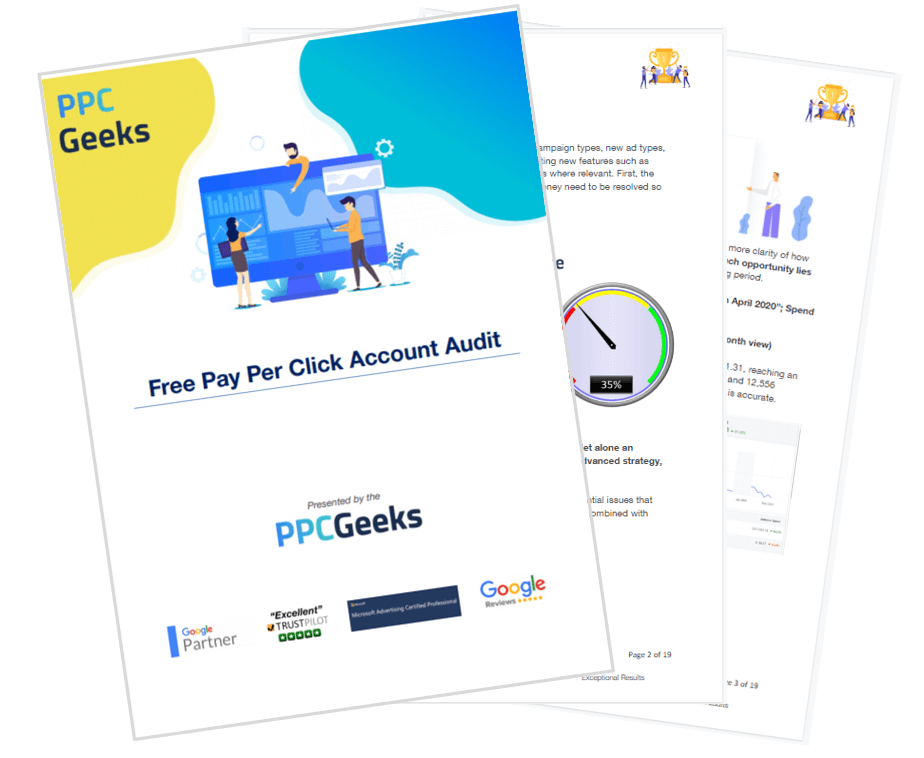 SIGN UP TO OUR NEWSLETTER