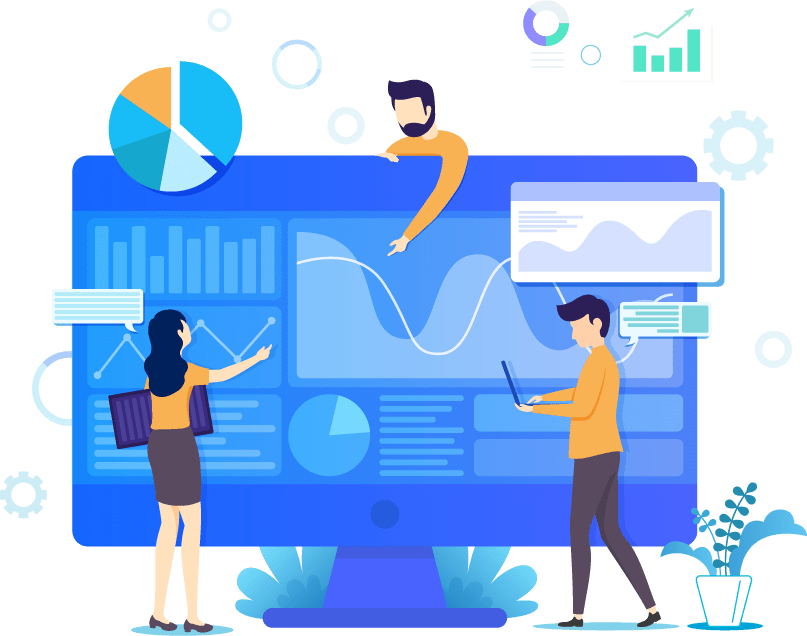 Trustpilot is an online review community of businesses and consumers who connect through the genuine feedback they give one another, improving everything from your social media presence to the position of your website on Google; whilst the PPC Geeks Trustpilot page is brimming with positive reviews.
We work hard to build trust between ourselves and our consumers, constantly engaging with them to fix problems and share in our success.
We are extremely proud of the PPC Geeks Trustpilot page, here's why.
PPC Geeks Trustpilot: What is Trustpilot?
Trustpilot is an open, online platform where any consumer with a buying or service experience can review not only a product, but also the business who sold it.
Trustpilot provides easily digestible reviews and statistics on everything from customer satisfaction to product reviews. On the PPC Geeks Trustpilot page we encourage open and truthful dialogue as we are always looking at ways in which to improve our service, and the platform enables us to do just that.
Since its launch back in 2007, Trustpilot has helped businesses around the world engage with their customers, identify problems and achieve success by improving their products. And these things have only been made possible by the customer feedback we receive, be that here at PPC Geeks or any other business across the country.
PPC Geeks Trustpilot: What is the Purpose of Trustpilot?
Here at PPC Geeks, we are extremely proud of our Trustpilot reviews, but here's exactly why we think the platform is one of the best, most important ones around for engaging with both your existing and potential customers.
1. Trustpilot is Open and Free for Everyone
Trustpilot hosts and platform reviews from consumers and businesses from around the world, taking the form of user-generated content. They also pride themselves on how their online community is open, welcoming and accessible to everyone.
Anyone can leave a review, something which we encourage over on our PPC Geeks Trustpilot page. Everyone has something important to say, and this feedback has been extremely useful in shaping what we have achieved.
Because the platform is also free of censorship and redaction, you know that you are reading a genuine review left by a real person.
2. Testimonials Generate Leads
We love that our existing clients take the time to leave reviews over on the PPC Geeks Trustpilot page. In doing so, we have been able to expand due to the amount of businesses who see us as a safe, reliable and exciting custodian of their PPC and marketing output.
Indeed, when businesses work with customer reviews, be them positive or negative, they show potential customers that they care and thus earn their respect.
Use the power of Trustpilot to make purchasing decisions with confidence the next time you're searching for a PPC agency you can trust.
3. Trustpilot Helps You Build Trust
"I started Trustpilot so that when people like my friends or my mum are buying a trip to France or a new kitchen online," said Peter Holten Muhlmann, Founder and CEO of Trustpilot, " I want to get a great experience every time they buy something."
He continued: "I want it to be easy for them to know that it's a good company they're buying from."
Indeed, through their use of Trustpilot reviews in their marketing strategies, multiple businesses have been able to build trust between themselves, their customers and the general public.
As shown above, Trustpilot can be an extremely useful marketing tool for you and your business.
PPC Geeks Trustpilot: Benefits to Your Business
Recommendations from real people have a powerful influence on buyer decisions, and so it's extremely beneficial and hugely important that you harness the power of them in the right way.
Improve Organic Search Performance – Trustpilot reviews go towards your search engine ranking. Product reviews can seriously boost organic search as fresh content can never be a bad thing, whilst reviews are often keyword rich.
Helps to Generate Leads and Sales – a batch of positive reviews and recommendations could tip the balance in your favour when it comes to making a sale. Indeed, displaying reviews on your website provides social proof, increasing the likelihood of a potential customer buying from you.
Turn Negatives into Positives – Every business can receive a poor review from time-to-time. It's not the end of the world. In fact, you can use this 'negative' review as a platform on which to build and improve, fixing a problem you may not have been previously aware of.
Social Media Marketing Strategy – Your reviews and recommendations can easily be integrated into your social media marketing strategy. In doing so, you can easily pique your audiences' interest whilst also driving traffic to your website.
PPC Geeks & Trustpilot
92% of people now rely on reviews to make purchases.
Nowadays, creating a feedback loop with your customers is a fast track way of improving in key areas that, most importantly, your customers care most about.
So, now that you believe in the importance of reviews and recommendations, head over to our PPC Geeks Trustpilot page and check out our reviews.
Book Your 100% Free PPC Audit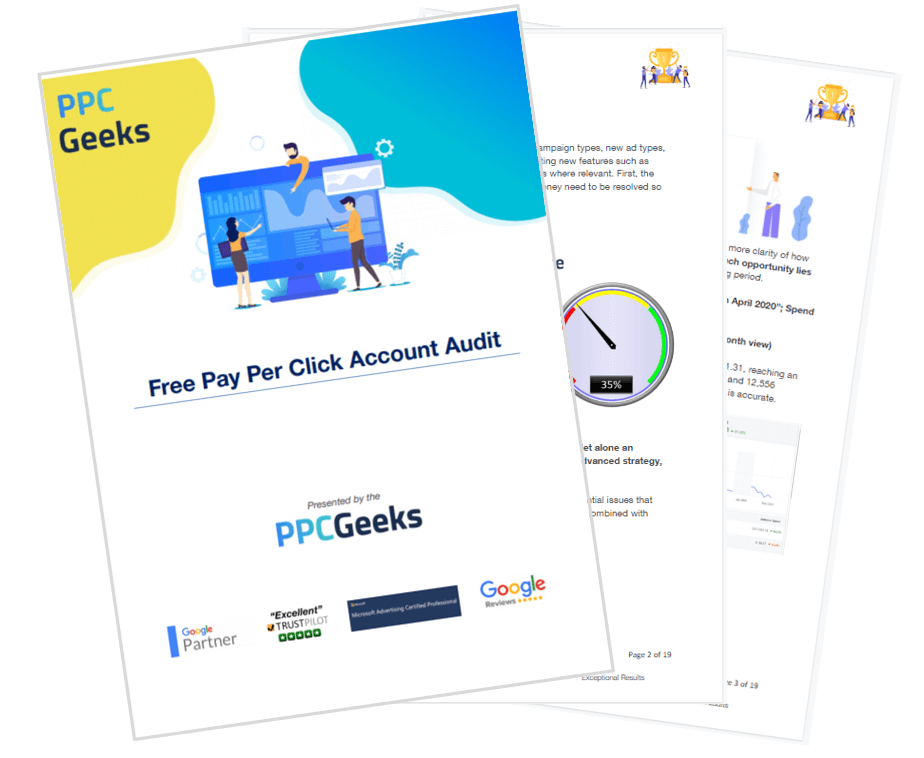 SIGN UP TO OUR NEWSLETTER