3 Essential Ways to Grow Your Business Online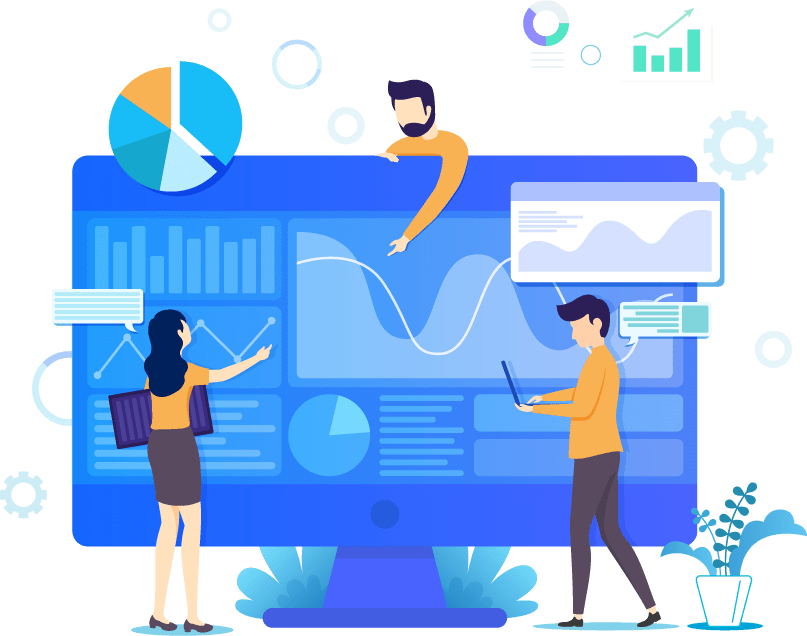 3 Essential Ways to Grow Your Business Online
Grow Your Business Online – Our Easy Step by Step Guide!
3 Essential Ways to Grow Your Business Online
How do you grow your business online?
It's not enough to simply launch a website and hope for the best.
This ain't no field of dreams.
If you build it, they won't necessarily come.
Finding success online is an ongoing job.
It takes a lot of work.
For long-term sustainable success, you need a flexible strategy capable of adapting to a competitive and ever-changing market.
Sure, it's a challenge. And no, it's not easy. But is it worth it?
Absolutely.
You don't have to look very hard to find examples of digital marketing success stories.
Your first step to growing your business online is to define what success means to you.
What exactly do you want to achieve? More leads? More sales? Brand awareness in a new market? Promotion for a specific product or service?
Before you do anything else, you need to establish your goals. This will inform the rest of your strategy. It will also determine which platforms and techniques are best for you.
But that's not the most important thing you need to bear in mind…
The Most Important Thing to Remember if You Want to Grow Your Business Online
You can't do this by yourself. Nobody's expecting you to!
You need some experts on your side. Here's why:
Experts spend their days completely immersed in the online world
They're aware of the latest trends, so they've got a good idea of what's going to work and what isn't.
Experts have experience
They've spent the time testing all the various techniques out there. They've developed a certain magic touch. You might even call it instinct. In short, they know what they're doing and they get results.
Growing your business online takes time
And we don't just mean it will take a few months before your efforts pay off. No we're talking about legwork – hours upon hours of work that must be done every single day. You don't have the time to do this work justice. You've got a business to run! But experts do have time. Lots of it. It's what they do.
If you want to grow your business online, you should strongly consider enlisting some specialists to do the work for you.
Specialists will ensure that your marketing budget isn't wasted. They'll know what to do to get you a return on your investment. They can even help you to define your goals and build a strategy to achieve them.
Head here to read more about how working with specialists can make a world of difference.
Once you've established your goals, and once you've got a trusted team of specialists on your side, it's time to decide which avenue you're going to take to grow your business online!
SEO
Search Engine Optimisation (SEO) – you've probably heard a lot about this one already.
SEO involves working to improve your website's visibility in organic search results. These are the links between the ads at the top and the bottom of a search engine result page.
Good SEO involves optimising your site to appear in relevant searches. This way, it's more likely that you'll attract high quality traffic to your site – the sort of people who are looking for what you have to offer.
Do you need SEO to grow your business online?
That's a tough one.
It all depends on what exactly you're trying to achieve.
SEO is great for brand awareness. And if your site appears on the first page of the Google results, a lot of people will instinctively trust you that little bit more.
But SEO isn't the sort of thing you can pay for once and then forget about. Search engines change all the time.
What works today won't necessarily work tomorrow.
And it can take a while to achieve anything.
So, if you're going to invest in SEO, be prepared to go in for the long haul.
PPC
The other major avenue to consider is the world of pay per click (PPC) advertising.
This is a method of advertising where you pay each time someone clicks on one of your ads.
We'll explore the various places where your ads might appear below. But first, let's take a quick look at some of the benefits of PPC:
You have full control over what your ads look like, where they appear and when they show.
You also have total control over your advertising budget and you only ever pay when people click on your ads – that's to say, when your ads have done their job.
You'll struggle to find a method of advertising that's more measurable.
PPC ads tend to appear in places where they'll be seen.
You can start to see results in a matter of hours.
That's just the tip of the iceberg!
Here's 18 immediate benefits of PPC advertising.
Oh, there's downsides to PPC.
Remember what we said above about the importance of experts?
Yeah.
PPC is hard. If you don't know exactly what you're doing, you might find yourself spending lots without seeing any return.
But do PPC well and the results can be astounding.
Now let's look at the various places where your PPC ads might appear.
Search Ads
These are the ads most people probably think of when thinking about PPC. They're the ads you see at the top of search engine result pages.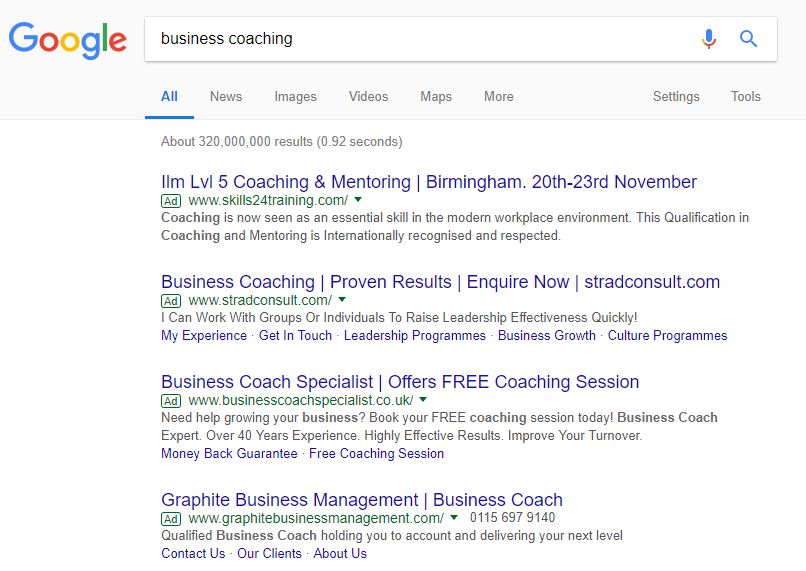 Google Ads is the biggest platform for search ads, but it's also possible to see some good results with Bing Ads.
Display Ads
These are adverts that appear on pages that have signed up to Google's Display Network.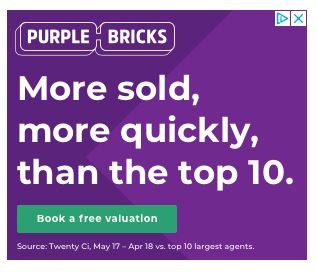 In theory, your ads should only appear on pages that are relevant to your business.
You'll still reach your target audience, but when compared to search ads, there's perhaps less of a chance that your ads will be seen by people who are actively looking for your products and services.
But one major thing that display ads have over search ads?
They look better!
The ads that appear in the search results are almost entirely text, but ads that appear in the display network can use all manner of multimedia elements to draw attention to themselves.
PLA Ads
Product Listing Ads (PLA) are only useful if you're selling products, as opposed to services. And even then, they're probably more useful if you're a B2C.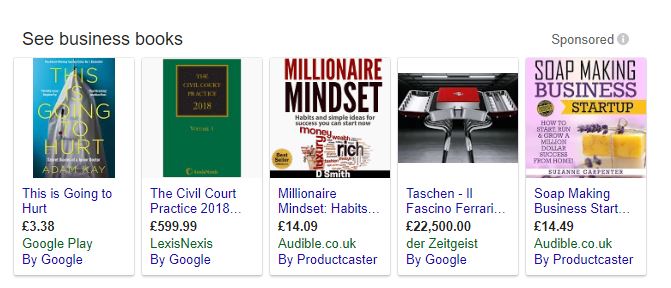 With PLA ads, your products can appear in the Google Shopping network. They'll be listed with their prices, with an image and with other essential product information. Your customers can buy directly from these ads, and once again, you'll only ever pay should they click on your ads.
Sounds good?
There's a catch: Your products will be listed alongside those of your competitors. Your customers will be able to directly compare your offerings, so they might well buy from your competitors instead of you.
SEO or PPC?
People usually talk about SEO and PPC as if they're in direct competition with each other. The truth is, both techniques are useful for achieving different goals. So, if you want to grow your business online, you might consider investing in both.
Head here to read a little bit more about the difference between SEO and PPC, and to learn how the two techniques can complement each other.
Social Media
Can social media help your business to grow online?
Short answer: Yes, absolutely!
Long answer: Yes, absolutely! But… it depends on who you are, what you do and what you're trying to achieve.
All businesses can use social media to boost their brand awareness. In fact, if your goal is to make more people aware of your business, all social media platforms feature their own native analytics reporting with their own readily-available metrics for reach and popularity.
Twitter, for example, will tell you how many people have seen your posts, how many people have visited your profile page, and how many people have clicked your links. And of course, you'll always know how many people are following you. Similarly, Facebook Insights provide a huge amount of information concerning who's seen your posts, and what actions they took once they saw your posts.
So, if you want to measure your brand awareness online, there you go! Social media helps you reach a lot of people in your target audience, and all platforms feature powerful reporting to help you measure your impact.
Social media can also help you to find leads and drive sales. There's no single way to use social media to grow your business in this way. Simply using LinkedIn strategically can help you to bypass business gatekeepers and reach those key decision makers you want to talk to. But on a more consumer-focused level, it's also possible to pay to advertise on most platforms.
Many businesses have found success with Facebook Advertising. If you take the time to read a few case studies, you'll see that this platform has helped a hugely diverse range of businesses achieve a hugely diverse range of goals.
And it's not just Facebook! One interior design company used Pinterest's paid advertising platform and saw an 11x increase in leads over the course of a year.
If you want to grow your business online, social media can make a huge difference.
The catch?
Finding any success on social media takes a huge amount of work.
Often a lot more than PPC.
And even more than SEO.
We repeat – if you want to grow your business online, you're gonna need some specialists. They have expertise, but more importantly, they have time.
Looking to Grow Your Business Online?
In this post, we've shared three possible avenues that'll help you grow your business online – SEO, PPC, and social media.
Depending on what you're trying to achieve, you can find success with any one of these avenues.
But what should be obvious by now is that, for best results, you should look to using a combination of the three.
And what should be even more obvious?
You're not going to get anywhere without a reliable team of experts on your side.
Head here to read more about how our expert assistance will help you to see a genuine return from your marketing budget.
Book Your 100% Free PPC Audit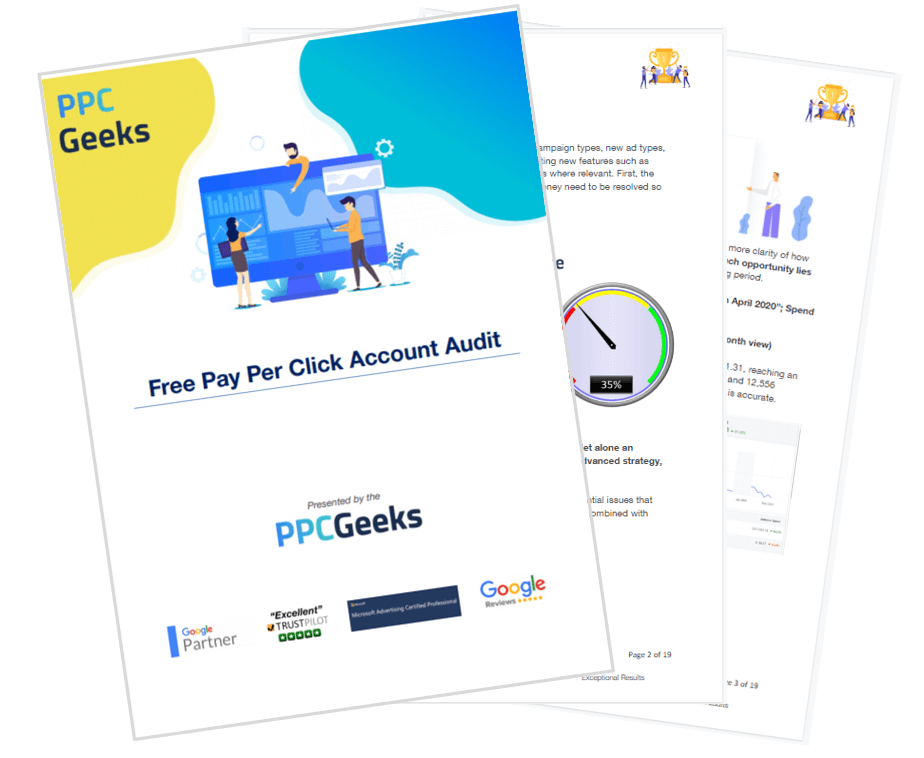 SIGN UP TO OUR NEWSLETTER