PPC Geeks Awards & Accolades: The Best PPC Agency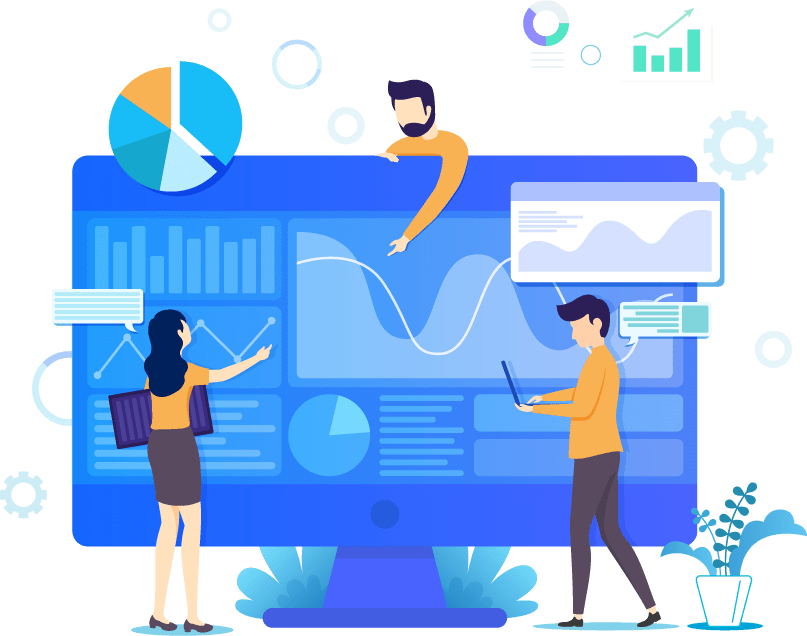 PPC Geeks Awards & Accolades: The Best PPC Agency
Here at PPC Geeks, we've been lucky enough to win a lot of awards and accolades over the years. These awards have boosted our reputation and helped set us apart from the crowd. They have also provided our team with a morale boost by highlighting their achievements. Even when we were a young company, winning these accolades was a signal to the world that we were here to compete.
We thought we'd put together a list of some of the awards and accolades we've won over the years. But, as there's been so many, we thought it best to start with a particular type of award: the best PPC agency.
So, see below the number of times we've been named one of the best PPC agencies in the UK.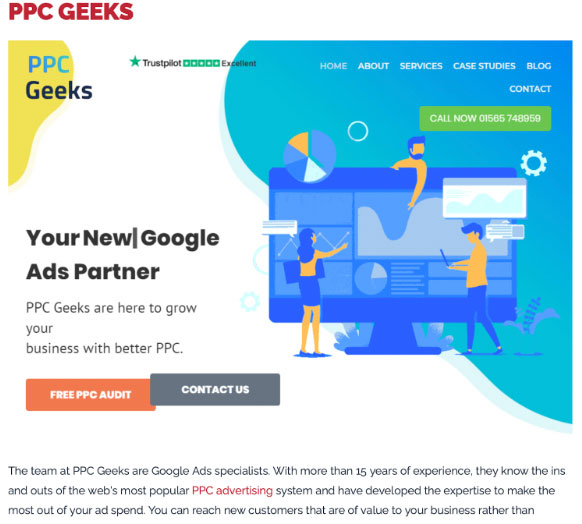 Starting with one of our most treasured award wins, back in 2019 we were named the 3rd most outstanding UK-based PPC management company. The team at Whitehat described our strengths as knowing the 'ins and outs of the web's most popular PPC advertising system.' They also added that, 'with PPC Geeks, you can abandon methods that do not appeal to your audience and that ultimately drain your financial resources'
To be named as the 3rd most outstanding PPC agency in the UK was a wonderful moment for us back in 2019.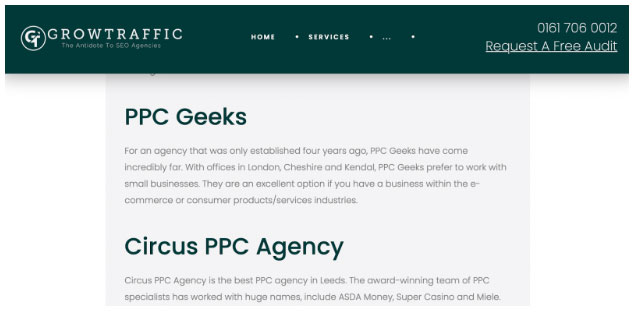 Even earlier in our journey as an agency, Growth Traffic produced a list of the leading PPC agencies in the UK. PPC Geeks came 5th. For only four years into our journey, we were ecstatic to be described as an 'excellent option'. They also focused on our rapid growth at that time.
While we had only been established for a short period of time, we were more than happy to be listed among some truly great PPC agencies.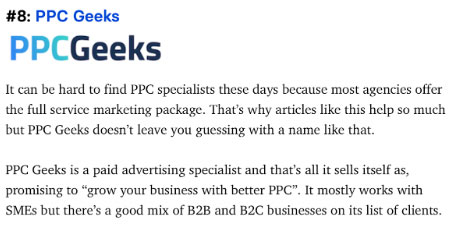 trueNorth named us the 8th best PPC and Remarketing agency in the UK this year. We enjoyed how they spoke about our name, PPC Geeks, and how it 'doesn't leave you guessing.' We provide the full service marketing package, and trueNorth were happy to shout about it.
To be named in the top 10 was something we were seriously happy about.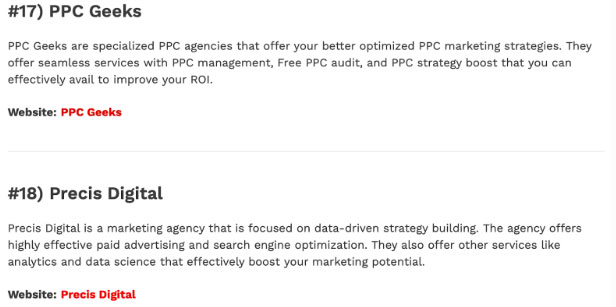 Finishing 17th out of 20 of the best PPC agencies in the world was a magnificent achievement. Highlighting our free PPC audits in their review, Software Testing Help went into great detail when deciding on the best agencies to include on their list.
While we didn't move up into the top 10, we were excited to feature so high up on a list of 20 amazing PPC agencies.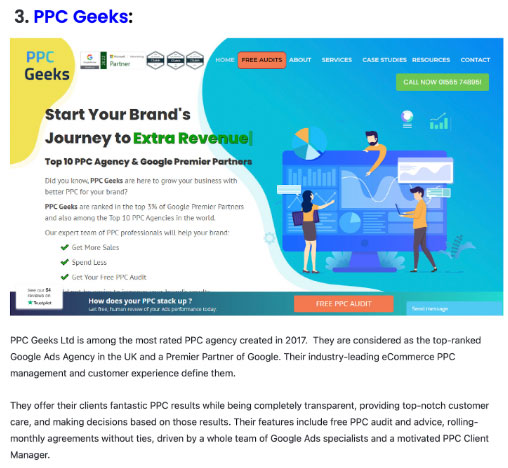 The Advertising Review has already named its best digital marketing agencies in the UK for 2023. PPC Geeks came 3rd. The team at the Advertising Review described PPC Geeks quite nicely. They noted: 'PPC Geeks are considered as the top-ranked Google Ads Agency in the UK and a Premier Partner of Google. Their industry-leading eCommerce PPC management and customer experience define them.'
To be named as the 3rd best digital marketing agency in the UK for 2023 is a wonderful way for us to kickstart 2023 in style. As a respected digital marketing agency, our experts were also very excited by the result.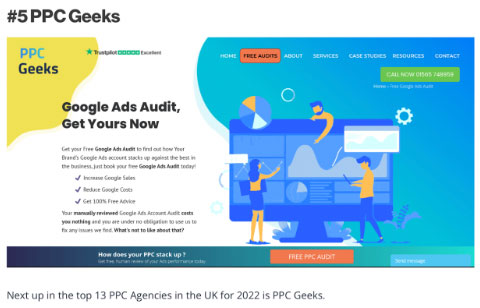 Earlier in the year, we were very happy to be listed as the 5th best PPC agency in the UK by Yatter. Yatter chose to focus on how we are in the top 3% of Google Premier Partners, and how we manage over £1.5 million in Google Ads every month.
Our team of experts were extremely pleased about being ranked the 5th best PPC agency in the country in 2022.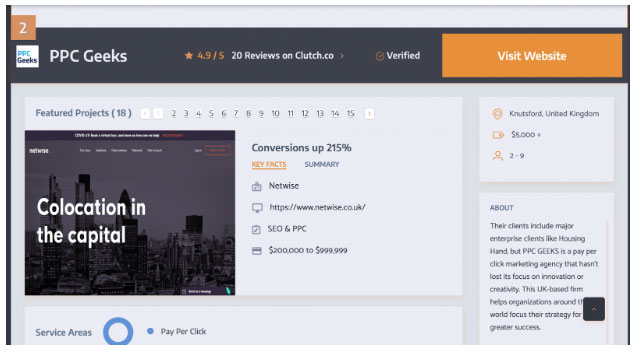 Our best accolade to date in terms of ranking, Visual Objects named us the 2nd best PPC agency in the UK for 2022. They based this on thorough knowledge of the PPC and SEO sector and how we've boosted our clients' conversions by 215%.
Despite not finishing first on this list, we were still more than happy with our 2nd place finish. As were our team of specialist experts.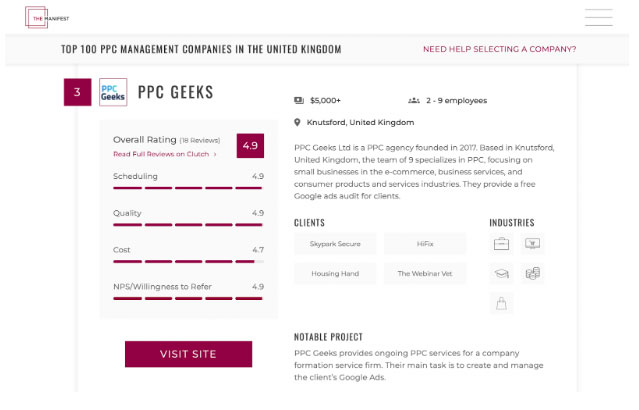 We finished an amazing 3rd out of 100 of the best PPC management agencies in the United Kingdom. noting one of many outstanding testimonials in their review, The Manifest went into great detail when deciding on our position.
It was a huge testament to our incredible work that we were able to consolidate our position as the 3rd best PPC management company in the UK for 2022.
PPC Geeks – PPC Management Specialists
We pride ourselves on what we achieve for our clients on a daily basis. Great results, and maximising their PPC strategy. Contact PPC Geeks to see how we can help boost your profits when piecing together an expert PPC strategy.
We always have your best interests in mind. If you require any help or want to improve your PPC or Google Ads, then invest in one of our 100% FREE Google Ads audits?
Book Your 100% Free PPC Audit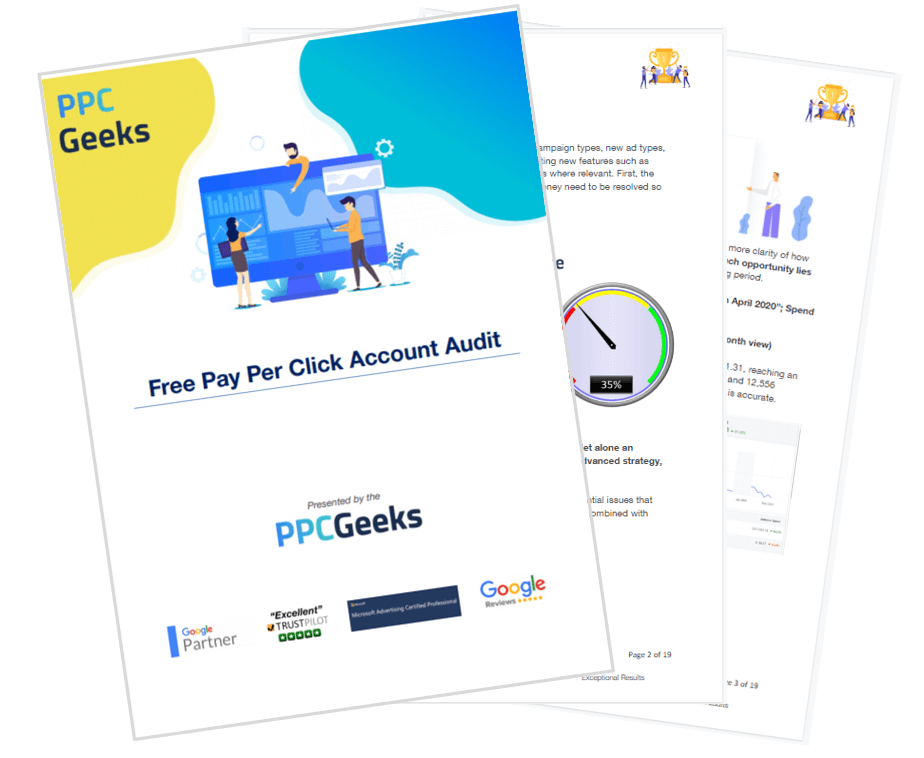 SIGN UP TO OUR NEWSLETTER