Smart Campaigns: The Limitations of Smart Campaigns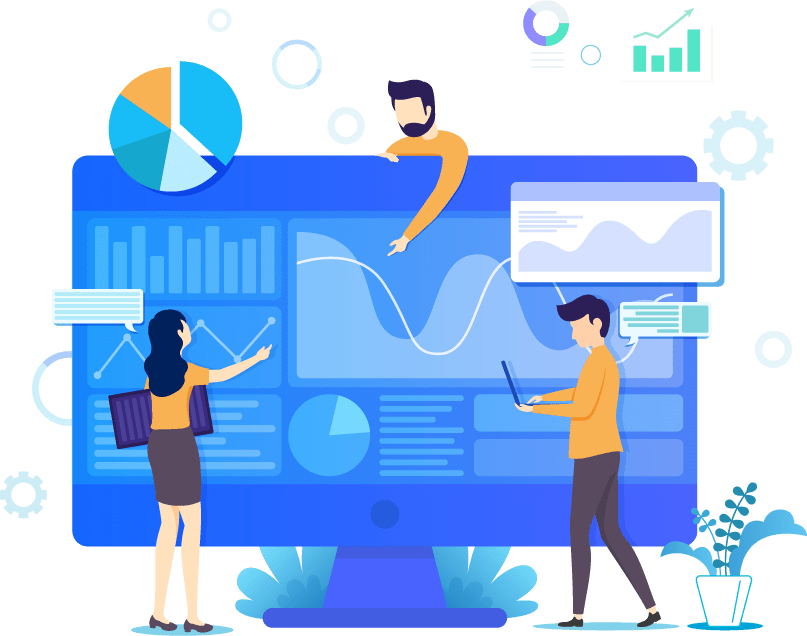 Smart Campaigns: The Limitations of Smart Campaigns
Smart Campaigns: Learn All About The Limitations of Smart Ads Campaigns (Pro Vs Beginner)
In 2018, Google launched smart campaigns, a new type of ad campaign that uses machine intelligence to help users with little to no knowledge of Google Ads set up their own campaigns.
Many businesses have already started using Googles "smart" option for campaigns but have found that they are not receiving the results they expected. There are many reasons why businesses should be wary of fully relying on smart campaigns, let's take a look at some of the limiting factors.
What are "smart" ad campaigns?
Smart campaigns are a relatively new, partially automated campaign type within the Google Ads Experience that enables users to set up campaigns and target audiences with little to no Google Ads experience.
On Google's support page, they highlight that smart allows the user to create online ads quickly and easily, only paying when the ad is clicked on and with minimal management required. You simply set up your account, create a single ad, select a business category, set your budget and you're good to go.
However, this new automated campaign type comes with many limitations that have meant businesses haven't seen the results they were expecting.
The limitations of smart ads campaigns
Although Google highlights that smart campaigns allow users to set up campaigns quickly and easily, many people have found that they have a lack of control. You can view the keywords that Google has chosen for your campaign, but you are unable to adjust them. You also don't have access to negative keywords or keyword types. The only things you can set are your targets and other basic variables, and that's about it!
With smart signal campaigns, you are limited to a single ad type that is displayed across the various delivery options, namely search and display.
On the standard Google Ads you are provided with several goal types, alongside the ability to track leads. With smart ads campaigns, your goals are limited to a much smaller number of pre-sets.
Controlled conversion tracking
When using smart campaigns, you are reduced to 'verified calls' and 'map actions' when it comes to conversion tracking. These are valuable, however if they don't completely align with your business goals, you may find it hard to determine the success of your campaign.
Smart ads also don't give users access to detailed analytical reports. It limits users to a few main data points; conversions, click through rate, clicks and impressions. There is also nothing you can do to improve the data; you can only view it. Placement, search query and audience data are not available to view, probably because Google makes all of the optimisations and therefore the user has no need for it. However, the lack of visibility means the user cannot learn how to create better campaigns.
Machine automation doesn't cover everything
Technology has come a long way; however, it isn't at the level to be able to manage a full ad campaign that is consistently successful and targeted. While running smart choice campaigns you may find that you still need to complete basic tasks like placement exclusions.
Because Google is controlling your campaign and how much you spend, you may find that your budget needs to be increased more than you expected.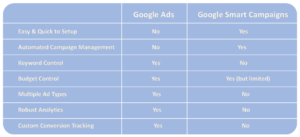 As you can see, smart type campaigns do offer some advantages in that it allows users with no experience to set up an ad campaign quickly and easily. However, because this type of campaign is automated, Google takes control after set up and will keep working until it gets better results. This could mean that the amount you spend increases, but your results are not exactly what you wanted.
If you want to fully control your ads, goals and conversion, it's better to set up a standard Google Ads account. At PPC Geek we can help you get the best out of your campaigns with our 100% free Google Ads review. Get in touch with a member of our team today to find out more.
Book Your 100% Free PPC Audit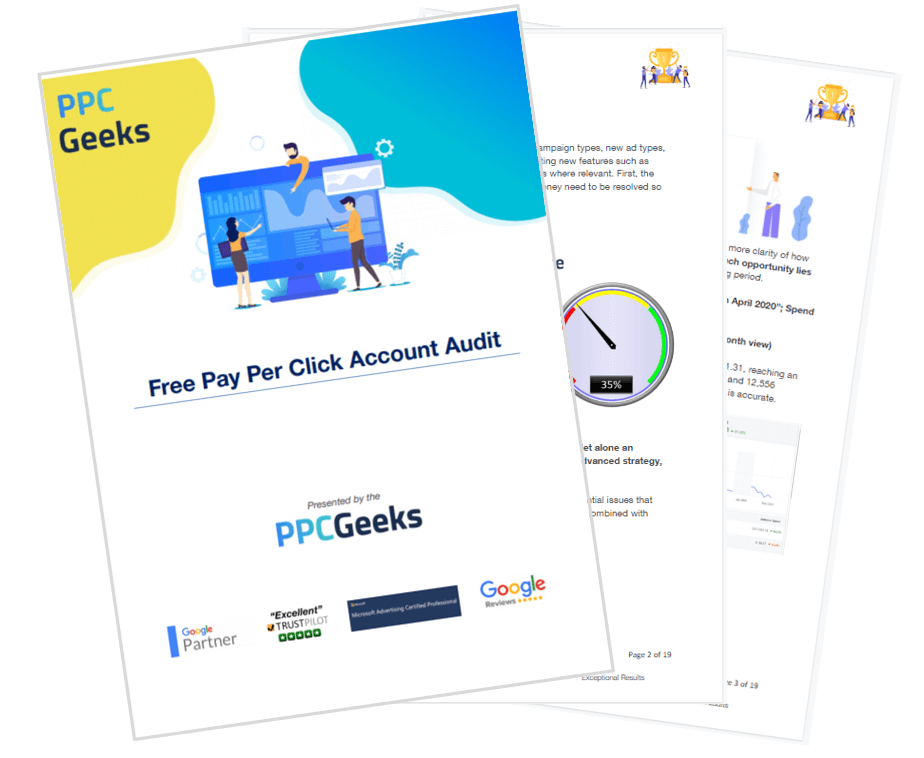 SIGN UP TO OUR NEWSLETTER