Does Google Ads Work and Is It Worth It?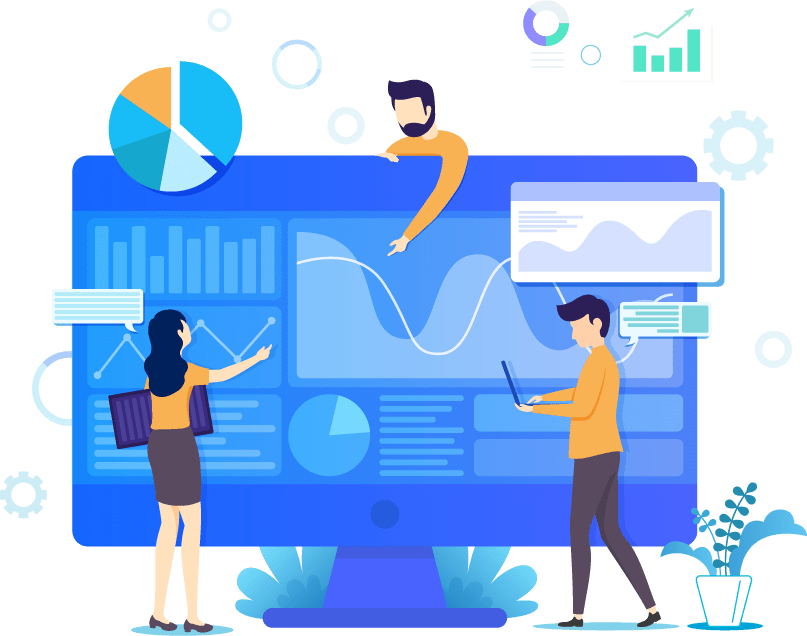 Does Google Ads Work and Is It Worth It?
Does Google Ads (Previously AdWords) Work and Is It Worth It?
If you're reading this, you've heard talk of Google Ads and you're wondering whether it's right for your business.
Hello!
You've no doubt got a lot of questions about this whole PPC thing. Maybe you've asked a few people about it and maybe they've had some good things to say.
But still, you're not sure. You've reservations. Is it worth investing all that time and money into Google Ads?
Short answer – yes! ?
In this post we'll explain why we think you should invest in Google Ads before sharing some of the many benefits you can expect from an intelligent PPC campaign.
But first, let's briefly explain how Google Ads works.
How Does Google Ads Work?
Google Ads is a PPC platform. PPC stands for "pay per click". This means that you only ever pay when people click on your ads. ?
Your ads can appear in a number of places. You've probably seen the ones that show up at the top of the Google search results, but depending on the sort of campaign you run, they can also appear on Google Maps, on YouTube and on certain sites that are part of the Google Display Network.
How does it work? You pick some keywords that you think your customers might use when searching on Google and craft your ad around these. Then, whenever a search is conducted on Google, the search engine processes a number of factors to determine which ads are placed where and how much each advertiser should pay per click.
Think of Google Ads as an auction. When setting up your ads, you decide how much you're willing to bid on each keyword. You're in direct competition with all other marketers here. The more people search for your keyword each month, the more you should expect to pay to rank well for this term.
Find out more about how Google Ads works with How to Use Google Ads & How it Works.
Does this mean that Google Ads favours whichever advertiser bids the most?
Not at all.
Google's priority is to ensure that users see ads that are relevant to their search. So they have a little thing called "Quality Score".
If your ad has a high Quality Score, it means that Google recognises that it's relevant. You've taken the efforts to match your ad to user intent and your reward is higher ad rankings and a lower cost per click.
But these are just the basics.
Go deep into Google Ads and you'll be amazed by the possibilities.
For example, there's a technique known as "Remarketing". This allows you to target users who you know are interested in your products or services with ads tailored to appeal just to them.
So, if users view your product pages without adding anything to their carts, you can show them ads for the items they viewed without buying. Or if they added items to their carts but didn't complete the purchase, you can show them ads featuring discount codes for the very items they didn't buy.
Yeah. We know. Amazing, huh? ???
You can imagine the effect this sort of advanced marketing can have on conversions, but what you probably can't imagine is just how easy this system is to set up and optimise.
That's the thing with Google Ads. If you're new to the world of paid search, you might feel like you have a lot of catching up to do. But in reality, if you set up an account today you'll stand a fighting chance of beating your competitors – even if they've been using Google Ads for years.
Does Google Ads Work?
Yes it does! ? ? ? ? ?
72% of marketers plan to increase their Google Ads spend this year.
Now, if that's not a clue I don't know what is.
If you have a good strategy, the right budget and an experienced PPC specialist on your side, Google Ads can deliver incredible results.
It works for almost any business in any sector, and it can help you achieve whichever goals matter for you. So, whether you want more leads, more sales, more app downloads, increased brand awareness or simply more traffic for your site, a good Google Ads campaign can help you achieve your goals and then some.
If you play your cards right you can depend on a swift ROI and you can look forward to excellent results in the short-term and good long-term business growth.
On top of this, unlike other forms of digital marketing (like SEO and social media), Google Ads is completely transparent. Thanks to some powerful tracking tools, you'll know for sure whether your PPC campaign's benefitting your bottom line.
Is Google Ads Worth It?
Again, yes!
The level of targeting it offers is phenomenal. And it's only getting better for small businesses with the introduction of tools like Custom Intent Audiences.
If you do it right you can ensure your ads will only be seen by people who are actively looking for your products or services.
It gets better: Link your Google Ads account to your Google Analytics account and you can see how potential customers behave once they reach your site. In this way you'll be able to optimise the entire sales funnel – from initial search to final conversion!
A well-managed Google Ads account is a lean, mean, conversion-boostin' machine.
Want to know how much it's going to cost? Find out more about how to calculate how much it'll cost you.
But what's the catch?
OK, OK. Nothing's perfect. But in this case, it isn't so much a catch as a caveat:
Google Ads works best when you know what you're doing.
If your keyword and bidding strategy isn't finely tuned, then your ads could get seen by people who are never going to convert. You could end up spending loads on irrelevant traffic without getting any return.
And if your landing page isn't optimised, then even if you reach the right people, they won't necessarily convert. And yet, you'll still pay for their clicks…
What we're saying is, when it comes to Google Ads, it pays to have an expert on your side!
They don't call us the PPC Geeks for nothing. We understand Google Ads, and we've a long track record of success when it comes to designing and delivering effective PPC campaigns.
Want to hear about the sort of results we've got for our clients? Get in touch and we'll share some case studies!
Book Your 100% Free PPC Audit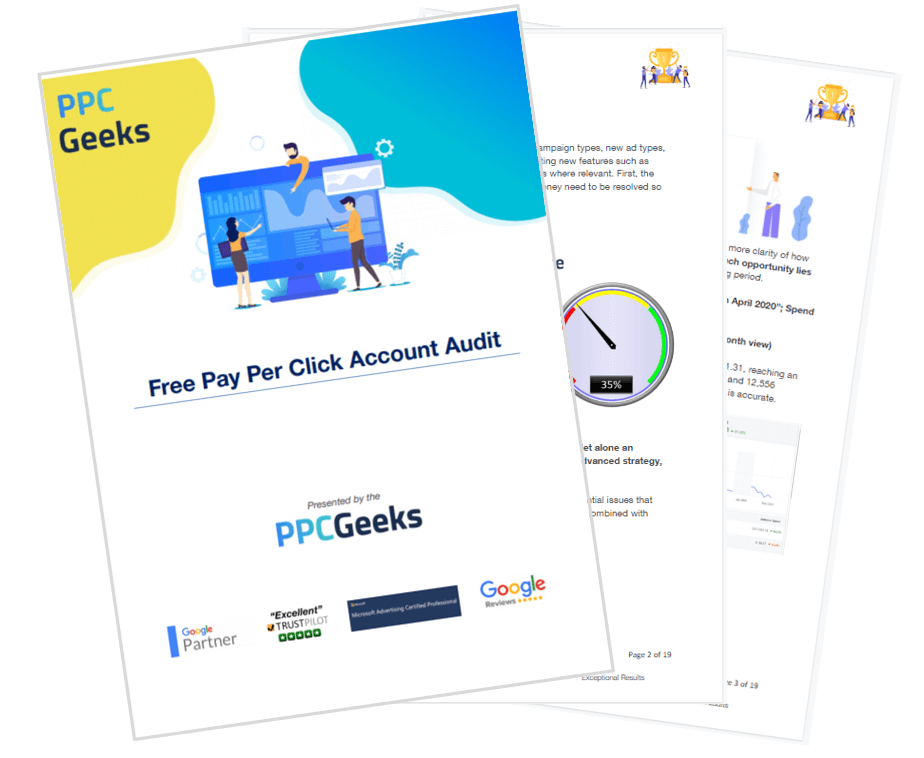 SIGN UP TO OUR NEWSLETTER