Gemma Tooth Phillips has Passed their Google Ads Exams and is Certified for 2023-2024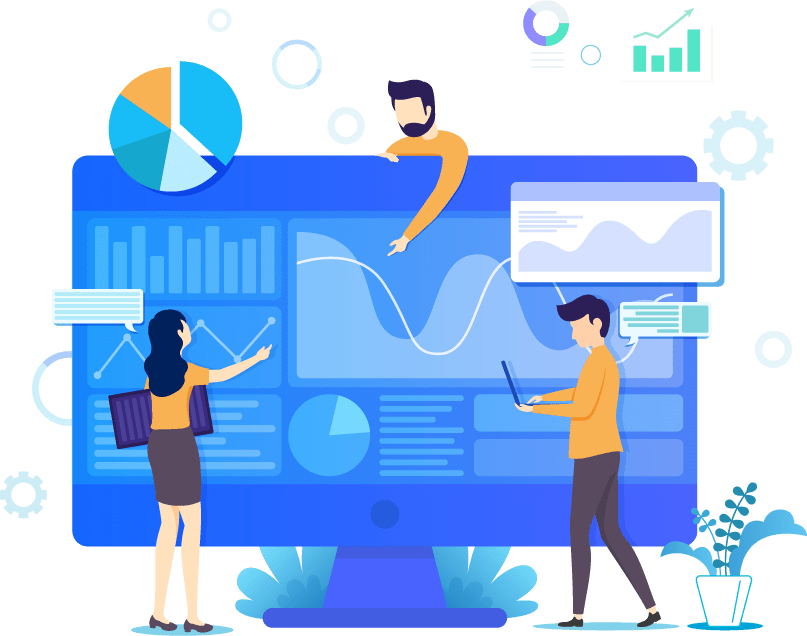 Gemma Tooth Phillips has Passed their Google Ads Exams and is Certified for 2023-2024
Amazing news! I'm Gemma Tooth Phillips of PPC Geeks, and I'm extremely proud and happy to say that I have passed my Google Ads exams and am fully certified for 2023-2024. I was lucky enough to pass with outstanding marks meaning I am now Google Ads certified through to 2024.
Here at PPC Geeks, we're constantly striving to improve our knowledge of everything PPC-related. So, obtaining my Google certification is an extremely positive example of how dedicated we are as a team to helping you realise your goals. 
With this in mind, I thought I would share with you what it takes to pass these exams. It's important to choose an agency with a team of qualified experts, of which I am hugely proud to be an established part of for 2024 and beyond.  
What is a Google Ads Exam Certification? 
Google Ads certification is an industry standard, professional qualification that experts can gain by demonstrating proficiency for both basic and more advanced components of Google Ads. 
Be it Google Ads, or any of its other iterations, at PPC Geeks we empower our team of specialists to gain their Google certifications as quickly as possible to further both their own personal development and also that of the agency.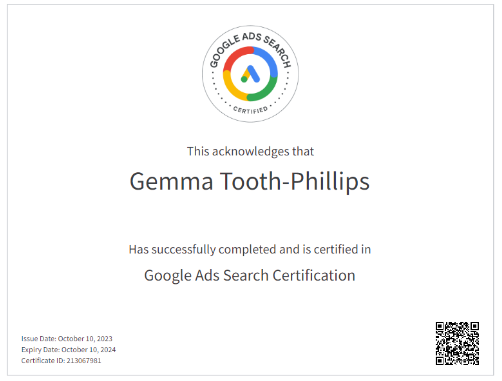 What these exams show is the fact that you are hugely knowledgeable and proficient in Google Ads; they also show just how important it is to provide your clients with a service that is executed by experts, constantly improving and adapting to the ever-changing digital landscape.
Every Google Ads agency in the world likes to think of themselves as the most important company, but most don't come close because their team lacks the proper tools and qualifications to provide best practices. We, on the other hand, have the certificates to do so with unbridled confidence. 
At PPC Geeks, we take pride in our employees which is why we empower them and assist them in gaining qualifications that will improve our clients' experience.  
Why Trust a Certified Specialist Like Me? 
While it's important to demonstrate your expertise to deliver good results to potential clients, it's more important to be able to confidently pass on as much of my knowledge and expertise as possible when working on any type of Google Ads account.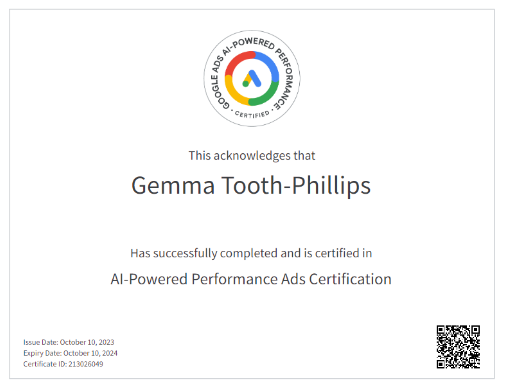 By becoming Google Ads certified, clients find it much easier to trust not only me but the entire team who work on their account behind the scenes. 
Google Ads is a complex marketing platform, and so if you don't know what you're doing, it's easy to waste large amounts of money without seeing any return on investment. That said, my Google Ads certification is only valid until the expiration of the certificate in 2024; and to renew my certification, I must retake and pass the assessment again.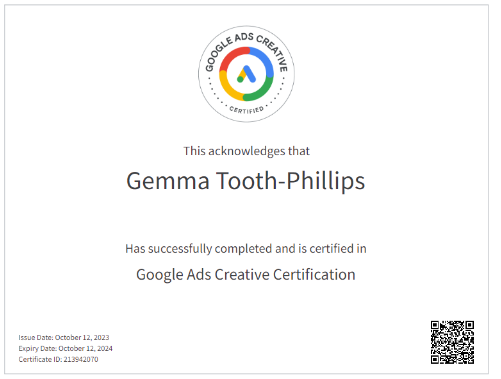 So, rest assured that the PPC Geeks team and I are always learning, revising, and demonstrating our expertise while always having one eye on our reexamination date. And we do so in order to provide you with the best quality service. 
Why not test your knowledge of Google Ads and have a go at our very own Google Ads exam quiz. 
PPC Geeeks – Your Google Ads Experts  
At PPC Geeks, we are experts when it comes to advertising on Google. With a wealth of experience to draw upon, I am extremely happy to now be a part of this award-winning agency. And though we are extremely knowledgeable, myself and the team are constantly working hard to improve our client's experience when navigating the Google Ads landscape. 
Start your journey with PPC Geeks today and reap the rewards of working with the likes of myself and the team. You can also benefit from our FREE Google Ads audit today and give your business the best start in the marketing world. 
Book Your 100% Free PPC Audit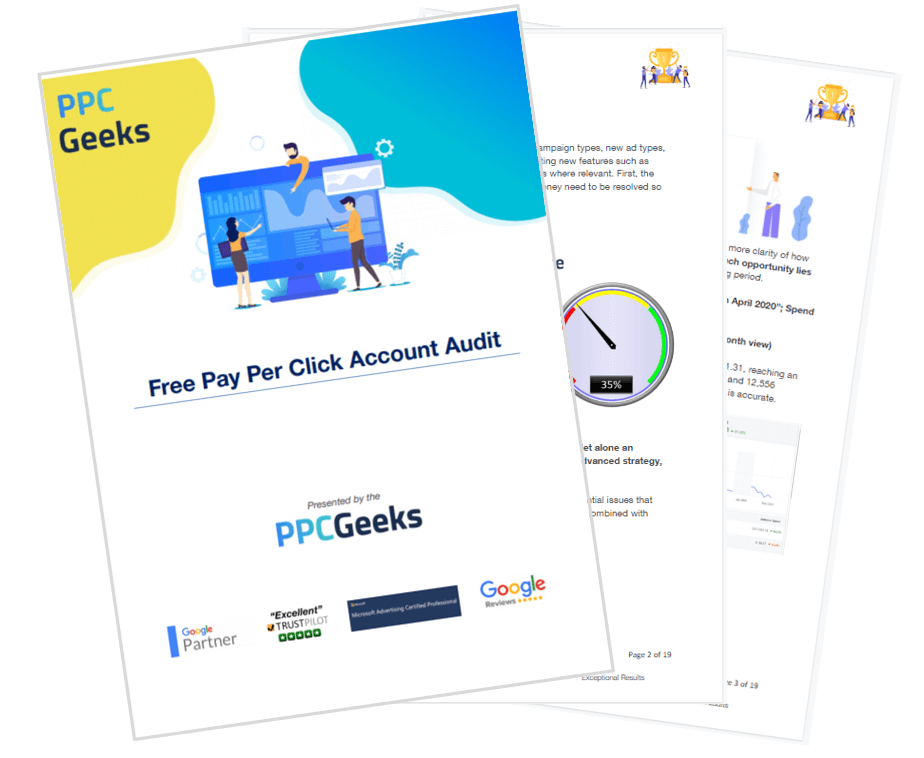 SIGN UP TO OUR NEWSLETTER