Google Introduces Shortened Titles for Product Ads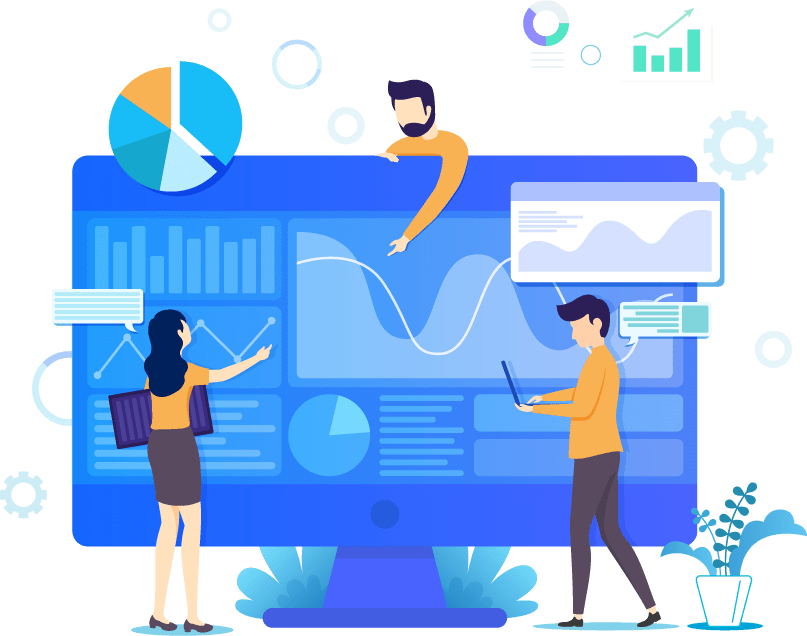 Google Introduces Shortened Titles for Product Ads
In a recent announcement, Google Merchant Centre introduced shortened titles for product ads, a new attribute that differs from the current 'Title' attribute and is referred to simply as the 'Short Title.'
The news has been welcomed by many a Google Ads agency and PPC expert, while marketers can now optimise their product titles even further in Google Merchant Centre, which again, is good news if you are a PPC agency or Google Shopping agency.
So, with this in mind, we thought we'd take a closer look at this new attribute, and what the introduction of shortened titles for product ads mean for the wider marketing world.
What Is Shortened Titles for Product Ads
Best used to briefly and clearly identify the product you're selling, shortened titles for products ads should be concise and short as the name suggests, as they will be used in a browsing context. Indeed, Google's recent introduction of this new, albeit optional attribute to the Merchant Centre, allows a Google Ads consultant to be more concise and to the point about their customers' products.
Recommended to be between 5-65 characters long, the introduction of shortened titles for product ads has been received warmly by the marketing community as this new attribute promises to free up time and make copywriting significantly easier for those who are not adept at the discipline.
Indeed, whether a PPC agency Manchester or a PPC agency London, shortened titles for product ads could seriously improve the optimisation of all ads across the Google Ads network, with an interest in Google Display Ads in particular.
Where Will Shortened Titles for Products be Shown?
Mostly, the new short titles for products will be shown in places where users typically spend a significant amount of time browsing the internet, including shopping ads, Gmail and a large proportion of Google Discovery campaigns.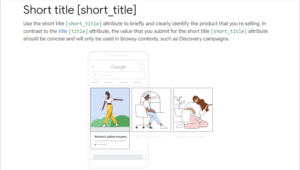 In comparison to the title attribute, which is required in the ad set up, short titles for products are entirely optional. Indeed, the key differences between the title and short titles are somewhat self explanatory.
A simple title more accurately matches the product landing page to a customer's keyword search, while a short title, on the other hand, acts more as a vehicle for a brief and concise identification of your product.
That said, be aware, because this new feature is optional, it won't always be shown across the entire Google network.
Short Titles for Products Ads: Best Practices
These best practices serve as a guide to all Google Ads specialists and Google Ads experts. In doing so, you can go beyond the basic ad requirements and optimise your product data in terms of performance.
Limit Your Short Titles to 65 or Fewer Characters – Most customers usually only see the initial 65 characters of a short title. Furthermore, depending on their screen size, customers may even see less characters, making being concise hugely important.
Prioritise the Most Important Points – People's attention spans are very short, and so the likelihood of a user reading your entire product title is extremely low. With this in mind, it's important to be as concise as possible, especially as people will be mostly scrolling through your products at speed.
Include the Brand Name – If your brand is a significant, differentiating or enticing factor, then you must include it in any of your shortened titles for product ads. Add the brand name so that users can understand what makes your product unique.
These best practices are extremely important as short titles exist within a browsing culture, and so it's likely users may scroll past your ads if you don't adhere to the above, no matter if you're a Google Ads expert or have carried out the most thorough of Google Ads audits.
PPC Geeks: Google Ads Specialists
As Google Ads specialists ourselves, we think it's vital to update you of the latest developments in the marketing world, such as the introduction of short titles for products ads, for example.
If you work in PPC management or for a Google Ads company, It would be extremely beneficial to test using short titles in your product ads and compare those metrics accordingly.
Nevertheless, if you require any help with this or want to improve your Google Ads campaigns, then why not invest in a comprehensive, 100% free PPC audit?
Book Your 100% Free PPC Audit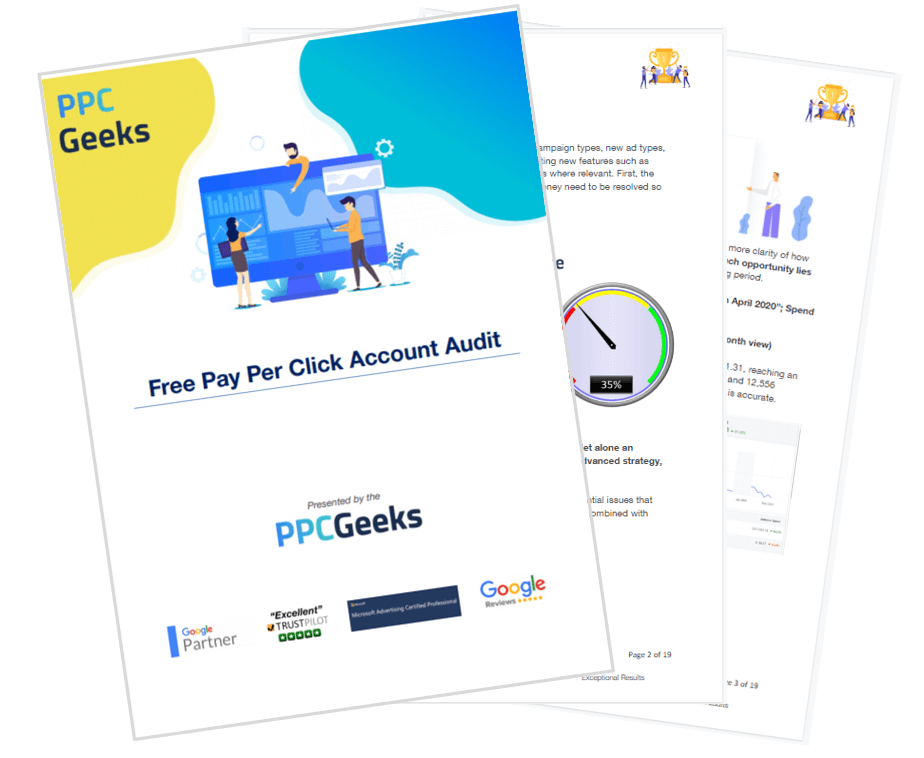 SIGN UP TO OUR NEWSLETTER