Expected CTR & How to Improve Today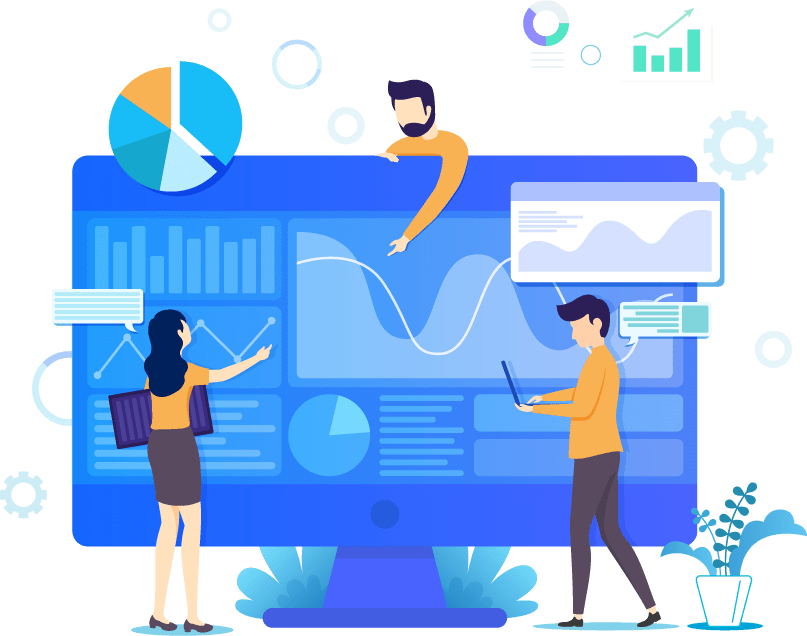 Expected CTR & How to Improve Today
Deep Dive: How to Improve Expected CTR
Improve Expected CTR: Expected Click Through Rate can be defined as a keyword status that is used to measure the likelihood that your ads will get clicked on when displayed for that keyword. This is regardless of what position your ad is in, ad extensions and other formats that may affect the prominence of your ad.
To determine expected click through rate, Google looks at historical data for your keyword and predicts whether it is likely to lead to a click, or whether a competitor's ad is more likely to be clicked on. Your status will either be above average, average, or below average. If you have a low expected CTR it can seriously damage your campaign and give your competition the upper hand.
More than any other quality score metric, expected CTR is impacted by historical data at account, campaign, and ad group level. That's why as marketers, it's hugely important to understand the CTR industry benchmarks, to help inform us of how to improve.
According to WordStream, the Google Ads average CTR across all industries is 5.06% for search, with a peak of 7.83% in the travel and tourism industry and a low of 3.27% for law and government. On the display network, the Google Ads average CTR across all industries is just 0.50%, with business and industrial having a high of 0.64% and health having a low of 0.37%.
Once you can see how your expected CTR stacks up against your competitors, you can begin looking into ways to improve. The best way to start improving your expected CTR is to firstly improve your overall CTR over time. Let's delve deeper into ways you can improve your CTR.
Use more relevant/precise keywords to improve your Click Through Rate
We're not saying you should only use Exact Match keywords, although they do certainly help to more precisely target your audience. Something to be aware of is that the broader match type you use, the wider variety of search terms your ads will show up for. It's common for broad match keywords to have thousands of impressions for search terms you wouldn't want to have visibility for, because your ad has shown up for something not relevant and the user hasn't clicked your advert. That might seem harmless, they're not clicking so they're not spending your money, but thousands of impressions without clicks tells Google that users don't want to click your ads, which ultimately costs you more money for the users that do as your CTR is low so Google charges you more per click by awarding you a low CTR score.
When you create an ad campaign, Google will prompt you to add multiple keywords to your account and ad group. This may seem like the right thing to do, but in fact, it can have an adverse effect on your CTR. When a user searches a keyword in your ad group containing over 20 keywords, the ad isn't likely to display the exact keyword the user is searching for. This means that the CTR and quality score of your ad will be negatively affected. To improve CTR and expected CTR, use more relevant and precise keywords in tightly grouped themes.
Keep tighter relevance between keywords and ad text
Once you've grouped your keywords into precise groups, you should ensure your ad text is always relevant to the keywords. One of the easiest ways to improve your ad relevance is to use SKAGS, or single word ad groups. These ensure that only one keyword triggers a particular ad, which means your click through rate will begin improving because your ads will be more relevant to the search terms. This method has its drawbacks on larger accounts but is a great way to maximise your CTR QS in smaller accounts.
When writing the copy for your ads, you need to ensure that the keyword is included throughout. You should try to include it in the main headline, the display URL, the CTA and anywhere else you think works. By making these changes, you will hopefully see an improvement in your expected CTR and your Ad Quality Score so it is a win on more than just the CTR side.
Split test ads
Another way to improve CTR is to split test your ads. We usually split test three or four ads per ad group. On Google Ads you can create many variations of your advert copy and test them against each other. Try split testing around 3 or 4 ads in each ad group and monitor which get the highest CTR. You can pause any ads that are performing poorly and replace them with new variations that can be split tested again.
As well as ad copy, you can also experiment with testing different ad types to improve CTR. Research has shown that responsive text ads can lead to improved CTR. Responsive text ads allow you to provide Google with many possible headline and description variants for them to test against each other, using machine learning to find out "what works best" if you are not sure of how to do this yourself.
Make use of ad extensions
There are a range of different ad extensions that Google offers when you are building an ad campaign, and if you utilise them properly it will have a positive effect on your expected CTR. Let's take a quick look at some of the different types of ad extensions:
This allows you to add extra links underneath your ad to parts of your website the user might also be interested in. This has been proven to improve CTR, not only because it gives the users more options, but because it makes your ad significantly bigger.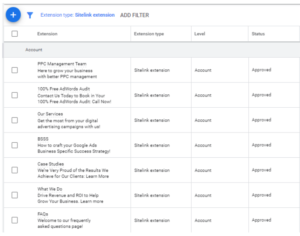 By adding a call extension, it allows potential customers to get in contact with you easily. By clicking on the call extension, it will take users straight to a call if they are on mobile or call software if they are on a desktop. This method is ideal for businesses that need customers to call to complete the sales process and for lead generation.
For the purpose of click through rate, it's important to note that a click on the call extension counts as a paid ad click, even though they're not clicking through to your website.

This ad extension allows you to insert a special offer or sale below your ad. There are 4 types of promotion extensions: monetary discount, up to monetary discount, percentage discount, and up to percentage discount.
Highlighting offers for a limited time, and that make your product or service cheaper than your competitors, will promote a better CTR as prospects will be clicking on your advert and not your competitors.
By adding a price extension, you can include additional links in your ad that will take users to specific product pages. They can be used to display different levels of service or pricing tiers.
Importantly, they tell the user before they click how much your product or service costs are. If your prices are cheaper than your competitors, you can expect price extensions to improve your CTR. If they show you're more expensive, they may make your CTR worse so make sure you do your homework before adding these if your product is not competitive in the market.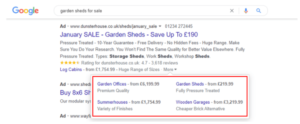 Review your search terms
If you are managing a Google Ads campaign, you should regularly be checking the Search Terms section to see what searches you are showing for and how those searches perform. While most advertisers focus on what searches are costing the most in an effort to improve profitability, it's equally important to find and exclude search terms with a high number of impressions but low CTR. This is really useful data, as it can alert you to irrelevant terms that are harming your CTR, or tell you when users aren't clicking your ads on terms you want to show for.
A key note when performing a Search Term Analysis is to look at the difference between how many impressions you are getting at the keyword level, and how many you are getting at the search term level. Google doesn't always show you every search term you've shown an ad for (and nowadays it doesn't even show you those half the time). If your keyword level impressions are double or greater than your search tem level impressions, you have a big problem. That means you can see less than half the terms you're showing up for, so you have no way of knowing what to cut to improve your CTR.
But performing regular and in depth Search Term Query reports and adding negatives from these will help your overall CTR, QS and should mean you get better traffic through to your site. This will cut your 'wasted spend' and allow that previously wasted spend to go towards getting more of the better clicks. This will mean you should see better results quickly as you are cutting out costly bad traffic.
We can help Improve Expected CTR!
Start improving your expected CTR, and ultimately your Google Ads campaign today by making use of our 100% free Google Ads audit. Discover how your company compares to competitors and gain the upper hand! Get in touch with a member of our friendly and helpful team today!
Book Your 100% Free PPC Audit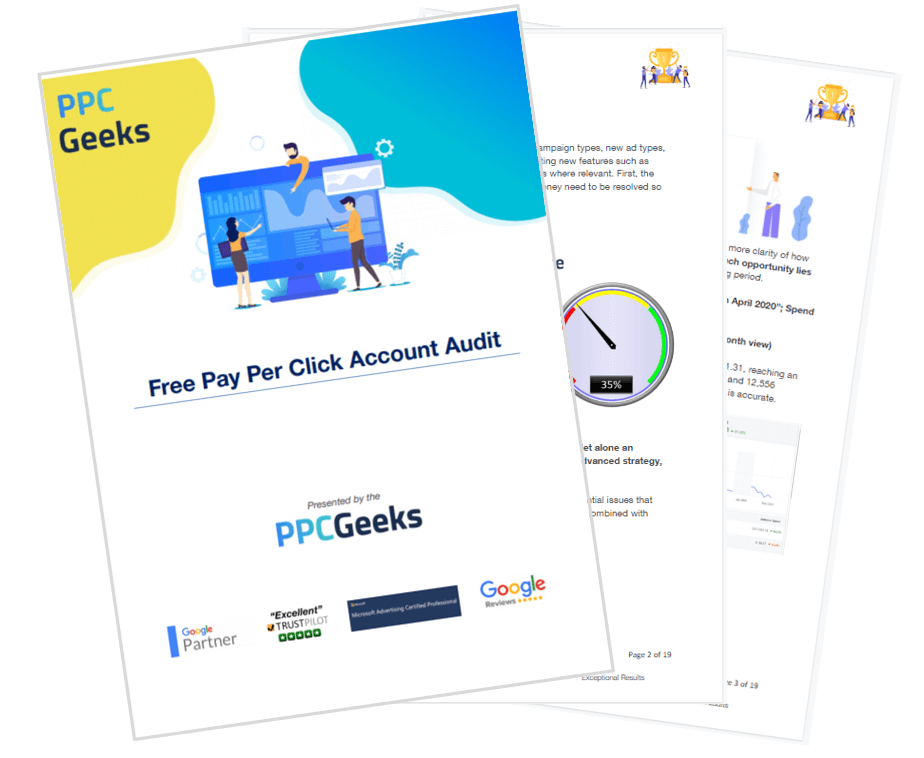 SIGN UP TO OUR NEWSLETTER