Google Ads to Phase Out BMM & Expand Phrase Match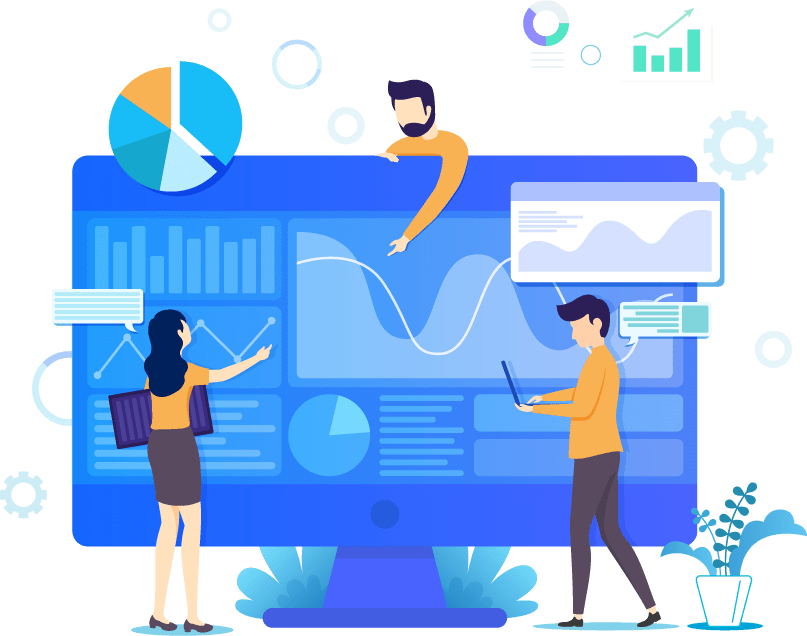 Google Ads to Phase Out BMM & Expand Phrase Match
Google Ads is Phasing Out Broad Match Modifier Keywords & Expands out the Phrase Match Keywords Reach and Matching Capabilities
Google Ads has decided to change the keyword match type targeting yet again and has recently started to phase out Broad Match Modifier (BMM) and expand Phrase Match. The change will see Phrase Match begin to include additional BMM traffic and all support for BMM will stop.
What Were BMM and Phrase Match before the change?
Before the changes, if an advertiser was looking to reach people they could use the following keyword match types:
Exact Match for precision
Broad Match for reach
Phrase Match and BMM for a balance of both
If a marketer used BMM for the keywords +removal +services +Liverpool +to +Manchester, the ad would show up for removal services from Liverpool to Manchester. However, the ad may also show up when a user searches for removal services for Manchester to Liverpool. This may not be what the marketer wants as it means their advert is not completely relevant to the user.
Google Ads to Phase Out BMM: What Will Change and When Will it Happen?
As an example of what the changes will mean for marketers, take a look at the diagram. The updated Phrase Match will no longer display ads for search queries that go in the opposite direction, which Google says can help advertisers reach the right people without their ads showing up for searches that they don't want.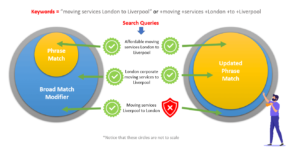 Google states that this update will give advertisers more control and a better reach. However, they highlight that it will continue to respect word order when it's important to the meaning. As you can see in the table below, Google provides a number of examples highlighting how the change will impact keyword searches.


Google said: "We've seen that Phrase Match and BMM often serve the same uses and that you can reach more of the right customers through a combination of the two."
Google announced these changes in early February and said that these changes would begin rolling out 2 weeks later. Many marketers will have already noticed that BMM has started to be phased out.
By July 2021, this new update will have rolled out across the world and advertisers will no longer be able to create new BMM keywords. All existing BMM keywords will serve under the new update.
Pros and Cons of the Changes
Google has made a number of new updates recently but this particular update has the potential to help advertisers save a significant amount of time managing keywords. However, they have also released a set of 'best practices' that highlight the extra time necessary to recalibrate campaigns. It also says that during the roll out, marketers may notice fluctuations in traffic, which means they will need to monitor performance metrics and make adjustments accordingly. Marketers will also need to consider using Broad Match with Smart Bidding to limit the loss to coverage.
Many have argued that this change will help marketers streamline keyword management and ultimately save time in the long run. Because the two match types cover a lot of the same searches, it will give businesses more time to spend on different objectives.
At PPC Geeks, we can help you with any queries you may have about your Google Ads campaigns. We are currently offering businesses 100% free Google Ads Audits, so you can see how your ads stack up against your competitors. Get in touch with our team today to find out more!
Book Your 100% Free PPC Audit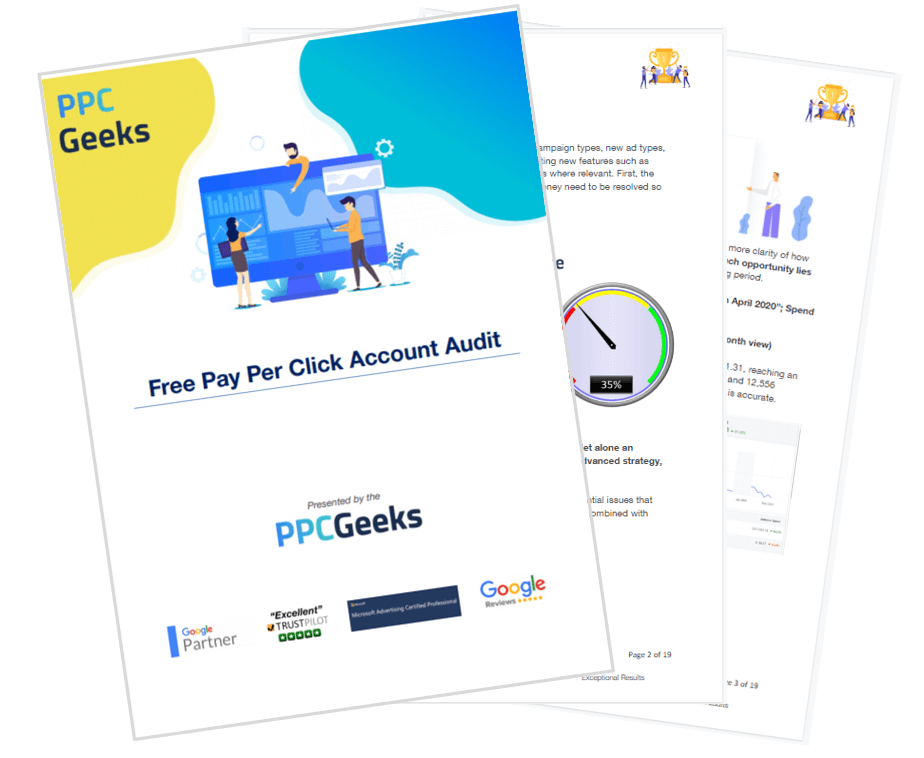 SIGN UP TO OUR NEWSLETTER