PPC Geeks' AI Ali takes Northern Digital Awards by Storm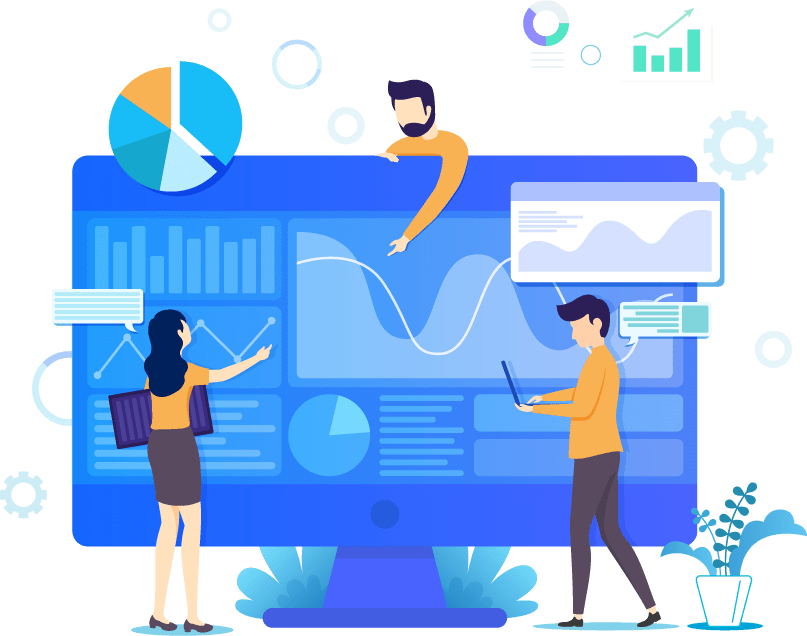 PPC Geeks' AI Ali takes Northern Digital Awards by Storm
Last night's Northern Digital Awards was a showcase of the best and brightest in the digital industry. And PPC Geeks' new Artificial Intelligence (AI) named Ali was a standout amongst the crowd.
Ali created quite the stir amongst the attendees. They were seen partying into the small hours with the other digital marketing professionals. No doubt as the AI industry evolves we will see more AI in every walk of life.
Awards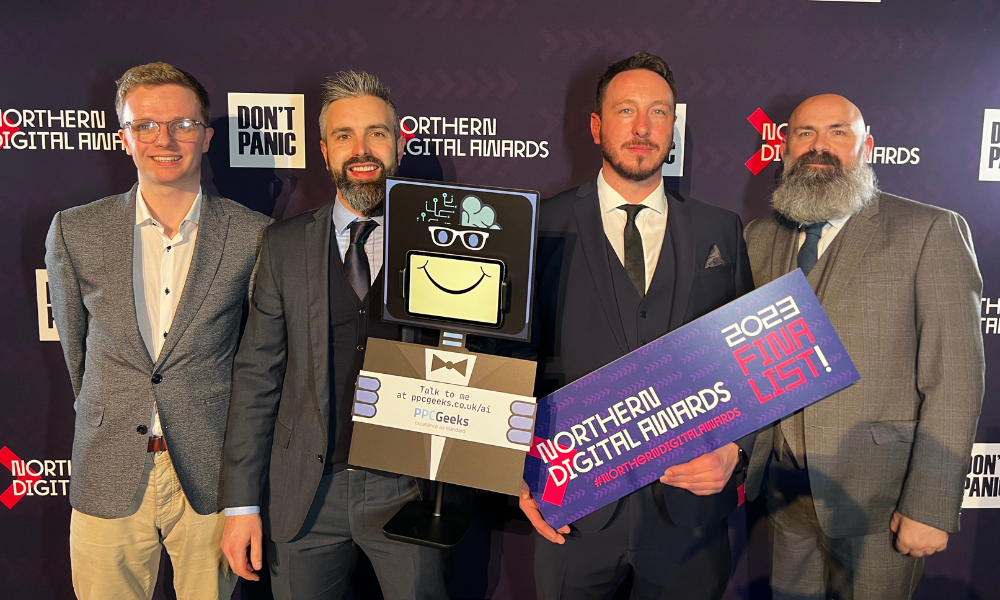 PPC Geeks was honoured to be among the nominees for the Best Small Agency award. While the award ultimately went to Hillsgreen, PPC Geeks was thrilled to be recognised for their hard work, dedication, and expertise in the PPC industry.
"Bringing our AI to the awards was a fun and unique way to represent our company. It was definitely a highlight of the night, and we received a lot of positive feedback from those who were able to interact with it. Overall, it was a great experience and we're already looking forward to next year's awards ceremony." PPC Geeks' MD Chris Stott said.
Artificial Intelligence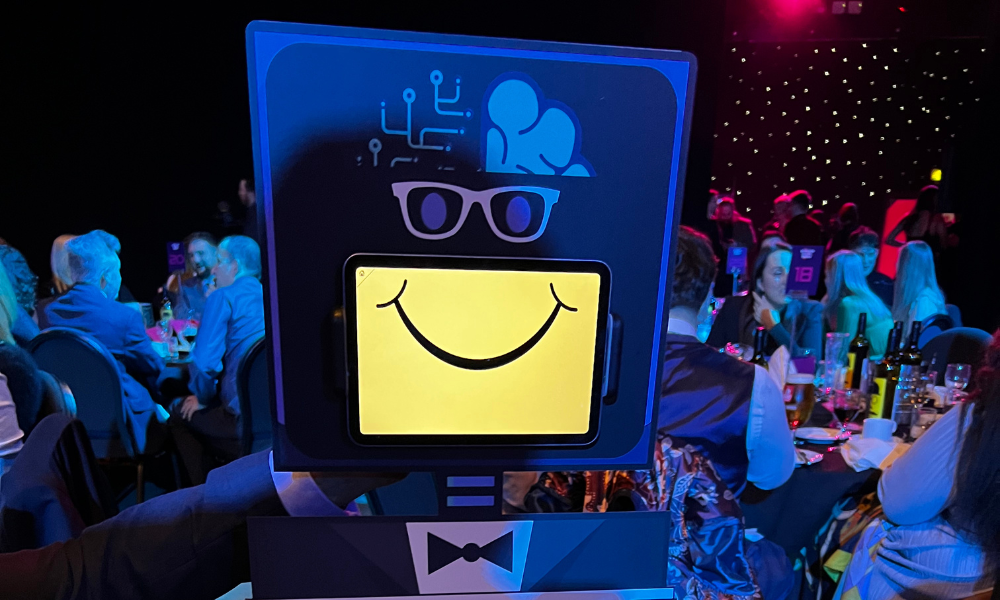 Why did Ali the AI attend the prestigious awards? Ali was brought to the NDAs due to one of the PPC Geeks team members who was not able to attend at the last minute.
How does AI affect you? As you will know AI is becoming more present in many industries and the digital space is no different. The PPC Geeks team explained they leverage Ali on many tasks in the PPC world including collating keyword lists and generating ideas around ad copy. AI and Ali is not at the stage where it is replacing our seasoned experts. But Ali can help with low level and repetitive tasks allowing our experts to focus on adding value that grows our eCommerce clients accounts.
AI will only continue to grow in popularity and sophistication, making sure your brand doesn't get left behind will be crucial across the digital marketing space over the coming years. Now is the time to evaluate your brand and see how you can leverage the advances in this industry to help it evolve.
About PPC Geeks:
PPC Geeks are one of the most reviewed teams of PPC Experts in the UK that often rank as one of the top 10 in the world. PPC Geeks specialises in growing their clients eCommerce brands while providing innovative PPC solutions to help them achieve their growth goals. By leveraging the latest technology, including Artificial Intelligence in tandem with a highly skilled team, PPC Geeks helps their clients stay ahead of the competition and achieve their desired results. PPC Geeks dedication to excellence and commitment to client satisfaction has earned them a reputation as a leader in the industry.
https://www.linkedin.com/company/ppcgeeks/
https://ppcgeeks.co.uk/
https://twitter.com/PPC_Geeks
Book Your 100% Free PPC Audit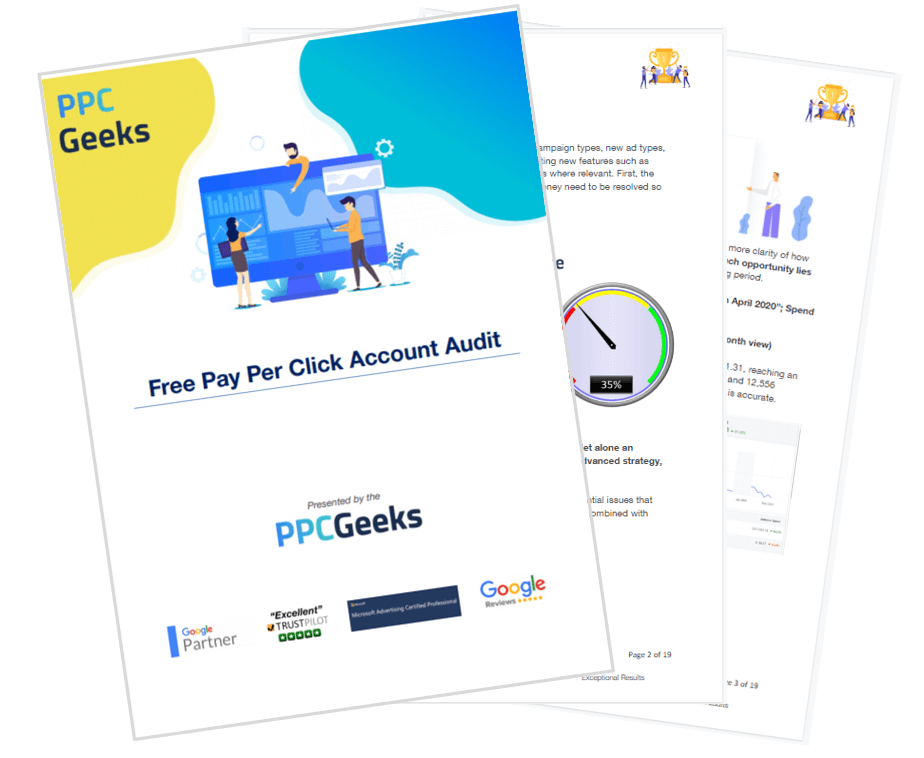 SIGN UP TO OUR NEWSLETTER