Building a PPC Report: What to Include for You & Your Boss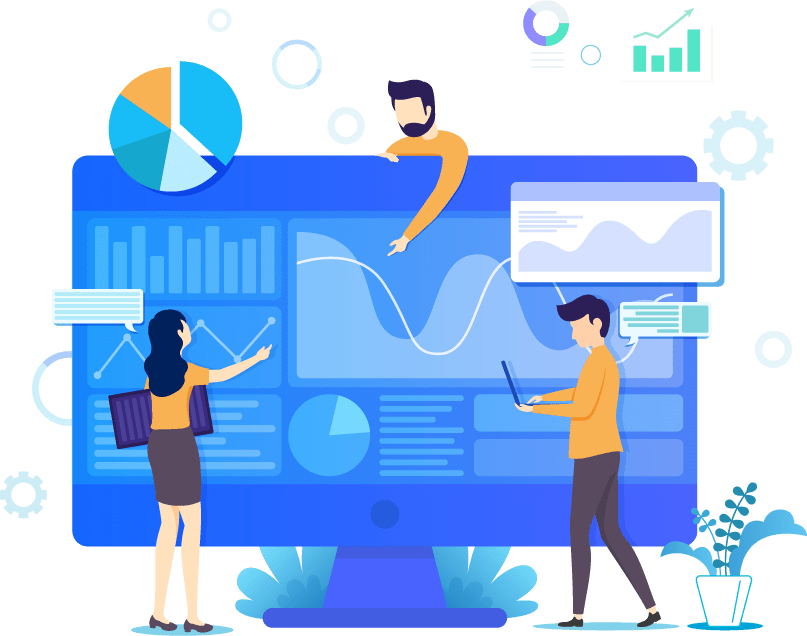 Building a PPC Report: What to Include for You & Your Boss
Building a PPC Report – Our Free Guide!
Building a PPC Report: with many forms of marketing, it can sometimes feel like you're throwing everything against the wall to see what sticks.
Are people really responding to your ads?
Are you really getting a return on your marketing investment or are you essentially wasting your money?
But PPC isn't like this.
One of the many benefits of PPC is that it's so darn measurable. Most PPC platforms make it easy to track and measure numerous vital metrics. You'll never be in any doubt whether your ads are working.
This is good for you. You can quickly get a very good idea of the sort of people you're reaching and the sort of results you're getting. And if anything's not performing like it should, you won't have too much trouble deciding what needs to be done to set things right.
But this is also good for your boss.
You can offer them total transparency when it comes to how much money they're spending and precisely what they're getting in exchange.
And another major benefit of PPC? With platforms like Google Ads, it's possible to automatically generate reports! Of course, as you'll see the perfect PPC report will always take a bit of work on your part. You can't just provide statistics tables and hope for the best. You need to add context.
But still.
Imagine how much time this could save you…
In this post we'll look at how to build the perfect PPC report – one that'll let you keep track of performance while giving your boss peace of mind that they're getting results.
Building the Perfect PPC Report – First Steps
Let's presume you're using Google Ads, Google's PPC platform, because everyone wants to get their ads seen on Google!
Your first step is to link your Google Ads account to your Google Analytics account. Read our guide to how to do this.
Why do you need to do this? Because while Google Ads itself will tell you almost everything there is to know about how your ads are performing, Google Analytics will tell you how people are behaving after they've clicked on your ads.
If enough of them are converting, then you'll know you're targeting the right people with the right ads, and you'll know that everything on your site is working like it should. If you were to use one of the better Google Ads Agencies they would handle all of this for you.
This is exactly the information that your boss will want to know. Which is why, to build the best possible report, you'll need to link your Google Ads account to your Analytics Account.
Building the Perfect PPC Report – What Are Your Objectives?
So, what are you trying to achieve with your PPC campaign? Your specific objectives will determine which metrics matter most.
Is your campaign all about brand awareness? In which case, you'll need to focus on reach and impressions. But if you're looking to boost sales, app downloads or newsletter sign-ups, then you'd be better tracking conversions.
This is why it pays to link your account to Analytics. Doing this lets you establish goals. A goal can be almost anything – from a completed sale to a general enquiry for more information. And once you've done this, you'll be able to determine just how much you're spending for each conversion.
Many find PPC overwhelming, but if you define just what you're trying to achieve with your PPC, you'll be able to ensure that your reports contain only the most relevant information for you and for your boss.
A good way to open your report is to provide a refresher of your campaign objectives, before including a very brief summary of how your work has helped to achieve these objectives.
So Which Metrics Matter Most to You?
It's important to separate the metrics that matter to you as a marketing manager from the metrics that your boss is going to want to see.
Read our essential guide to the most important PPC metrics here.
One thing to remember: you might be a technical whizz with a sound analytical mind. You might be fascinated by numbers and you might know, instinctively, exactly what's going on just by glancing at a complex series of charts and graphs.
But your boss might not care so much about those nitty gritty numbers. They probably just want to know whether they're getting a good return on their investment. And remember that your boss might not be so familiar with all of those acronyms you take for granted…
You might consider compiling two reports – one for you, and one for your boss.
Your report will dig deep, and it'll tell you exactly how everything's performing so that you'll be able to make an informed decision for what steps to take next.
Your boss's report, though, might only cover the basics – are things working? Are you getting results? How much money are you spending, and how much are you getting in exchange?
If you'd prefer to compile just one single report, though, aim to frontload it with the information your boss needs to see. Make it clear how your actions align with their objectives. Then, if they're really interested in reading further, they can always dive deeper on to take in your more detailed metrics.
Metrics for Your Boss
Having reviewed your campaign objectives, concentrate on the information that's good for your boss – the stuff that will tell them, at a glance, how well your campaign's performing.
Focus on these metrics:
Impressions
Revenue
Conversion rate
Cost per conversion
These will provide a very good idea of the sort of results you're getting.
Impressions
Impressions are good to measure even if you're not focused on brand awareness.
After all, your boss will want to know how many people you're reaching!
Revenue
Your boss will have a good idea of just how much they're spending on advertising, so if you tell them the revenue they'll be able to immediately assess whether they're getting a good return. Just remember that calculating your Google Ads ROI might be a bit more complicated than you think.
Conversions
As for conversion rate and cost per conversion, think of those as a subtle way of telling your boss just how good a job you're doing! The higher the conversion rate and the less the cost per conversion, the more effective your ads are on the whole.
This is where linking your Google Ads to Analytics can really help.
What do visitors do once they've reached your site?
Are they leaving immediately? In which case, you'll know that your landing pages need work.
Are they sticking around, but not converting? In which case, you may need to address your CTAs, or revise your core offering to make it harder to turn down.
Metrics for You
After this, you can start to drill down to include more detailed information that will give you a better idea of just how your ads are performing. You'll probably want to focus on these metrics:
Search terms
Clicks
Click-through rate
Quality score
And what will these metrics tell you?
Search terms
With search terms, you can check to see if any relevant terms are driving traffic to your site and add them as new keywords. Or you can see if any irrelevant terms are triggering your ads and add them to your list of negative keywords.
Clicks and click-through-rate
Clicks and the click-through rate will tell you the effectiveness of your keywords, your positioning and the actual content of your ads.
If your CTR is low, it might suggest that you're reaching the right people, but for some reason you're just not striking a chord with them. In this case, it could be time to experiment with new keywords, new audiences, new offers or new messages.
Quality score
The quality score is a good all-round indicator of the health of your PPC campaign. If it's low, it might indicate that your ad isn't relevant to your target keywords or that there's some issue with your landing page.
In any case, your quality score and your CTR, taken together, will let you know whether everything's going swimmingly or whether it's time for a PPC health check.
Explain Your Data
Figures don't always speak for themselves.
A good PPC report will provide context for everything. But what does this mean?
You'll draw from historical data to show how things have changed over time.
If things have got better, you'll explain what you did differently.
If things have got worse, you'll attempt to explain why.
And you'll say what you'll do the same or differently next month to continue positive changes and address the negative ones.
This is how all PPC reports should end: What's next? Maybe things are going so well that you're just going to keep things running. But even then, there could be new keywords to target or you might wish to experiment with a new bidding strategy. Perhaps you'll run some landing page tests or maybe there's a special offer coming up that'll soon be the focus of your campaign.
In any case, closing your report with a "next steps" section will remind your boss that you know exactly what you're doing.
Which you do, right?
Need a PPC Health Check?
When PPC works, it really works. But if things aren't quite working like it should, it can often be difficult to identify the root cause of the problem, and to decide what to do to improve things.
That's why it helps to have a PPC expert on your side.
Get in touch for a free Google Ads audit. We'll help you make the most of your PPC campaigns, to achieve your objectives while keeping your boss very happy indeed.
Book Your 100% Free PPC Audit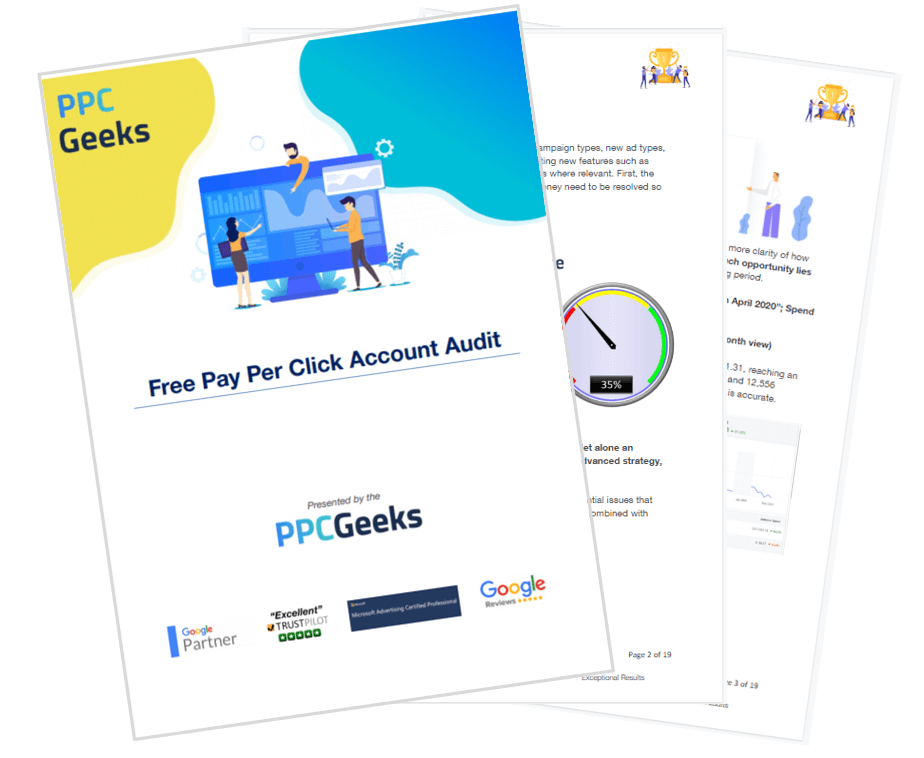 SIGN UP TO OUR NEWSLETTER