Google Ads vs Microsoft Ads – What are the key differences?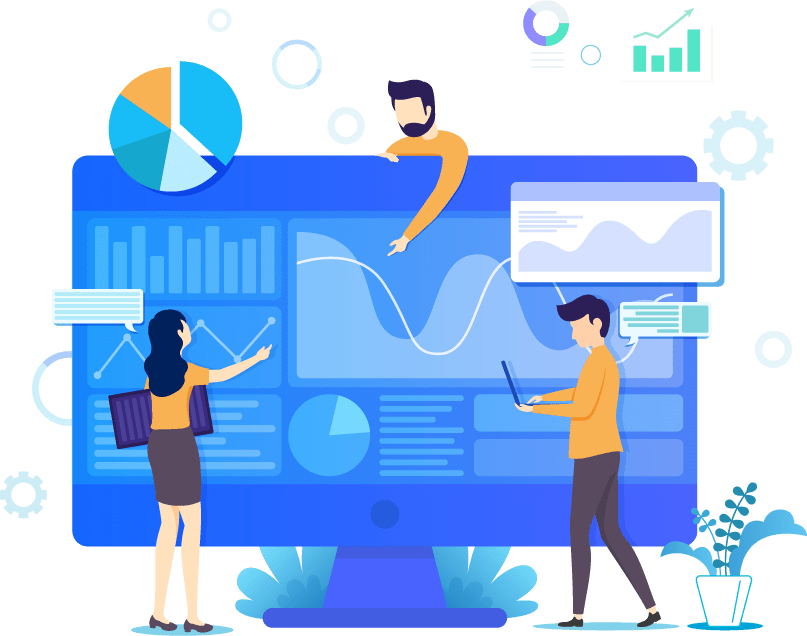 Google Ads vs Microsoft Ads – What are the key differences?
Google Ads vs Microsoft Ads: When it comes to PPC advertising, two of the most debated paid search networks available are Google Ads and Microsoft Ads. With marketers always looking for ways to get the best ROI from their ad spend, it's important to know what the best networks are.
We've put together a summary of everything you need to know about Google Ads and Microsoft Ads, and what their key differences are.
What are Google Ads and Microsoft Ads?
The principles of Google Ads and Microsoft Ads are the same. They are both pay-per-click advertising platforms, developed to help businesses to reach target audiences, increase traffic and boost revenue. However, each platform does this in different ways, using unique features.
In the past, Google Ads dominated the PPC world, until Bing Ads came along in 2006. Bing Ads, now known as Microsoft Advertising, has slowly been gaining a foot hold in the market, making it a viable option for marketers.
Google Ads
Google Ads is made up of two advertising networks:
The Search Network – Marketers produce text ads that show up in the SERP (search engine results page).
The Display Network – Marketers produce display ads that show up on an array of websites on the Internet.
Microsoft Ads
Microsoft Ads makes use of three different search engines, Yahoo, Bing and AOL. So, if a marketer creates a Microsoft Ad, it will appear on all three platforms.
Google Ads vs Microsoft Ads – What are the key differences?
Let's take a closer look at how Google Ads and Microsoft Ads compare on some of the basics in PPC advertising.
Display URL – On both Google Ads and Microsoft Ads, the display URL sits below the headline. The only difference is that on Microsoft Ads, the display URL is in bold.
Keywords – Each platform offers a keyword research tool, broad match and negative keyword targeting. However, one of the main differences is the volume on Google is much higher.
Description text – Both Google Ads and Microsoft Ads allow 80 characters in a description field.
Click through rate – Microsoft Ads offer a high CTR for shopping and financial services searches, this is mainly due to Yahoo and MSN offering financial reporting. Microsoft Ads that show is those searches often reach a highly targeted audience and therefore perform well.
Google Ads vs Microsoft Ads: Reach
Most marketers will know that Google dominates the search engine market, producing higher search volumes and larger reach. However, this is not to say that Microsoft doesn't offer something worth investing in. In fact, Microsoft Ads is quickly improving and actually reach 63 million searchers that Google Ads does not.
Microsoft Ads also offer marketers a different kind of audience, namely older people with a high level of education and a household income of over $100,000. This highlights that whilst Google Ads allow you to reach a large number of users, Microsoft Ads can also reach a wide audience of specific customers.
Google Ads vs Microsoft Ads: Cost
In general, Microsoft Ads are usually cheaper than Google Ads. This is because there is far less competition on Microsoft Ads, making clicks cheaper.
According to ReportGarden, cost per click averages $7.99 on Microsoft Ads and $20.08 on Google Ads.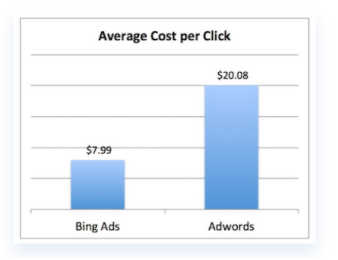 However, when comparing the costs of Google Ads and Microsoft Ads, it's important to highlight the difference in traffic quality and demographics. Even if the CPC on Microsoft Ads is lower, the traffic quality is also likely to be lower, which can result in marketers paying more for conversions.
We will delve deeper into the quality and demographics of traffic on both Google Ads and Microsoft Ads later. The important thing to remember is, Google usually has higher quality traffic, which means you'll spend more, but have a higher conversion rate.
Google Ads vs Microsoft Ads: Ad Scheduling
When creating PPC campaigns, marketers can choose what time of day and the days of the week they would like their ads to show. They can also make bid adjustments at scheduled times. However, marketers need to tread carefully when making ad scheduling adjustments in both Google Ads and Microsoft Ads.
In Google Ads, when you edit your ad schedule, Google reminds you what time zone your account is based in. This will be the time zone that you chose when you first created your Google Ads account.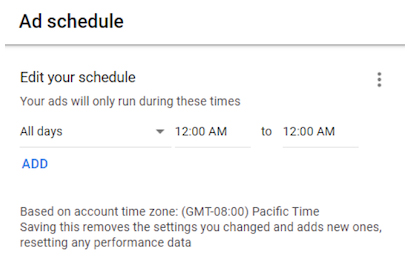 When using the ad scheduler in Microsoft Ads, the time zone is based on the location of the person viewing the ad.
Google Ads vs Microsoft Ads: Search partner networks
Both platforms include search partner networks, in other words, sites that allow marketers to increase the reach of their search network ads beyond Google.com and Bing.com domains.
Google Ads search partners are set at campaign level, whereas Microsoft Ads search partners can be adjusted at ad group level.
Google's Search partner network is vast, including hundreds of websites, however they have an 'all in' or 'all out' policy. So, you can either have your ads included on all search partner networks, or none at all.

On Microsoft Ads, your ads can be displayed on a range of networks, however the majority of traffic will come from Bing, Yahoo and AOL networks. Unlike Google, Microsoft unfortunately does not allow you to target your search network ads on Bing.com alone. Even if you wanted to only target search network sites, you would have to choose the option of Bing, AOL, and Yahoo grouped together.
Yet, one main difference between Google Ads and Microsoft Ads search partner networks is that Microsoft Ads offers you the option to separate the partners by "owned and operated" and "syndicated search partners." This means that if you happen to notice one of the partner options performing better, you can use a "target only" targeting method for your ad groups.

Google Ads vs Microsoft Ads: In-market audiences
The major difference when it comes to in-market audience in both platforms is the options we add to the campaign within each channel. For example, in Microsoft Ads, there are different categories, like 'Social', which includes subcategories which don't feature in Google Ads. There are several categories and subcategories that are different on each platform.
Further Benefits of Microsoft Ads
Import Google Ads campaigns
Once you've created a Microsoft Ad account, you can directly import your Google Ad campaigns into Microsoft Ads and have them up and running in no time!

Increased granular targeting
Microsoft Ads offer greater granular targeting at the ad group level. While you can edit network, location, language, etc on Google Ads, this is only at campaign level. The ad groups within each campaign are tied to the campaign settings. Microsoft Ads allow marketers to adjust at the ad group level. Microsoft Ads also allows you to assign different ad campaigns to different time zones, a feature that is not available on Google Ads.
Device targeting
Microsoft Ads enables marketers to target specific audiences based on the type of device and operating system they use. It also has the option to target only mobile users, by not displaying your Ads to desktop users.
Sitelink extensions
Both Google Ads and Microsoft Ads offer marketers the opportunity to add further information to their ads that encourage CTRs. Not every ad is guaranteed to include sitelink extensions, but when they are displayed, they make the ad more eye catching as it is much larger in the SERPs.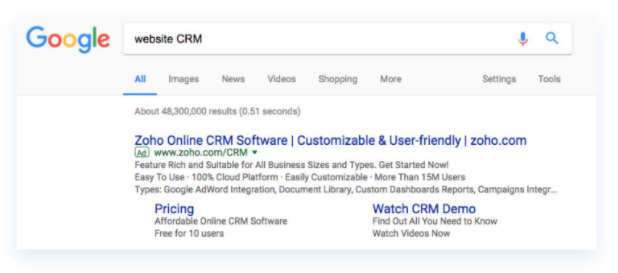 We hope you've learnt a little more about the key differences between Google Ads and Microsoft Ads. Whether you're already using Google Ads and are weighing up whether to invest in Microsoft Ads too, or you're just starting out with PPC campaigns, we can help you. At PPC Geeks, we always consider both options for our clients, and make the very best recommendations for your business.
Want to get the most out of your PPC campaigns? At PPC Geeks, we offer a Free PPC Ads Audit, get in touch with our team today to find out how we can help!
Book Your 100% Free PPC Audit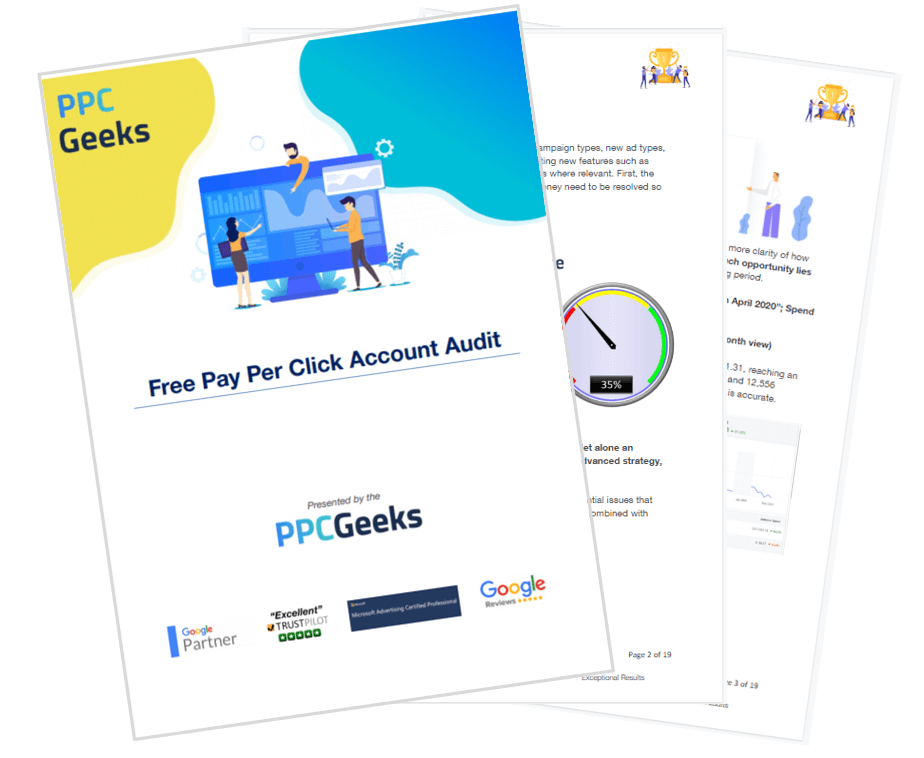 SIGN UP TO OUR NEWSLETTER