11 Best eCommerce PPC Agencies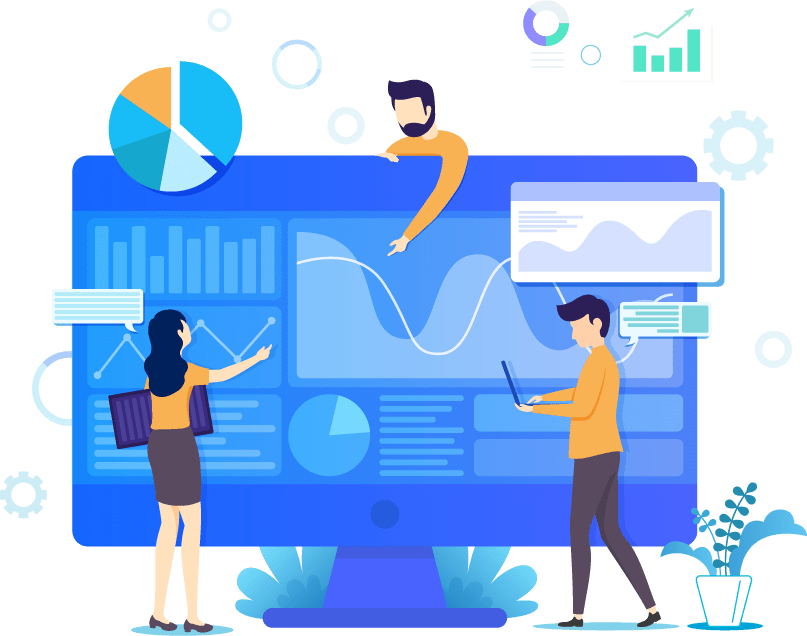 11 Best eCommerce PPC Agencies
eCommerce PPC is an online marketing strategy that promotes either an online store or a tangible product through paid adverts. A favoured tool by Google Shopping agencies and PPC managers alike, eCommerce PPC advertising is a fast and proven way to generate sales online.
As an eCommerce business, you want to pursue eCommerce PPC advertising for a variety of reasons, mainly because it's backed by data, easily scalable, and provides a positive ROI. While most PPC practices target online ad space and detailed demographics, be that a PPC agency Manchester or a PPC agency London, it's important to choose the best PPC agency for you.
The support, advice and step-by-step help and guidance of a top eCommerce PPC agency is truly invaluable. So, here are the 11 best eCommerce PPC agencies in the world right now.
The Best Of Awards For 2022
Our marketing boffins have scoured the web for the very best of everything you will need to make your brand succeed. So without further ado, follow our links below to find the very best company out there to help skyrocket your brand!
Who are the Best eCommerce PPC Agencies?
Who are the best eCommerce PPC agencies in the world? It's an important question to ask oneself when searching high and low for the right agency for you and your business.
Whether it's an expert group of Google Ads consultants or an experienced team of PPC auditors, these expertise, nevertheless, inform what it takes to construct a health eCommerce PPC campaign.
So, as you can see, knowing who the best eCommerce PPC agencies are can prove hugely beneficial.
PPC Geeks
Loud Mouth Media
myWebhero
Prof
Flycast Media
Novi.digital
Digital Media Team
Cato Marketing
PNdigital Ltd
Clubbish
The Good Marketer
There are several facets that feed into what makes these 11 particular agencies the best eCommerce PPC agencies in the world. Here's why in a bit more detail:
Best eCommerce PPC Agencies
1. PPC Geeks
Points of note:
Google Premier Partner 2022
4.9/5 reviews
Founded 2017
Everybody here at PPC Geeks is very proud to be not just one of the best eCommerce PPC agencies in the world, but we are the best, specialising in creating long-term value and making an ever-lasting impact online and on behalf of our clients. Across the world, one thing is true of our team at PPC Geeks: We are eCommerce PPC specialists and appreciate that building a successful PPC campaign takes a lot of help, support, and guidance, but also expertise, knowledge and experience.
Website: PPC Geeks Website
Reviews: PPC Geeks Reviews
2. Loud Mouth Media
Points of note:
Founded 2011
10-50 employees
Key clients include Titanic Belfast, The IFA, GT Omega
Based in Belfast, Ireland, Loud Mouth Media is a multi-award winning eCommerce PPC agency that specialises in everything from Paid Search and Paid Social to SEO and more. Named as a Top 3% PPC Agency by Google, Loud Mouth Media are anything but loud, rather they simply tick along nicely producing awe-inspiring work and earning a healthy ROI for their clients.
Website: Loud Mouth Media Website
Reviews: Loud Mouth Media Reviews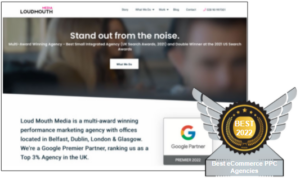 3. myWebhero
Points of note:
Minimum project size £1,000+
Located Wickford, UK
100% PPC focus
myWebhero specialise in working with start-ups and SMEs including the likes of Cashzone, Radial, Engrave It Now, Heavenly Chocolate and 4×4 Tyres, to name but an esteemed few. What makes myWebhero one of the best eCommerce PPC agencies in the world is that they are vastly experienced in terms of generating healthy returns for their clients, whilst they are also extremely proud of not tying their customers into minimum terms or long contracts and providing clients with a 20% discount on any of their Google Shopping ads.
Website: myWebher Website
Reviews: myWebhero Reviews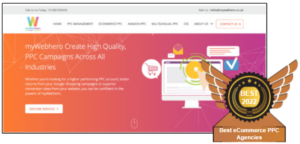 4. Prof
Points of note:
1-10 employees
Founded 2020
5/5 reviews
Despite its infancy, Prof is an authoritative Google Ads agency and already one of the more superior eCommerce PPC agencies in the industry. Already amassing numerous 5/5 reviews, Prof are simply exceptional and take pride in how transparent they are and how they are always ready to push the boundaries of what eCommerce PPC can achieve.
Website: Prof Website
Reviews: Prof Reviews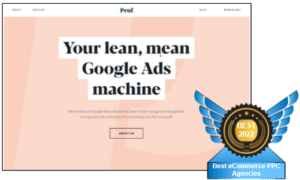 5. Flycast Media
Points of note:
Key clients include ServerSpace, Ecowater, IMS of Smithfield
4.8/5 reviews
80% PPC focus
Helping clients achieve their goals and a healthy ROI, Flycast Media are experts when it comes to PPC marketing, SEO and executing robust Google Ads audits, building some of the best campaigns imaginable. With a split focus on both SEO, conversion optimisation and PPC, Flycast Media is home to some of the most esteemed Google Ads specialists and knowledgeable eCommerce PPC authorities in the world.
Website: Flycast Media Website
Reviews: Flycast Media Reviews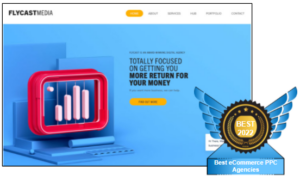 6. Novi.Digital
Points of note:
Minimum project size £5,000+
£150-£200 / hr
Founded 2009
If you're looking for a PPC expert or an experienced eCommerce PPC agency, then look no further than Novi.Digital – one of the best eCommerce PPC agencies in the world at the moment. With a 50% focus on both Pay Per Click and Search Engine Optimisation, Novi.Digital focuses on consulting on behalf of their clients and servicing their accounts by generating them a hugely positive ROI.
Website: Novi.Digital Website
Reviews: Novi.Digital Reviews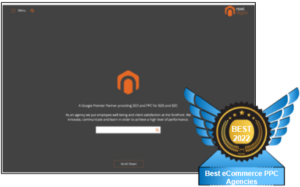 7. Digital Media Team
Points of note:
Located Manchester, UK
5/5 reviews
Key clients include Mercedes, The Couture Club and Eat Lean
A 5-star Google Ads Company, Digital Media Team is an exciting eCommerce PPC company with an authoritative knowledge of growing and scaling businesses through the power of paid advertising. Working closely with a Google Ads expert, Digital Media Team uses tried and tested PPC techniques to accelerate the growth of your eCommerce business.
Website: Digital Media Team Website
Reviews: Digital Media Team Reviews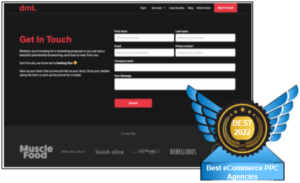 8. Cato Marketing
Points of note:
Founded 2014
£50-£100 / hr
Located Burnley, UK
In their own words, Cato Marketing 'helps their clients see EXPLOSIVE growth using Google Ads and SEO.' It's for this reason why we have included them on our list of the best eCommerce PPC agencies in the world. Best suited for eCommerce stores and Law Firms, Cato Marketing are exceptional, and build campaigns that reflect their youthful, diverse and knowledgeable team.
Website: Cato Marketing Website
Reviews: Cato Marketing Reviews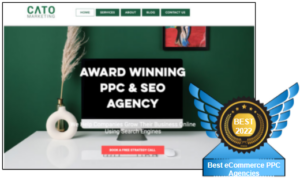 9. PNdigital Ltd
Points of note:
Minimum project size £5,000+
Located London, UK
2-10 employees
PNdigital Ltd is a leading eCommerce PPC agency based in London, with an arsenal spanning a multitude of disciplines including Paid Social, SEO and web development. With a passion for the art of pay per click advertising, PNdigital Ltd, without a shadow of a doubt, are deserving of an esteemed place on our list of the best eCommerce PPC agencies on the planet.
Website: PNdigital Ltd Website
Reviews: PNdigital Ltd Reviews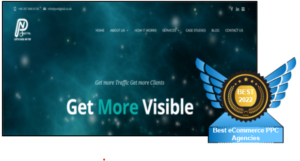 10. Clubbish
Points of note:
Minimum project size £1,000+
Founded 2010
Located Birmingham, UK
Clubbish is an award-winning digital marketing agency serving markets in the UK, US and Canada. Creating impactful retail, lead generation and eCommerce PPC strategies for a selection of highly recognisable clients, Clubbish utilises a selection of SEO, Google Ads and Facebook strategies to realise their objectives, which is mostly to generate a healthy ROI for their customers.
Website: Clubbish Website
Reviews: Clubbish Reviews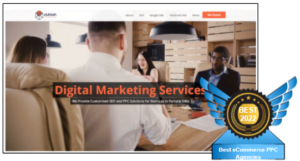 11. The Good Marketer
Points of note:
Key clients include Easilocks, The House Outfit and Holistic London
£50-£100 / hr
Founded 2017
The Good Marketer is a Digital Marketing Agency based in London which works with SMEs; helping them grow, expand and reach new heights online through building considered eCommerce PPC strategies. They are simply outstanding at what they do, picking up multiple awards during their short time working within the paid marketing industry.
Website: The Good Marketer Website
Reviews: The Good Marketer Reviews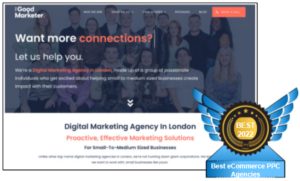 How Do I Choose an eCommerce PPC Agency?
There are a myriad of ways of choosing which eCommerce PPC agency you want to work with. Indeed, finding any eCommerce PPC agency isn't easy. But when consulting a list with as many varied and established agencies as this, it's certainly easier to say the least.
From deciding on what price you want to pay, to knowing what you want your eCommerce PPC campaigns to look and feel like. To listening to recommendations and doing your own market research. These are just some of the established ways of selecting the best eCommerce PPC agency in the world.
And, let's be honest, you couldn't go far wrong when choosing any of the above agencies.
Best eCommerce PPC Agencies: Why Invest in an eCommerce PPC Campaign
Choosing whether you want to delve into eCommerce PPC advertising is a big decision, so it's important to pause and think: why do I want to invest in eCommerce PPC advertising?
A comprehensive eCommerce PPC campaign can help you increase your ROI for your tangible products and boost sales. Whether it's vibrant imagery or slick ad copy, a bespoke PPC campaign can be built and managed to target wide demographics and increase everything from revenue to profit margin.
Best eCommerce PPC Agencies: People Also Ask
How Many eCommerce PPC Agencies Are There? – In short, there are thousands of eCommerce PPC agencies out there, all of which have their positives.
What is eCommerce PPC Advertising? – A favoured tool by big and medium size businesses, eCommerce PPC is a Pay Per Click advertising tactic that mainly focuses on product marketing.
What is the Most Popular eCommerce PPC Agency? – PPC Geeks crafts high quality PPC campaigns, making them the best eCommerce PPC agency in the world at the moment.
Best eCommerce PPC Agencies: PPC Geeks
At PPC Geeks, we specialise in PPC advertising, and work in partnership with brands to take their advertising output to the next level.
So, with this in mind, why not invest in any of our free PPC audits and let us help you get the marketing support you so desperately deserve.
Book Your 100% Free PPC Audit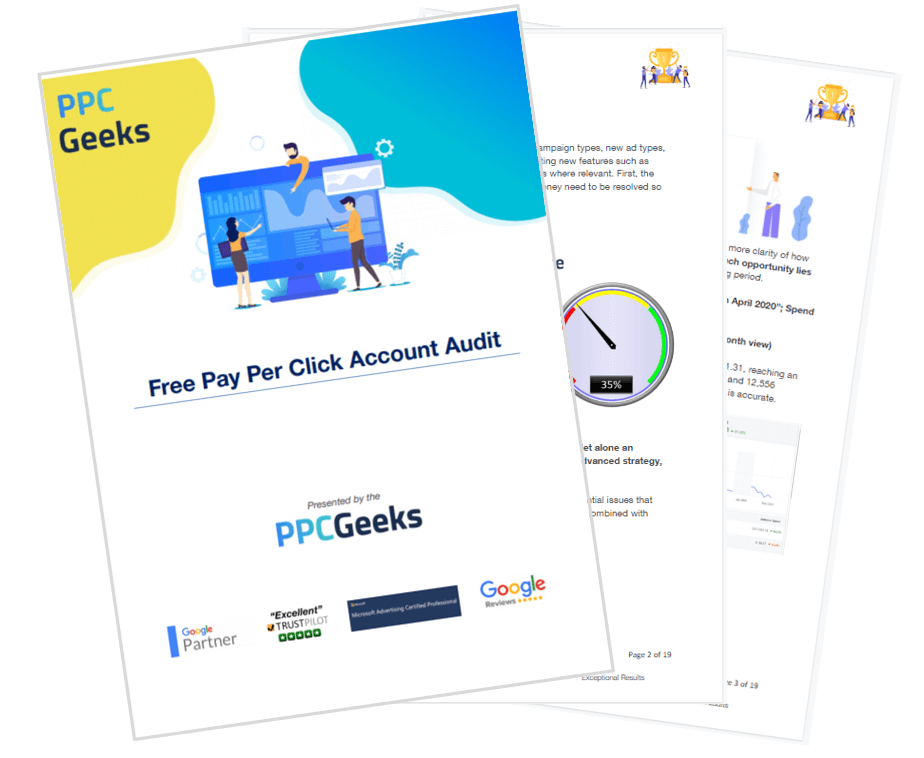 SIGN UP TO OUR NEWSLETTER