17 Best Amazon Ads Agencies 2022 (Sell More For Less)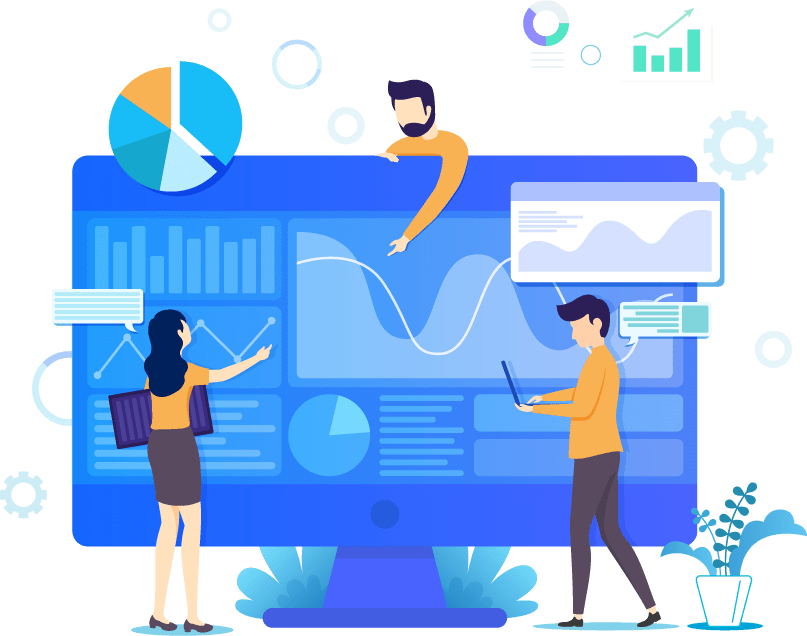 17 Best Amazon Ads Agencies 2022 (Sell More For Less)
With over 300 million daily active users, Amazon is the biggest online marketplace in the world, with some of the best Amazon ads agencies choosing to work in partnership with the company. According to recent research conducted by industry experts, Amazon is starting to outperform many Google ads agencies in terms of 'search intent,' with 55% of internet users trusting Amazon to find the products they want.
In short, Amazon Ads enable vendors and marketers to stand out in the crowded Amazon marketplace. As Amazon is responsible for almost 50% of the world's eCommerce expenditure, finding the best Amazon ads agencies to work alongside is hugely important.
The support, advice and step-by-step help and guidance of a top web design agency is truly invaluable. So, here are the 13 best Amazon Ads agencies in the world right now.
Best Of Awards 2022: Supercharge Your Brand!
Our Amazon Ads Experts have done all of the hard work for you by searching the web for the very best of everything you might need to boost your brand. Without further ado, simply follow our links below to find the very best of the brands that will help skyrocket your brand to the next level!
Who is the Best Amazon Ads Agency?
Who are the best Amazon Ad agencies at the moment? It's an important question to ask oneself when looking for the right agency for you, but also when counting down a list of the best Amazon ads agencies in the world.
PPC Geeks
Ignite Visibility
Power Digital Marketing
Disruptive Advertising
KlientBoost
AdVenture Media Group
Sellryt
BellaVix
Urtasker
Rocket Clicks
Amazonia PPC
SEO Brand
Profit Whales
Nuanced Media
JumpFly
Savage Global Marketing
Rise Interactive
There are various facets that feed into what makes these 13 particular agencies the best Amazon ads agencies in the world. Here's why in a bit more detail:
1. PPC Geeks the Amazon Ads Experts
Points of note:
Google Premier Partner 2022
4.9/5 reviews
Founded 2017
Everybody here at PPC Geeks is very proud to be not just one of the best Amazon Ads agencies in the world, but we are the best, specialising in creating long-term value and making an ever-lasting impact across the Amazon marketplace. Across the world, one thing is true of our team at PPC Geeks: We are ad experts and appreciate that building a successful campaign takes a lot of help, support and guidance.
Website: PPC Geeks Website
Reviews: PPC Geeks Reviews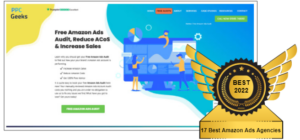 2. Ignite Visibility
Points of note:
50-250 employees
£100-£150 / hr
Key clients include Tony Robbins, The Knot World Wide and Jazzercise
Ignite Visibility is one of the most highly recommended, best Amazon Ads agencies in the world. With almost perfect reviews across the board, Ignite Visibility provides best-in-class SEO, PPC auditing, email marketing and, of course, Amazon advertising. With a track record unrivalled by some of the most established names in the advertising industry, Ignite thoroughly deserves a place on our list.
Website: Ignite Visibility Website
Reviews: Ignite Visibility Reviews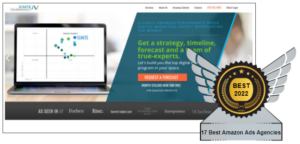 3. Power Digital Marketing
Points of note:
Key clients include TOMS, Dropbox, Uniqlo, Peloton and Airbnb
4.9/ 5 reviews
Minimum project £1,000
You may have noticed that we included several extra clients above, but the list of established businesses who use Power Digital Marketing is astounding, with brands like those noted previously – but also not to forget the likes of MyFitnessPal, ALO and Spanx – trusting Power Digital Marketing with their Amazon Ad campaigns. With this in mind, is there any wonder why this agency is one of the best Amazon Ads agencies in the world right now?
Website: Power Digital Marketing Website
Reviews: Power Digital Marketing Reviews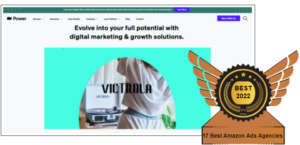 4. Disruptive Advertising
Points of note:
50-200 employees
Founded 2011
Located Pleasant Grove, UT
Disruptive Advertising are passionate about building lifelong relationships on a solid foundation with their Amazon advertising clients. Founded in 2011, and with over 1,000 positive reviews online, Disruptive Advertising is certainly worthy of a place on this converted list. Building campaigns with lasting growth in mind, Disruptive Advertising are one of the best Amazon Ads agencies in the world simply because they take into account the aggressive growth plans of multiple businesses they work with.
Website: Disruptive Advertising Website
Reviews: Disruptive Advertising Reviews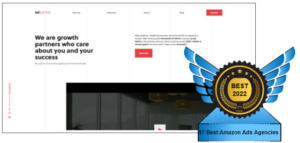 5. KlientBoost
Points of note:
£100-£150 / hr
Founded 2015
90% PPC focused
With clients including the likes of Bloomberg, Stanford University and Airbnb, KlientBoost works with midmarket businesses who turnover anything between £10m-£1bn. KlientBoost mainly focus on Amazon and pay per click campaigns, and are a PPC agency with serious clout in the industry. If you want to increase your conversions, then KlientBoost is the best Amazon Ads agency for you and your business.
Website: KlientBoost Website
Reviews: KlientBoost Reviews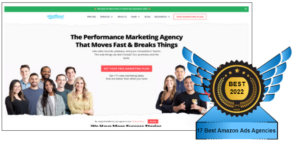 6. AdVenture Media Group
Points of note:
Located New York, US
Minimum project size £10,000+
Key clients include AMC Networks, Forbes and American Eagle
100% focused on client profitability and Amazon sales, AdVenture Media Group are, without a doubt, one of the fastest-growing, best agencies in the world right now, managing over £50m in media spend. Trained specifically by Google themselves, AdVenture's team of Google Ads consultants are second to none and best equipped to handle some of the most complex and profitable Amazon campaigns for the world's biggest businesses.
Website: AdVenture Media Group Website
Reviews: AdVenture Media Group Reviews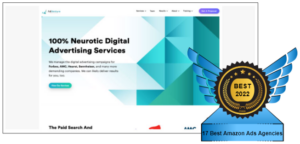 7. Sellryt
Points of note:
5/5 reviews
< £25 / hr
Founded 2015
Sellryt is an award-winning Amazon ads agency with over six years of advertising experience. Empowering their clients by empowering their businesses on the Amazon marketplace, Sellryt mainly focus on pay per click and eCommerce development, working with the likes of Eastman Ez-Flo, Classic Turkish Towels and Encore Select, to name but a few. There are not too many agencies that can claim to have 5/5 reviews, but there's a reason why Sellryt makes our esteemed list
Website: Sellryt Website
Reviews: Sellryt Reviews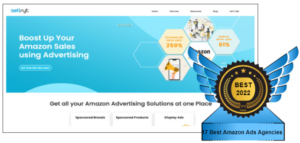 8. BellaVix
Points of note:
Minimum project size £25,000
2-10 employees
£200-£300 / hr
BellaVix is a marketing company for direct-to-consumer retail brands that want to aggressively grow sales via Amazon. If you're sick and tired of missing sales targets and poor account insights, BellaVix can help you expertly navigate the eCommerce marketplace through their specialist Amazon Ads account management service.
Website: BellaVix Website
Reviews: BellaVix Reviews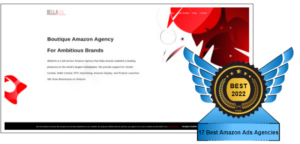 9. Urtasker
Points of note:
4.9/5 reviews
40% PPC focus
Founded 2015
One of the best Amazon Ads agencies in the world, Urtasker is proud to have revolutionised the Amazon advertising market. By running impactful and successful campaigns, Urtasker increases your Amazon sales with their best Amazon PPC management and professional listing services. Founded in 2015, and with 50+ employees, Urtasker is certainly the best at what they do.
Website: Urtasker Website
Reviews: Urtasker Reviews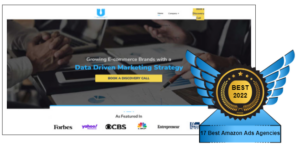 10. Rocket Clicks
Points of note:
5/5 reviews
60% pay per click
10-50 employees
Selling your products on Amazon takes time, but it also takes specific knowhow, something Rocket Clicks has in abundance. Tailoring their strategy and services to fit your businesses unique needs, Rocket Clicks pride themselves on their personalised, transparent and effective service. With 5/5 reviews and a steadfast passion for Amazon marketing, Rocket Clicks are certainly a force to be reckoned with.
Website: Rocket Clicks Website
Reviews: Rocket Clicks Reviews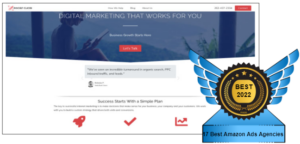 11. Amazonia PPC
Points of note:
100% PPC focus
£5–£100 / hr
Founded 2017
Like their name suggests, Amazonia PPC are Amazon ads experts. Amazonia helps 6-7 figure businesses grow through tailored PPC management and bespoke ads. They further pride themselves on their human touch and how they don't depend on AI or software; in their words, they manage their ads through 'pure care and maintenance' – this bleeds into how they're also the best Google Shopping agency and Google Ads company respectively.
Website: Amazonia PPC Website
Reviews: Amazonia PPC Reviews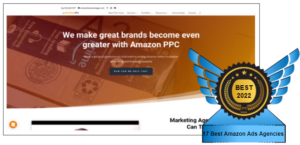 12. SEO Brand
Points of note:
Key clients include Mont Blanc, Giorgio Arman, LG, UFC
4.9/ 5 reviews
Founded 2006
From some of the most fashionable, desirable and lucrative brands in the world, to some of the biggest, fastest-growing startups on the planet, SEO Brand is, without doubt, one of the most renowned Amazon Ads agencies in the sector. It's great to think about the bigger picture, but SEO Brand concentrate on the most important metrics such as ROI, leads and enquiries, making them one of the best Amazon Ads agencies in the world – and they have been since their inception in 2006.
Website: SEO Brand Website
Reviews: SEO Brand Reviews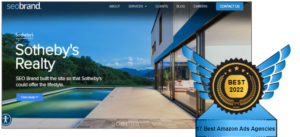 13. Profit Whales
Points of note:
Minimum project size £50,000
Founded 2018
5/ 5 reviews
A full-service marketing agency for specific Amazon-based brands, Profit Whales accelerate the growth of your business by generating traffic to your Amazon account. Consulting on the likes of KPI and growth, in-house auditing and how to empower your team members, Profit Whales' slogan encapsulates their approach to digital advertising: 'Be the whale amongst the sharks.'
Website: Profit Whales Website
Reviews: Profit Whales Reviews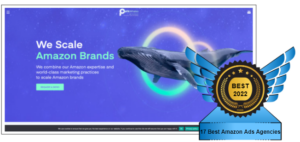 14. Nuanced Media
Points of note:
4.9/ 5
10-50 employees
Founded 2010
Nuanced Media is a top Amazon and eCommerce marketing agency, taking a creative approach to creative and impactful solutions for a range of clients and industries. They instantly get to understand their clients products, enabling them to advertise them properly on the Amazon marketplace.
Website: Nuanced Media Website
Reviews: Nuanced Media Reviews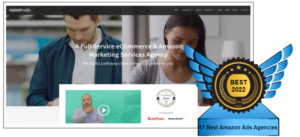 15. JumpFly
Points of note:
85% pay per click focus
4.9/ 5 reviews
Key clients include Harvard Business Services, NuWave, TY
JumpFly's development, implementation and management of amazon advertising enables clients to maximise advertising results while simultaneously saving time and money. Indeed, proper setup of a bespoke Amazon PPC account is so important for industry-leading businesses, so JumpyFly understands more than most just how integral it is to get this right.
Website: JumpFly Website
Reviews: JumpFly Reviews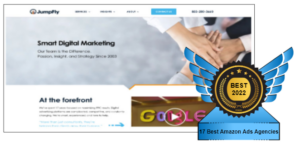 16. Savage Global Marketing
Points of note:
Located Fort Lauderdale, FL
Minimum project size £5,000+
4.9/ 5 reviews
Savage Global Marketing has the resources, creativity and talented team to help your business generate more revenue on Amazon. From managing your accounts to saving you time and making you money by implementing a bespoke digital marketing strategy, they certainly deserves a place on our list because of their dedication to accelerating business growth for their clients.
Website: Savage Global Marketing Website
Reviews: Savage Global Marketing Reviews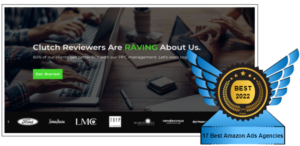 17. Rise Interactive
Points of note:
250-1,000 employees
Key clients include ULTA Beauty, Navistar and Stanley Steemer
Located Chicago, IL
Rise Interactive is a full-service digital marketing and PPC agency, driving better business outcomes for consumer products, consumer services, and B2B brands with their proven approach to cross-channel media management and customer experience. Based within the Amazon marketplace, Rise Interactive have delivered some seriously impressive results for their clients.
Website: Rise Interactive Website
Reviews: Rise Interactive Reviews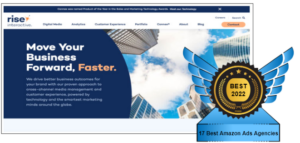 Best Amazon Ads Agencies: Why Invest in Amazon Ads?
As we approach the midway point on our list of the best Amazon Ads agencies in the world right now, it's important to pause and think: why do I want to invest in Amazon Ads?
Amazon Ads can help your business get more visibility for your tangible products. Whether it is cornerstone product descriptions with vibrant images or Amazon Display Ads, Amazon Ads can be built and managed to target wide demographics and increase everything from impressions and click-through-rate to revenue and profit.
Now, where were we?
How Do I Choose an Amazon Ads Agency?
While we're here, here's how you choose an Amazon Ads agency.
There are numerous ways of choosing which Amazon Ads agency you want to work with. Indeed, finding any specific Amazon agency isn't easy, but when you know what you're looking for, it's certainly less difficult to say the least.
From deciding on what price you want to pay, to knowing what type of Amazon Ad type you want to concentrate on, to listening to recommendations and doing your own market research, these are just some of the tried-and-tested ways of selecting the best Amazon Ads agency for your business.
And, let's be honest, you couldn't go far wrong when choosing any of the above agencies.
Best Amazon Ads Agencies: People Also Ask
What Ad & Creative Agency Does Amazon Use? – In 2017, Amazon made a bold move and announced that it had chosen Interpublic Group of Cos. to handle its £1bn-plus global media and planning duties after launching a review the previous summer.
How Many Amazon Agencies Are There? – Amazon itself recommends around 130-150 Amazon agencies to work with and trust.
Is Amazon a Digital Marketing Company? – In short, yes, but also no. Like a digital marketing company, Amazon helps brands promote their products, however they solely help them promote those products on the Amazon online platform.
What is the Most Popular Ad Agency? – Here at PPC Geeks, we are immensely proud to say that we are the most popular Amazon ad agency in the world, coming in at number 1 on this esteemed countdown.
What is Amazon PPC? – Amazon PPC is an auction-style system where advertisers bid on keywords. When an Amazon customer searches for a product, the business with the highest bids on relevant keywords wins the auction, and their product ads get listed at the top of the list.
Best Amazon Ads Agencies: PPC Geeks
At PPC Geeks, we are proud to say that we are the best Amazon Ads agency in the world, just as much as we are proud to say that we feature in the top 3% of agencies in the world when it comes to working with Google and the likes.
So, with this in mind, why not invest in our FREE Amazon Ads audit today and let us help you take your campaigns to the next level.
Book Your 100% Free PPC Audit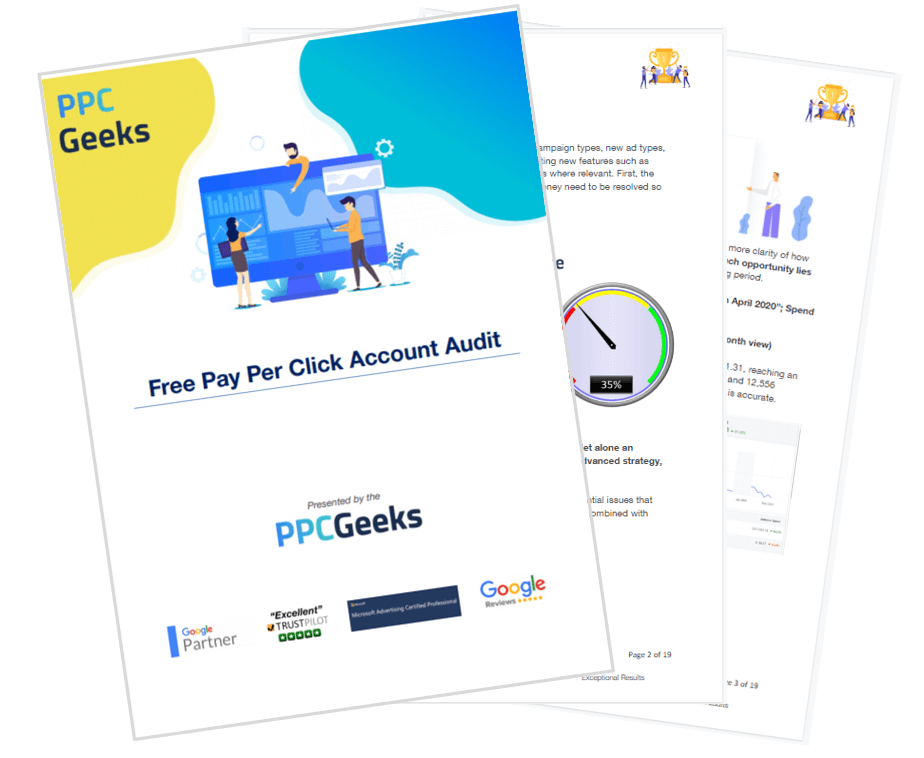 SIGN UP TO OUR NEWSLETTER