Google Ads Exams: Max Jones has Passed All Google Ads Exams and is Fully Certified for 2021-2022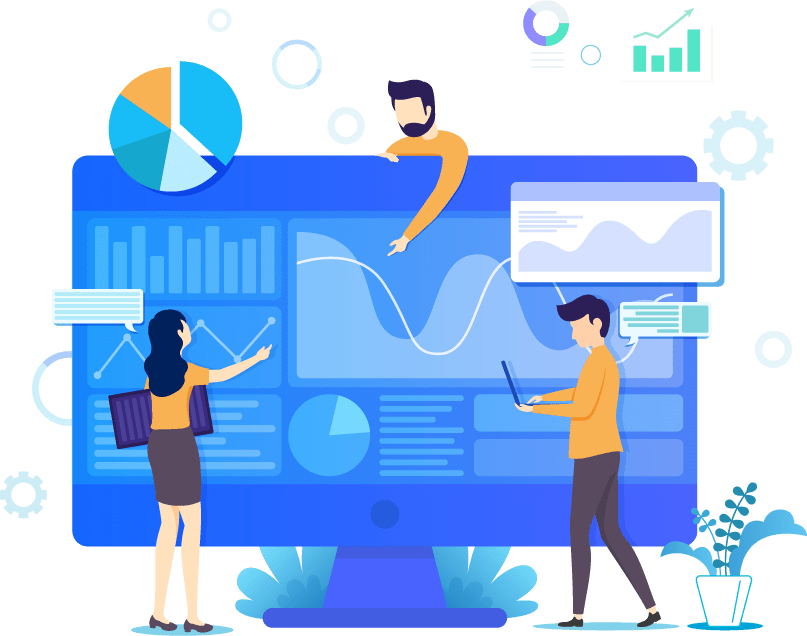 Google Ads Exams: Max Jones has Passed All Google Ads Exams and is Fully Certified for 2021-2022
Max Jones is Fully Google Ads Certified for 2021-2022
Everyone here at PPC Geeks wants to wish Max Jones a huge congratulations for passing his Google Ads Exams; he is now fully certified for 2021-2022.
At PPC Geeks, whether we're working hard to improve ourselves, or thriving to help our clients in any which way we can, having a Google Ads certification is a sure-fire way to secure success; that's why we equip our team with the best opportunities possible to progress their knowledge.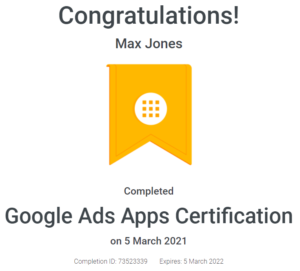 So, with this in mind, we thought we'd break down why it's important that, when choosing a PPC agency to work alongside and trust, that you seek out one with a team of accredited Pay Per Click experts such as Dan, Max and the whole team here at PPC Geeks.
What is a Google Ads Certification and Why is it Important?
The Google Ads certification is a professional accreditation that individuals can obtain by demonstrating a proficiency in both basic and advanced aspects of Google Ads.
There are a number of certifications to choose from, including:
Google Ads – Measurement
Google Ads Video
Google Ads Display
Shopping Ads
Search Certification
Google Ads Apps
Max Jones: Undertaking and passing these exams helps demonstrate to clients that Google recognises them as an industry-leader in online marketing. By demonstrating your expertise to both existing and prospective clients, you can differentiate yourself from various underperforming agencies that over promise and underperform.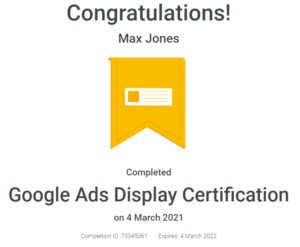 Everyone always portrays themselves as industry-leaders; experts, professionals. Here at PPC Geeks, however, we can prove it.
Why Put Your Trust in Certified Experts like Max Jones?
You'd only ever trust an expert when performing surgery or building a house, wouldn't you? So, why wouldn't you when it comes to handling your advertising?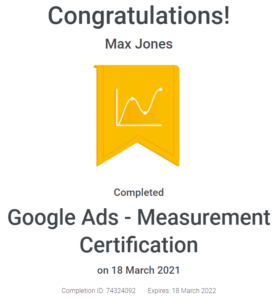 Demonstrating knowledge, understanding and a dedication to the craft of paid advertising, being a certified expert in Google Ads is no mean feat, and is something we always enjoy promoting when one of our team passes their exams.
Being Google Ads certified marks a moving away from a somewhat novice approach taken by some marketing agencies in favour of an altogether more regulated, accomplished way of working. In essence, being certified is about two things: gaining knowledge, and displaying knowledge.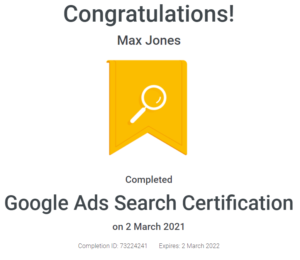 So, whether you want to build trust with your clients or want to improve your knowledge and understanding of the world's biggest search engine, obtaining a Google Ads certificate of recognition is absolutely worth it; even more so if it means landing a big prospect or skeptical client.
Why Choose Max Power to Handle Your PPC?
Less a question of why choose Max to handle your PPC, and more of a question of why wouldn't you choose a newly certified PPC expert with a wealth of experience to handle your account instead, at PPC Geeks, we're an extremely hard-working team of PPC Experts with a wealth of knowledge, talent and experience under our belts.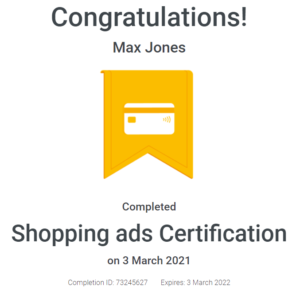 We also thrive on bolstering our knowledge, hence why we're extra proud of Max Jones for passing his Google Ads exams.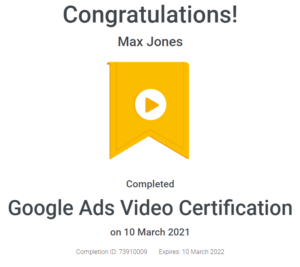 Instead of simply stating that our team are PPC gurus and that you should just trust us regardless, we back it up with not only hard work, but with certificates to prove it. Don't believe us? Think it's easy? Why not try our Google Ads Quiz and put your knowledge to the test just like Max, Dan and the rest of the PPC Geeks team.
PPC Geeks: A Fully Certified Agency
Not only do we pride ourselves on delivering exceptional work on behalf of our clients, but we also constantly endeavour to improve ourselves every day, be it by completing our exams or keeping constantly abreast of the latest trends within the PPC world.
Continually aided by a team of incredibly knowledgeable people, you can rest assured that your campaign is always in safe hands with us. Therefore, to help begin your PPC Geeks journey, check out our free Google Ads audit and give your campaign the best possible start.
Book Your 100% Free PPC Audit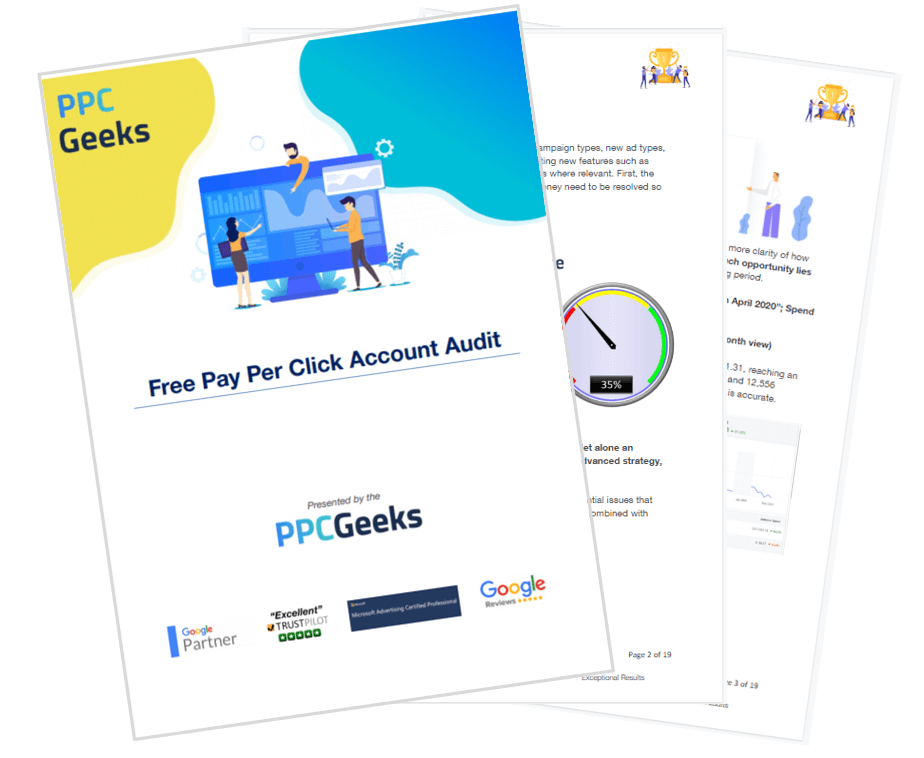 SIGN UP TO OUR NEWSLETTER